What You Need to Know About Writers and Authors
Example of a Writer or Author Job Originate and prepare written material, such as scripts, stories, advertisements, and other material.
Types of Writer or Author Jobs
Program Writer
Poet
Screen Writer
Playwright
Copywriter
Job Outlook for Writers and Authors
In the United States, there were 131,200 jobs for Writers and Authors in 2016.
New jobs are being produced at a rate of 7.6% which is lower than average. The Bureau of Labor Statistics predicts 10,000 new jobs for Writers and Authors by 2026. The BLS estimates 12,600 yearly job openings in this field per year.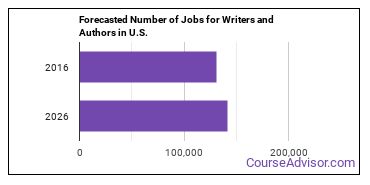 The states with the most job growth for Writers and Authors are California, New York, and Washington.
Watch out if you plan on working in Kansas, Vermont, or New Mexico. These states have the worst job growth for this type of profession.
Writer or Author Average Salary
The average yearly salary of a Writer or Author ranges between $31,700 and $121,670. The median salary is $62,170.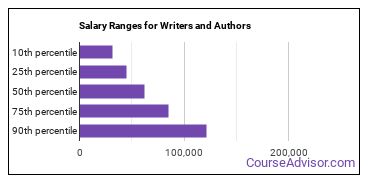 Below is a list of the median annual salaries for jobs of this type in different U.S. states.
Annual Mean Salary by State

| State | Annual Mean Salary |
| --- | --- |
| District of Columbia | $101,690 |
| California | $96,910 |
| New York | $86,380 |
| New Jersey | $81,160 |
| Connecticut | $78,440 |
| Maryland | $75,430 |
| Massachusetts | $70,000 |
| Oregon | $69,050 |
| Illinois | $68,710 |
| Virginia | $68,600 |
| Minnesota | $67,300 |
| North Carolina | $67,250 |
| Colorado | $65,450 |
| Washington | $65,200 |
| West Virginia | $64,480 |
| Alaska | $64,200 |
| Rhode Island | $63,820 |
| Georgia | $63,260 |
| Kansas | $62,670 |
| Vermont | $62,260 |
| Indiana | $61,920 |
| Maine | $61,090 |
| Michigan | $60,850 |
| Delaware | $60,690 |
| Pennsylvania | $60,140 |
| Wisconsin | $59,360 |
| Alabama | $58,590 |
| Missouri | $57,420 |
| New Hampshire | $56,850 |
| Texas | $56,680 |
| Arizona | $55,410 |
| Tennessee | $55,370 |
| Utah | $54,660 |
| Kentucky | $54,320 |
| Mississippi | $53,810 |
| Nevada | $53,730 |
| Florida | $53,140 |
| Idaho | $52,570 |
| Hawaii | $50,740 |
| Iowa | $50,680 |
| Oklahoma | $50,490 |
| New Mexico | $49,460 |
| South Dakota | $49,410 |
| Arkansas | $48,670 |
| Ohio | $48,380 |
| North Dakota | $48,060 |
| Montana | $47,440 |
| Nebraska | $45,280 |
| Louisiana | $44,710 |
Where Writers and Authors Work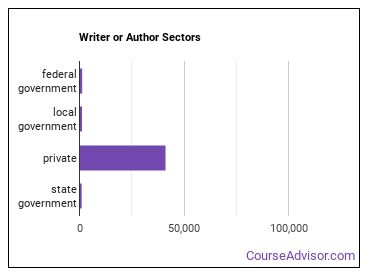 References
Image Credit: Via Wikimedia Commons