What Do Producers and Directors Do?
Career Description Produce or direct stage, television, radio, video, or motion picture productions for entertainment, information, or instruction. Responsible for creative decisions, such as interpretation of script, choice of actors or guests, set design, sound, special effects, and choreography.
Related Job Titles
Music Video Producer
Casting Director
Television Program Director
Television Producer
Stage Manager
Job Outlook for Producers and Directors
There were about 134,700 jobs for Producers and Directors in 2016 (in the United States).
New jobs are being produced at a rate of 12.2% which is lower than average. The Bureau of Labor Statistics predicts 16,500 new jobs for Producers and Directors by 2026. The BLS estimates 14,100 yearly job openings in this field per year.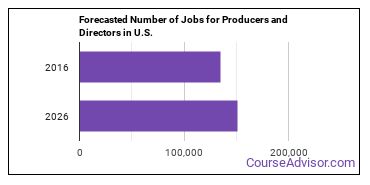 The states with the most job growth for Producers and Directors are New York, California, and Florida.
Watch out if you plan on working in Alaska, Maine, or Delaware. These states have the worst job growth for this type of profession.
How Much Does a Producer or Director Make?
The average yearly salary of a Producer or Director ranges between $34,450 and $163,540. The median salary for this occupation is $71,680.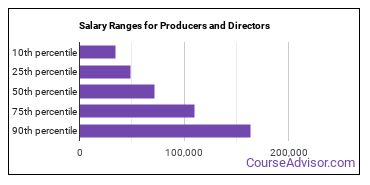 How much do Producers and Directors make in different U.S. states?
Annual Mean Salary by State

| State | Annual Mean Salary |
| --- | --- |
| New York | $115,610 |
| California | $115,080 |
| New Jersey | $92,180 |
| District of Columbia | $89,390 |
| Connecticut | $84,900 |
| Georgia | $84,570 |
| Maryland | $78,760 |
| Illinois | $77,960 |
| Pennsylvania | $76,050 |
| New Mexico | $75,110 |
| North Carolina | $73,980 |
| Hawaii | $73,200 |
| Minnesota | $73,110 |
| Washington | $71,430 |
| Florida | $70,630 |
| Massachusetts | $70,480 |
| Virginia | $69,750 |
| Texas | $69,280 |
| Colorado | $68,290 |
| Oregon | $68,280 |
| Utah | $67,800 |
| Nevada | $67,190 |
| Michigan | $65,910 |
| Rhode Island | $65,660 |
| Missouri | $65,560 |
| Tennessee | $65,040 |
| Arizona | $62,760 |
| Alaska | $61,280 |
| Ohio | $60,590 |
| Kentucky | $60,530 |
| New Hampshire | $59,830 |
| Delaware | $59,680 |
| Vermont | $58,760 |
| Arkansas | $58,750 |
| South Carolina | $57,200 |
| Wisconsin | $57,110 |
| Alabama | $57,040 |
| Kansas | $56,680 |
| Louisiana | $56,290 |
| South Dakota | $55,930 |
| Oklahoma | $55,670 |
| Idaho | $55,600 |
| Montana | $51,920 |
| Nebraska | $51,620 |
| Maine | $51,310 |
| Indiana | $48,300 |
| Iowa | $46,610 |
| Wyoming | $45,930 |
| Mississippi | $44,310 |
| North Dakota | $42,570 |
Where Producers and Directors Work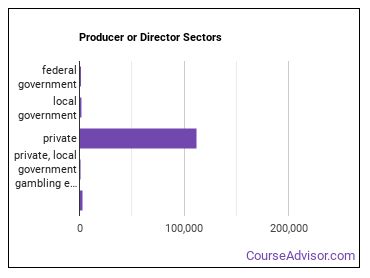 References
Image Credit: Via Wikimedia Commons