What You Need to Know About Cytogenetic Technologists
Example of a Cytogenetic Technologist Job Analyze chromosomes found in biological specimens such as amniotic fluids, bone marrow, and blood to aid in the study, diagnosis, or treatment of genetic diseases.
List of Cytogenetic Technologist Job Duties
Input details of specimen processing, analysis, and technical issues into logs or laboratory information systems (LIS).
Count numbers of chromosomes and identify the structural abnormalities by viewing culture slides through microscopes, light microscopes, or photomicroscopes.
Communicate to responsible parties unacceptable specimens and suggest remediation for future submissions.
Archive case documentation and study materials as required by regulations and laws.
Maintain laboratory equipment such as photomicroscopes, inverted microscopes, and standard darkroom equipment.
Select appropriate methods of preparation and storage of media to maintain potential of hydrogen (pH), sterility, or ability to support growth.
Cytogenetic Technologist Needed Skills
When polled, Cytogenetic Technologists say the following skills are most frequently used in their jobs:
Reading Comprehension: Understanding written sentences and paragraphs in work related documents.
Active Listening: Giving full attention to what other people are saying, taking time to understand the points being made, asking questions as appropriate, and not interrupting at inappropriate times.
Critical Thinking: Using logic and reasoning to identify the strengths and weaknesses of alternative solutions, conclusions or approaches to problems.
Writing: Communicating effectively in writing as appropriate for the needs of the audience.
Speaking: Talking to others to convey information effectively.
Related Job Titles
Cytogenetic Technologist
Lead Cytogenetic Technologist
Laboratory Specialist (Lab Specialist)
Senior Cytogenetic Technologist
Cardiovascular Laboratory Specialist
Is There Going to be Demand for Cytogenetic Technologists?
In 2016, there was an estimated number of 171,400 jobs in the United States for Medical and Clinical Laboratory Technologists.
New jobs are being produced at a rate of 11.5% which is lower than average. The Bureau of Labor Statistics predicts 19,800 new jobs for Cytogenetic Technologists by 2026. The BLS estimates 12,900 yearly job openings in this field per year.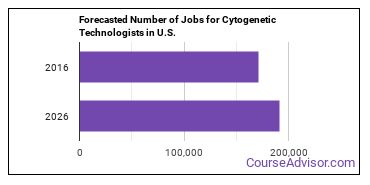 The states with the most job growth for Medical and Clinical Laboratory Technologists are Texas, California, and Florida.
Watch out if you plan on working in Rhode Island, Vermont, or Wyoming. These states have the worst job growth for this type of profession.
What Tools do Cytogenetic Technologists Use?
Although they're not necessarily needed for all jobs, the following technologies are used by many Cytogenetic Technologists:
References
Image Credit: Via Wikimedia Commons