What You Need to Know About Biochemists and Biophysicists
Biochemist or Biophysicist Job Description Study the chemical composition or physical principles of living cells and organisms, their electrical and mechanical energy, and related phenomena. May conduct research to further understanding of the complex chemical combinations and reactions involved in metabolism, reproduction, growth, and heredity. May determine the effects of foods, drugs, serums, hormones, and other substances on tissues and vital processes of living organisms.
Daily Life Of a Biochemist or Biophysicist
Research how characteristics of plants or animals are carried through successive generations.
Study physical principles of living cells or organisms and their electrical or mechanical energy, applying methods and knowledge of mathematics, physics, chemistry, or biology.
Share research findings by writing scientific articles or by making presentations at scientific conferences.
Produce pharmaceutically or industrially useful proteins, using recombinant DNA technology.
Investigate the nature, composition, or expression of genes or research how genetic engineering can impact these processes.
Prepare pharmaceutical compounds for commercial distribution.
What a Biochemist or Biophysicist Should Know
Below is a list of the skills most Biochemists and Biophysicists say are important on the job.
Science: Using scientific rules and methods to solve problems.
Reading Comprehension: Understanding written sentences and paragraphs in work related documents.
Critical Thinking: Using logic and reasoning to identify the strengths and weaknesses of alternative solutions, conclusions or approaches to problems.
Active Listening: Giving full attention to what other people are saying, taking time to understand the points being made, asking questions as appropriate, and not interrupting at inappropriate times.
Writing: Communicating effectively in writing as appropriate for the needs of the audience.
Types of Biochemist or Biophysicist Jobs
Analytical Research Chemist
Biochemistry Scientist
Nanotechnologist
Genetic Engineer
Clinical Laboratory Scientist
Biochemist or Biophysicist Employment Estimates
There were about 31,500 jobs for Biochemists and Biophysicists in 2016 (in the United States).
New jobs are being produced at a rate of 11.5% which is lower than average. The Bureau of Labor Statistics predicts 3,600 new jobs for Biochemists and Biophysicists by 2026. Due to new job openings and attrition, there will be an average of 3,200 job openings in this field each year.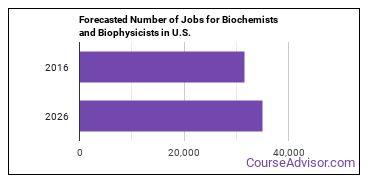 The states with the most job growth for Biochemists and Biophysicists are California, New Jersey, and Massachusetts.
Watch out if you plan on working in West Virginia, Nevada, or South Carolina. These states have the worst job growth for this type of profession.
What is the Average Salary of a Biochemist or Biophysicist
The typical yearly salary for Biochemists and Biophysicists is somewhere between $49,230 and $177,680. A Biochemist or Biophysicist median salary is $93,280.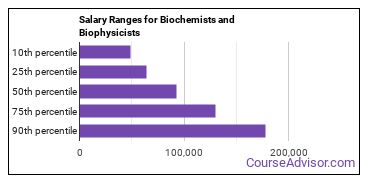 Below is a list of the median annual salaries for jobs of this type in different U.S. states.
Annual Mean Salary by State

| State | Annual Mean Salary |
| --- | --- |
| New Jersey | $145,180 |
| Illinois | $111,760 |
| Indiana | $107,040 |
| Massachusetts | $104,650 |
| New Hampshire | $102,910 |
| California | $101,770 |
| Maryland | $99,370 |
| Arizona | $96,610 |
| Tennessee | $95,440 |
| Pennsylvania | $94,860 |
| Delaware | $93,530 |
| Missouri | $92,000 |
| North Carolina | $90,150 |
| Georgia | $89,450 |
| Texas | $88,680 |
| Alabama | $87,520 |
| Kentucky | $84,320 |
| Colorado | $82,940 |
| Florida | $82,830 |
| Wisconsin | $82,170 |
| Michigan | $79,560 |
| Oregon | $79,130 |
| Minnesota | $77,740 |
| Maine | $74,430 |
| Washington | $74,370 |
| New York | $68,990 |
| Utah | $67,210 |
| Iowa | $63,890 |
| Ohio | $62,140 |
Tools & Technologies Used by Biochemists and Biophysicists
Below is a list of the types of tools and technologies that Biochemists and Biophysicists may use on a daily basis:
Linux
Microsoft Office
Minitab
SAS
Extensible markup language XML
Python
Microsoft Excel
Microsoft Visio
The MathWorks MATLAB
Microsoft PowerPoint
Where do Biochemists and Biophysicists Work?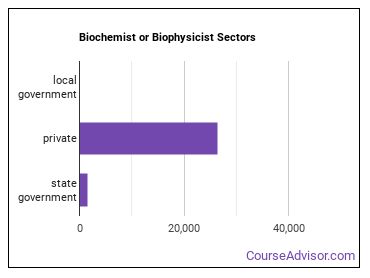 Related Careers
Those interested in being a Biochemist or Biophysicist may also be interested in:
Medical Scientists, Except Epidemiologists
Those who work as Biochemists and Biophysicists sometimes switch careers to one of these choices:
References
Image Credit: Via Wikimedia Commons