What is a Biomedical Engineer?
Biomedical Engineer Example Apply knowledge of engineering, biology, and biomechanical principles to the design, development, and evaluation of biological and health systems and products, such as artificial organs, prostheses, instrumentation, medical information systems, and health management and care delivery systems.
Biomedical Engineer Responsibilities
Keep documentation of service histories on all biomedical equipment.
Advise hospital administrators on the planning, acquisition, and use of medical equipment.
Analyze new medical procedures to forecast likely outcomes.
Manage teams of engineers by creating schedules, tracking inventory, creating and using budgets, and overseeing contract obligations and deadlines.
Research new materials to be used for products, such as implanted artificial organs.
Adapt or design computer hardware or software for medical science uses.
What a Biomedical Engineer Should Know
When polled, Biomedical Engineers say the following skills are most frequently used in their jobs:
Critical Thinking: Using logic and reasoning to identify the strengths and weaknesses of alternative solutions, conclusions or approaches to problems.
Reading Comprehension: Understanding written sentences and paragraphs in work related documents.
Active Listening: Giving full attention to what other people are saying, taking time to understand the points being made, asking questions as appropriate, and not interrupting at inappropriate times.
Judgment and Decision Making: Considering the relative costs and benefits of potential actions to choose the most appropriate one.
Complex Problem Solving: Identifying complex problems and reviewing related information to develop and evaluate options and implement solutions.
Types of Biomedical Engineers
Biomaterials Engineer
Biomedical Engineering Supervisor
Process Engineer
Product Development Director
Medical Engineer
Job Opportunities for Biomedical Engineers
In the United States, there were 21,300 jobs for Biomedical Engineers in 2016.
New jobs are being produced at a rate of 7.2% which is lower than average. The Bureau of Labor Statistics predicts 1,500 new jobs for Biomedical Engineers by 2026. Due to new job openings and attrition, there will be an average of 1,600 job openings in this field each year.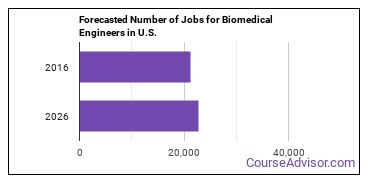 The states with the most job growth for Biomedical Engineers are California, Utah, and Massachusetts.
Watch out if you plan on working in Oklahoma, Louisiana, or Illinois. These states have the worst job growth for this type of profession.
Salary for Biomedical Engineers
The average yearly salary of a Biomedical Engineer ranges between $51,890 and $144,350. The median salary for this occupation is $88,550.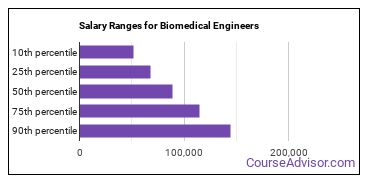 Below is a list of the median annual salaries for jobs of this type in different U.S. states.
Annual Mean Salary by State

| State | Annual Mean Salary |
| --- | --- |
| Minnesota | $114,380 |
| New Jersey | $113,140 |
| Massachusetts | $105,580 |
| Arizona | $103,650 |
| Connecticut | $102,970 |
| New York | $101,460 |
| California | $101,210 |
| Texas | $100,680 |
| Maryland | $100,200 |
| Illinois | $98,420 |
| Virginia | $97,400 |
| Colorado | $96,880 |
| Nevada | $96,100 |
| Vermont | $95,280 |
| Washington | $94,850 |
| Oregon | $94,440 |
| North Carolina | $93,450 |
| Indiana | $85,310 |
| West Virginia | $85,280 |
| Ohio | $84,700 |
| Nebraska | $82,540 |
| Georgia | $81,870 |
| District of Columbia | $80,320 |
| Michigan | $79,650 |
| Pennsylvania | $78,840 |
| Florida | $78,670 |
| Tennessee | $77,920 |
| Kansas | $77,150 |
| Missouri | $75,150 |
| Wisconsin | $71,750 |
| Utah | $70,980 |
| Iowa | $68,260 |
| Oklahoma | $67,300 |
| Arkansas | $66,840 |
| South Carolina | $64,460 |
Tools & Technologies Used by Biomedical Engineers
Although they're not necessarily needed for all jobs, the following technologies are used by many Biomedical Engineers:
Hypertext markup language HTML
R
Mentor Graphics
Microsoft Excel
Schematic design entry software
Microsoft PowerPoint
Cadence Allegro Design Entry Capture and Capture CIS
Microsoft Visual Basic
Computer aided design CAD software
National Instruments LabVIEW
Where Biomedical Engineers Are Employed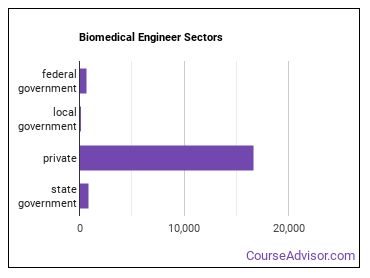 Similar Careers
Those thinking about becoming Biomedical Engineers might also be interested in the following careers:
References
Image Credit: Via Wikimedia Commons