Life As a Molecular and Cellular Biologist
Molecular and Cellular Biologist Job Description Research and study cellular molecules and organelles to understand cell function and organization.
A Day in the Life of a Molecular and Cellular Biologist
Conduct applied research aimed at improvements in areas such as disease testing, crop quality, pharmaceuticals, and the harnessing of microbes to recycle waste.
Compile and analyze molecular or cellular experimental data and adjust experimental designs as necessary.
Verify all financial, physical, and human resources assigned to research or development projects are used as planned.
Maintain accurate laboratory records and data.
Develop assays that monitor cell characteristics.
Direct, coordinate, organize, or prioritize biological laboratory activities.
Molecular and Cellular Biologist Needed Skills
These are the skills Molecular and Cellular Biologists say are the most useful in their careers:
Science: Using scientific rules and methods to solve problems.
Reading Comprehension: Understanding written sentences and paragraphs in work related documents.
Critical Thinking: Using logic and reasoning to identify the strengths and weaknesses of alternative solutions, conclusions or approaches to problems.
Writing: Communicating effectively in writing as appropriate for the needs of the audience.
Active Listening: Giving full attention to what other people are saying, taking time to understand the points being made, asking questions as appropriate, and not interrupting at inappropriate times.
Related Job Titles
Cell Biology Scientist
Purification Scientist
Molecular Biologist
Cellular Biologist
Laboratory Technician
Is There Job Demand for Molecular and Cellular Biologists?
In 2016, there was an estimated number of 38,700 jobs in the United States for Biological Scientists.
New jobs are being produced at a rate of 8% which is lower than average. The Bureau of Labor Statistics predicts 3,100 new jobs for Molecular and Cellular Biologists by 2026. The BLS estimates 3,700 yearly job openings in this field per year.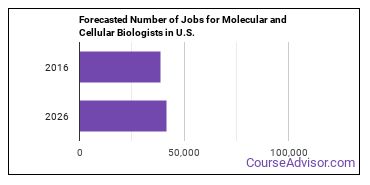 The states with the most job growth for Biological Scientists are California, Massachusetts, and Texas.
Watch out if you plan on working in Wyoming, South Dakota, or Rhode Island. These states have the worst job growth for this type of profession.
What is the Average Salary of a Molecular and Cellular Biologist
The average yearly salary of a Molecular and Cellular Biologist ranges between $45,030 and $126,390. A Molecular and Cellular Biologist median salary is $79,590.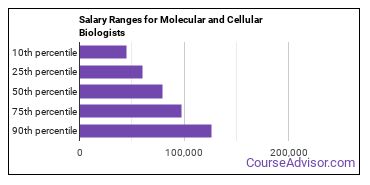 How much do Biological Scientists make in different U.S. states?
Annual Mean Salary by State

| State | Annual Mean Salary |
| --- | --- |
| District of Columbia | $104,460 |
| Maryland | $103,790 |
| Virginia | $93,750 |
| Connecticut | $93,180 |
| Delaware | $91,760 |
| California | $91,340 |
| Rhode Island | $89,210 |
| New York | $89,000 |
| Washington | $85,200 |
| Massachusetts | $84,790 |
| Illinois | $84,180 |
| Arizona | $83,680 |
| North Carolina | $83,380 |
| Texas | $80,900 |
| Mississippi | $80,690 |
| Hawaii | $79,760 |
| New Hampshire | $78,780 |
| South Carolina | $78,370 |
| Vermont | $78,070 |
| Alaska | $77,430 |
| Maine | $76,840 |
| New Jersey | $76,330 |
| Michigan | $75,110 |
| Nebraska | $74,790 |
| Arkansas | $74,380 |
| Utah | $74,290 |
| Minnesota | $73,770 |
| New Mexico | $73,610 |
| Pennsylvania | $73,550 |
| Wisconsin | $73,520 |
| Nevada | $73,490 |
| Georgia | $72,460 |
| Colorado | $71,380 |
| Florida | $71,200 |
| Wyoming | $71,030 |
| Idaho | $70,770 |
| North Dakota | $70,590 |
| West Virginia | $70,060 |
| Oregon | $69,930 |
| Indiana | $69,180 |
| Ohio | $67,780 |
| Tennessee | $67,690 |
| Missouri | $67,290 |
| Alabama | $67,200 |
| Montana | $66,110 |
| Louisiana | $66,100 |
| South Dakota | $65,660 |
| Kentucky | $64,780 |
| Kansas | $64,560 |
| Oklahoma | $64,200 |
| Iowa | $62,320 |
Tools & Technologies Used by Molecular and Cellular Biologists
Below is a list of the types of tools and technologies that Molecular and Cellular Biologists may use on a daily basis:
Microsoft Office
Microsoft Word
Minitab
Mathsoft Mathcad
Microsoft Excel
The MathWorks MATLAB
Where Molecular and Cellular Biologists Work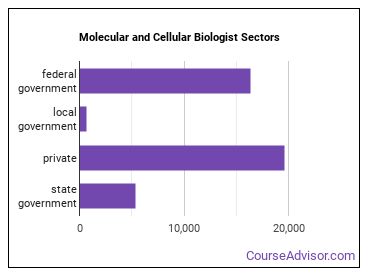 Other Jobs You May be Interested In
Those thinking about becoming Molecular and Cellular Biologists might also be interested in the following careers:
Career changers with experience as a Molecular and Cellular Biologist sometimes find work in one of the following fields:
Pathologists
Medical Scientists, Except Epidemiologists
References
Image Credit: Via Wikimedia Commons