What is a Purchasing Agent?
Occupation Description Purchase machinery, equipment, tools, parts, supplies, or services necessary for the operation of an establishment. Purchase raw or semi-finished materials for manufacturing.
Daily Life Of a Purchasing Agent
Write and review product specifications, maintaining a working technical knowledge of the goods or services to be purchased.
Monitor shipments to ensure that goods come in on time, and resolve problems related to undelivered goods.
Research and evaluate suppliers, based on price, quality, selection, service, support, availability, reliability, production and distribution capabilities, and the supplier's reputation and history.
Study sales records and inventory levels of current stock to develop strategic purchasing programs that facilitate employee access to supplies.
Confer with staff, users, and vendors to discuss defective or unacceptable goods or services and determine corrective action.
Monitor and follow applicable laws and regulations.
What Skills Do You Need to Work as a Purchasing Agent?
Below is a list of the skills most Purchasing Agents say are important on the job.
Reading Comprehension: Understanding written sentences and paragraphs in work related documents.
Negotiation: Bringing others together and trying to reconcile differences.
Active Listening: Giving full attention to what other people are saying, taking time to understand the points being made, asking questions as appropriate, and not interrupting at inappropriate times.
Speaking: Talking to others to convey information effectively.
Complex Problem Solving: Identifying complex problems and reviewing related information to develop and evaluate options and implement solutions.
Types of Purchasing Agents
Procurement Engineer
Media Buyer
Food Broker
Log Buyer
Print Buyer
Job Demand for Purchasing Agents
There were about 309,400 jobs for Purchasing Agents, Except Wholesale, Retail, and Farm Products in 2016 (in the United States).
Purchasing Agent jobs are decreasing by a rate of -5.6%. This means the total job opportunities are shrinking. The Bureau of Labor Statistics predicts a loss of -17,400 jobs for Purchasing Agents by 2026. There will be an estimated 23,800 positions for Purchasing Agent per year.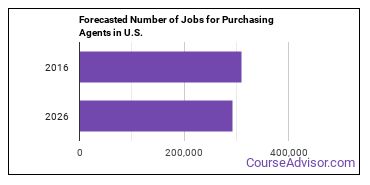 The states with the most job growth for Purchasing Agents, Except Wholesale, Retail, and Farm Products are Texas, Colorado, and Florida.
Watch out if you plan on working in California, Ohio, or New York. These states have the worst job growth for this type of profession.
What Tools & Technology do Purchasing Agents Use?
Although they're not necessarily needed for all jobs, the following technologies are used by many Purchasing Agents:
Oracle PeopleSoft Financials
Oracle PeopleSoft
SAP
Microsoft Project
Microsoft Office
Microsoft Dynamics
MicroStrategy
Microsoft SharePoint
Google AdWords
Microsoft Excel

You May Also Be Interested In…
Those thinking about becoming Purchasing Agents might also be interested in the following careers:
Private Detectives and Investigators
Paralegals and Legal Assistants
Those who work as Purchasing Agents sometimes switch careers to one of these choices:
Sales Engineers
Regulatory Affairs Specialists
Wholesale and Retail Buyers, Except Farm Products
References
Image Credit: Via Wikimedia Commons