What You Need to Know About Sociologists
Occupation Description Study human society and social behavior by examining the groups and social institutions that people form, as well as various social, religious, political, and business organizations. May study the behavior and interaction of groups, trace their origin and growth, and analyze the influence of group activities on individual members.
List of Sociologist Job Duties
Prepare publications and reports containing research findings.
Direct work of statistical clerks, statisticians, and others who compile and evaluate research data.
Collect data about the attitudes, values, and behaviors of people in groups, using observation, interviews, and review of documents.
Analyze and interpret data to increase the understanding of human social behavior.
Teach sociology.
Present research findings at professional meetings.
What a Sociologist Should Know
When polled, Sociologists say the following skills are most frequently used in their jobs:
Reading Comprehension: Understanding written sentences and paragraphs in work related documents.
Active Listening: Giving full attention to what other people are saying, taking time to understand the points being made, asking questions as appropriate, and not interrupting at inappropriate times.
Writing: Communicating effectively in writing as appropriate for the needs of the audience.
Social Perceptiveness: Being aware of others' reactions and understanding why they react as they do.
Speaking: Talking to others to convey information effectively.
Other Sociologist Job Titles
Criminologist
Study Director
Clinical Sociologist
Research and Evaluation Manager
Research Specialist
Sociologist Employment Estimates
There were about 3,500 jobs for Sociologists in 2016 (in the United States).
New jobs are being produced at a rate of 1.3% which is lower than average. The Bureau of Labor Statistics predicts new jobs for Sociologists by 2026. The BLS estimates 300 yearly job openings in this field per year.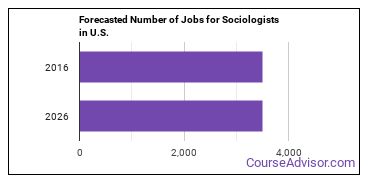 The states with the most job growth for Sociologists are Wisconsin, New York, and Florida.
Watch out if you plan on working in Pennsylvania, Oregon, or North Carolina. These states have the worst job growth for this type of profession.
How Much Does a Sociologist Make?
The salary for Sociologists ranges between about $46,170 and $140,430 a year. A Sociologist median salary is $82,050.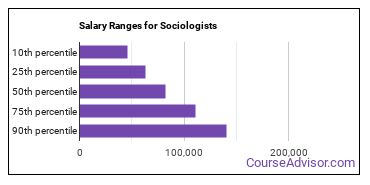 How much do Sociologists make in each U.S. state?
Annual Mean Salary by State

| State | Annual Mean Salary |
| --- | --- |
| Pennsylvania | $121,470 |
| Massachusetts | $111,020 |
| New Jersey | $106,470 |
| California | $98,560 |
| North Carolina | $95,260 |
| Michigan | $88,180 |
| Illinois | $86,280 |
| Wisconsin | $80,270 |
| Florida | $78,490 |
| New York | $75,800 |
| Maryland | $74,540 |
| Washington | $74,130 |
| Utah | $72,570 |
| Ohio | $67,230 |
| South Dakota | $43,080 |
What Tools & Technology do Sociologists Use?
Below is a list of the types of tools and technologies that Sociologists may use on a daily basis:
Microsoft Excel
Adobe Systems Adobe Acrobat
Microsoft Office
R
SAS
Adobe Systems Adobe Photoshop
ESRI ArcGIS software
Microsoft Project
Microsoft PowerPoint
Microsoft Access
Where Sociologists Work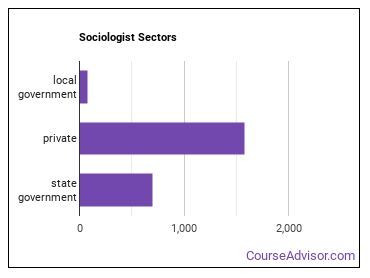 References
Image Credit: Via Wikimedia Commons