All About Industrial-Organizational Psychologists
Occupation Description Apply principles of psychology to human resources, administration, management, sales, and marketing problems. Activities may include policy planning; employee testing and selection, training and development; and organizational development and analysis. May work with management to organize the work setting to improve worker productivity.
Daily Life Of an Industrial-Organizational Psychologist
Coach senior executives and managers on leadership and performance.
Train clients to administer human resources functions including testing, selection, and performance management.
Formulate and implement training programs, applying principles of learning and individual differences.
Write reports on research findings and implications to contribute to general knowledge or to suggest potential changes in organizational functioning.
Study organizational effectiveness, productivity, and efficiency, including the nature of workplace supervision and leadership.
Participate in mediation and dispute resolution.
What an Industrial-Organizational Psychologist Should Know
Below is a list of the skills most Industrial-Organizational Psychologists say are important on the job.
Reading Comprehension: Understanding written sentences and paragraphs in work related documents.
Active Listening: Giving full attention to what other people are saying, taking time to understand the points being made, asking questions as appropriate, and not interrupting at inappropriate times.
Judgment and Decision Making: Considering the relative costs and benefits of potential actions to choose the most appropriate one.
Complex Problem Solving: Identifying complex problems and reviewing related information to develop and evaluate options and implement solutions.
Speaking: Talking to others to convey information effectively.
Related Job Titles
Research Scientist
Organizational Development Specialist
Corporate Director, Talent Assessment
Senior Behavioral Scientist
Organizational Development Director
Industrial-Organizational Psychologist Job Outlook
In 2016, there was an estimated number of 1,700 jobs in the United States for Industrial-Organizational Psychologists.
New jobs are being produced at a rate of 8.4% which is lower than average. The Bureau of Labor Statistics predicts 100 new jobs for Industrial-Organizational Psychologists by 2026. There will be an estimated 100 positions for Industrial-Organizational Psychologist per year.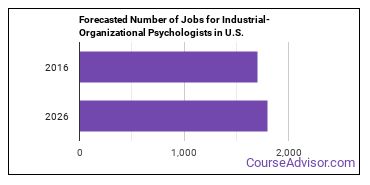 The states with the most job growth for Industrial-Organizational Psychologists are Massachusetts, Virginia, and New Jersey.
Watch out if you plan on working in Tennessee, Nebraska, or Idaho. These states have the worst job growth for this type of profession.
Industrial-Organizational Psychologist Salary
Industrial-Organizational Psychologists Make between $51,350 and $192,150 a year. The median salary for this occupation is $97,260.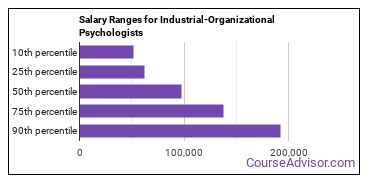 How much do Industrial-Organizational Psychologists make in different U.S. states?
Annual Mean Salary by State

| State | Annual Mean Salary |
| --- | --- |
| California | $149,820 |
| Virginia | $126,220 |
| New Jersey | $119,700 |
| Minnesota | $114,990 |
| Pennsylvania | $96,730 |
| Massachusetts | $75,660 |
| Oklahoma | $58,920 |
What Tools & Technology do Industrial-Organizational Psychologists Use?
Although they're not necessarily needed for all jobs, the following technologies are used by many Industrial-Organizational Psychologists:
Microsoft Office
Microsoft Excel
SAS
Microsoft Outlook
Microsoft Visio
IBM SPSS Statistics
Microsoft Access
Oracle PeopleSoft
Microsoft Word
Microsoft PowerPoint
How do I Become an Industrial-Organizational Psychologist?
What kind of Industrial-Organizational Psychologist requirements are there?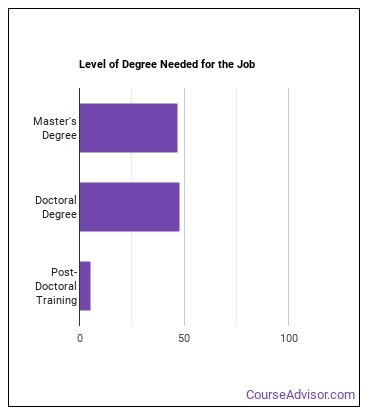 How Long Does it Take to Become Industrial-Organizational Psychologist?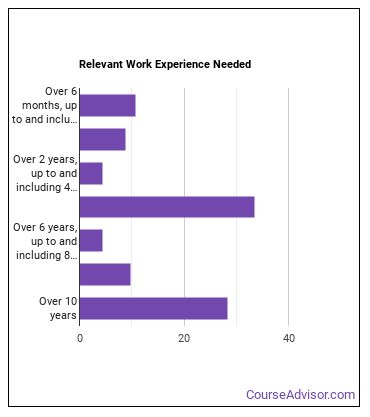 Where Industrial-Organizational Psychologists Are Employed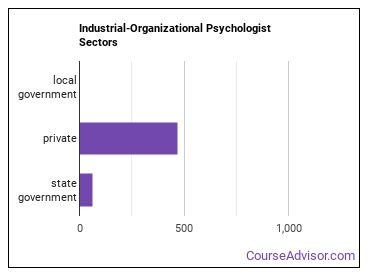 References
Image Credit: Via Wikimedia Commons