What Do Nuclear Technicians Do?
Nuclear Technician Definition Assist nuclear physicists, nuclear engineers, or other scientists in laboratory or production activities. May operate, maintain, or provide quality control for nuclear testing and research equipment. May monitor radiation.
Types of Nuclear Technician Jobs
Radiochemical Technician
Nuclear Monitoring Technician
Radiation Protection Technician
What Kind of Nuclear Technician Job Opportunities Are There?
In the United States, there were 6,900 jobs for Nuclear Technicians in 2016.
There is little to no growth in job opportunities for Nuclear Technicians. Due to new job openings and attrition, there will be an average of 800 job openings in this field each year.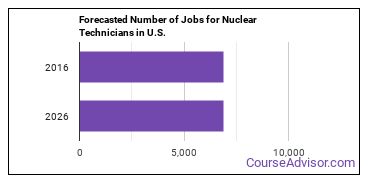 The states with the most job growth for Nuclear Technicians are Connecticut, South Carolina, and Texas.
Watch out if you plan on working in Idaho, Virginia, or Pennsylvania. These states have the worst job growth for this type of profession.
How Much Does a Nuclear Technician Make?
Nuclear Technicians Make between $49,820 and $114,670 a year. A Nuclear Technician median salary is $79,140.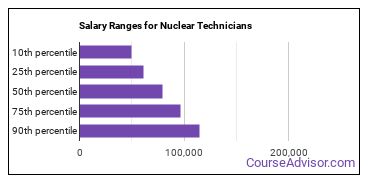 Below is a list of the median annual salaries for jobs of this type in different U.S. states.
Annual Mean Salary by State

| State | Annual Mean Salary |
| --- | --- |
| New York | $95,940 |
| California | $95,420 |
| Pennsylvania | $93,380 |
| Florida | $88,550 |
| North Carolina | $86,300 |
| Tennessee | $86,030 |
| Texas | $85,990 |
| Illinois | $84,810 |
| Mississippi | $79,890 |
| Connecticut | $78,300 |
| Ohio | $73,210 |
| Idaho | $73,160 |
| South Carolina | $69,130 |
| Louisiana | $61,080 |
| Virginia | $61,010 |
Where Nuclear Technicians Work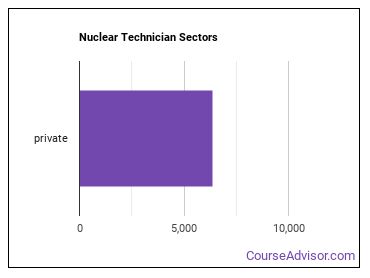 References
Image Credit: Via Wikimedia Commons