What Do Nuclear Monitoring Technicians Do?
Career Description Collect and test samples to monitor results of nuclear experiments and contamination of humans, facilities, and environment.
A Day in the Life of a Nuclear Monitoring Technician
Confer with scientists directing projects to determine significant events to monitor during tests.
Set up equipment that automatically detects area radiation deviations and test detection equipment to ensure its accuracy.
Inform supervisors when individual exposures or area radiation levels approach maximum permissible limits.
Immerse samples in chemical compounds to prepare them for testing.
Instruct personnel in radiation safety procedures and demonstrate use of protective clothing and equipment.
Determine or recommend radioactive decontamination procedures, according to the size and nature of equipment and the degree of contamination.
Nuclear Monitoring Technician Required Skills
Below is a list of the skills most Nuclear Monitoring Technicians say are important on the job.
Active Listening: Giving full attention to what other people are saying, taking time to understand the points being made, asking questions as appropriate, and not interrupting at inappropriate times.
Monitoring: Monitoring/Assessing performance of yourself, other individuals, or organizations to make improvements or take corrective action.
Critical Thinking: Using logic and reasoning to identify the strengths and weaknesses of alternative solutions, conclusions or approaches to problems.
Reading Comprehension: Understanding written sentences and paragraphs in work related documents.
Operation Monitoring: Watching gauges, dials, or other indicators to make sure a machine is working properly.
Types of Nuclear Monitoring Technicians
Nuclear Technician Research and Development
Nuclear Worker Technician
Radiation / Chemistry Technician
Chemical Radiation Technician
Radiochemical Technician
Is There Job Demand for Nuclear Monitoring Technicians?
In 2016, there was an estimated number of 6,900 jobs in the United States for Nuclear Technicians.
There is little to no growth in job opportunities for Nuclear Monitoring Technicians. The BLS estimates 800 yearly job openings in this field per year.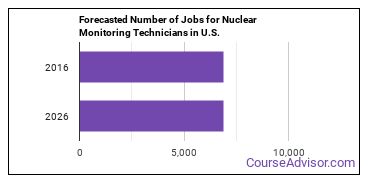 The states with the most job growth for Nuclear Technicians are Connecticut, South Carolina, and Texas.
Watch out if you plan on working in Idaho, Virginia, or Pennsylvania. These states have the worst job growth for this type of profession.
Average Nuclear Monitoring Technician Salary
The typical yearly salary for Nuclear Technicians is somewhere between $49,820 and $114,670. The median salary for this occupation is $79,140.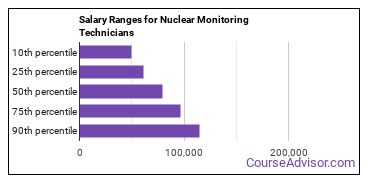 Below is a list of the median annual salaries for jobs of this type in different U.S. states.
Annual Mean Salary by State

| State | Annual Mean Salary |
| --- | --- |
| New York | $95,940 |
| California | $95,420 |
| Pennsylvania | $93,380 |
| Florida | $88,550 |
| North Carolina | $86,300 |
| Tennessee | $86,030 |
| Texas | $85,990 |
| Illinois | $84,810 |
| Mississippi | $79,890 |
| Connecticut | $78,300 |
| Ohio | $73,210 |
| Idaho | $73,160 |
| South Carolina | $69,130 |
| Louisiana | $61,080 |
| Virginia | $61,010 |
What Tools do Nuclear Monitoring Technicians Use?
Below is a list of the types of tools and technologies that Nuclear Monitoring Technicians may use on a daily basis:
Microsoft Outlook
Microsoft Excel
Structured query language SQL
Oracle Java
Microsoft Word
Microsoft Office
Microsoft PowerPoint
Microsoft Windows
Supervisory control and data acquisition SCADA software
Microsoft Azure
How do I Become a Nuclear Monitoring Technician?
Individuals working as Nuclear Monitoring Technicians have obtained the following education levels: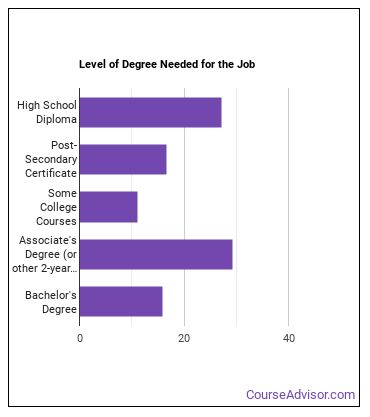 How many years of work experience do I need?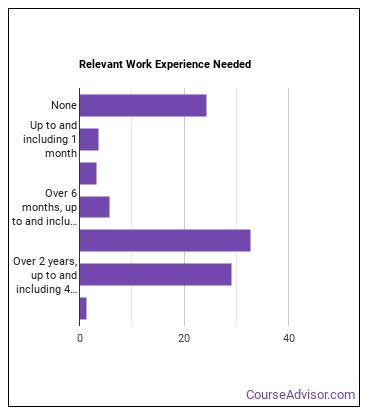 Where Nuclear Monitoring Technicians Work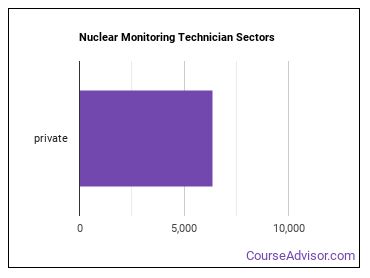 References
Image Credit: Via Wikimedia Commons