All About Nuclear Engineers
Nuclear Engineer Job Description Conduct research on nuclear engineering projects or apply principles and theory of nuclear science to problems concerned with release, control, and use of nuclear energy and nuclear waste disposal.
What do Nuclear Engineers do On a Daily Basis?
Direct operating or maintenance activities of operational nuclear power plants to ensure efficiency and conformity to safety standards.
Conduct tests of nuclear fuel behavior and cycles or performance of nuclear machinery and equipment to optimize performance of existing plants.
Design or develop nuclear equipment, such as reactor cores, radiation shielding, or associated instrumentation or control mechanisms.
Discuss construction project proposals with interested parties, such as vendors, contractors, or nuclear facility review boards.
Conduct environmental studies related to topics such as nuclear power generation, nuclear waste disposal, or nuclear weapon deployment.
Develop or contribute to the development of plans to remediate or restore environments affected by nuclear radiation, such as waste disposal sites.
Nuclear Engineer Needed Skills
When polled, Nuclear Engineers say the following skills are most frequently used in their jobs:
Science: Using scientific rules and methods to solve problems.
Reading Comprehension: Understanding written sentences and paragraphs in work related documents.
Active Listening: Giving full attention to what other people are saying, taking time to understand the points being made, asking questions as appropriate, and not interrupting at inappropriate times.
Complex Problem Solving: Identifying complex problems and reviewing related information to develop and evaluate options and implement solutions.
Critical Thinking: Using logic and reasoning to identify the strengths and weaknesses of alternative solutions, conclusions or approaches to problems.
Other Nuclear Engineer Job Titles
Weapons Designer
Nuclear Fuels Reclamation Engineer
Weapons Engineer
Radioactive Materials Waste Management Engineer
Nuclear Licensing Engineer
Job Demand for Nuclear Engineers
In the United States, there were 17,700 jobs for Nuclear Engineers in 2016.
New jobs are being produced at a rate of 3.8% which is lower than average. The Bureau of Labor Statistics predicts 700 new jobs for Nuclear Engineers by 2026. Due to new job openings and attrition, there will be an average of 1,400 job openings in this field each year.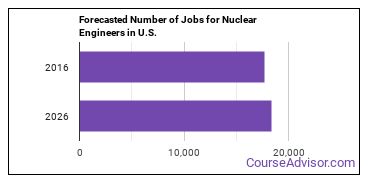 The states with the most job growth for Nuclear Engineers are Virginia, New Mexico, and Tennessee.
Watch out if you plan on working in Alabama, Mississippi, or Minnesota. These states have the worst job growth for this type of profession.
Nuclear Engineer Average Salary
The average yearly salary of a Nuclear Engineer ranges between $68,560 and $162,360. A Nuclear Engineer median salary is $107,600.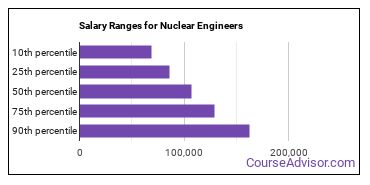 How much do Nuclear Engineers make in different U.S. states?
Annual Mean Salary by State

| State | Annual Mean Salary |
| --- | --- |
| Maryland | $137,930 |
| New Mexico | $136,310 |
| California | $132,180 |
| Idaho | $128,270 |
| Tennessee | $126,300 |
| New Hampshire | $125,330 |
| Wisconsin | $120,330 |
| Illinois | $117,710 |
| Pennsylvania | $115,760 |
| Kansas | $113,690 |
| North Carolina | $113,110 |
| Connecticut | $112,430 |
| New York | $112,400 |
| Florida | $103,680 |
| Nebraska | $103,370 |
| Alabama | $102,100 |
| South Carolina | $101,420 |
| Michigan | $100,890 |
| Washington | $100,260 |
| Mississippi | $99,900 |
| Louisiana | $98,900 |
| Missouri | $97,070 |
| Texas | $90,260 |
| Virginia | $87,340 |
What Tools & Technology do Nuclear Engineers Use?
Below is a list of the types of tools and technologies that Nuclear Engineers may use on a daily basis:
Salesforce software
The MathWorks MATLAB
Data entry software
Oracle Java
Microsoft Excel
SAP software
C++
Python
Microsoft Office
Computer aided design CAD software
Where Nuclear Engineers Work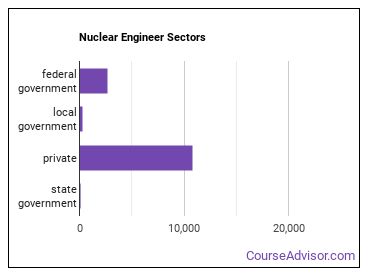 You May Also Be Interested In…
Those interested in being a Nuclear Engineer may also be interested in:
References
Image Credit: Via Wikimedia Commons