What is a Cytotechnologist?
Cytotechnologist Example Stain, mount, and study cells to detect evidence of cancer, hormonal abnormalities, and other pathological conditions following established standards and practices.
What do Cytotechnologists do On a Daily Basis?
Examine specimens, using microscopes, to evaluate specimen quality.
Prepare cell samples by applying special staining techniques, such as chromosomal staining, to differentiate cells or cell components.
Examine specimens to detect abnormal hormone conditions.
Adjust, maintain, or repair laboratory equipment, such as microscopes.
Document specimens by verifying patients' and specimens' information.
Maintain effective laboratory operations by adhering to standards of specimen collection, preparation, or laboratory safety.
Skills Needed to be a Cytotechnologist
Cytotechnologists state the following job skills are important in their day-to-day work.
Critical Thinking: Using logic and reasoning to identify the strengths and weaknesses of alternative solutions, conclusions or approaches to problems.
Reading Comprehension: Understanding written sentences and paragraphs in work related documents.
Active Listening: Giving full attention to what other people are saying, taking time to understand the points being made, asking questions as appropriate, and not interrupting at inappropriate times.
Active Learning: Understanding the implications of new information for both current and future problem-solving and decision-making.
Complex Problem Solving: Identifying complex problems and reviewing related information to develop and evaluate options and implement solutions.
Related Job Titles for this Occupation:
Cytology Laboratory Manager (Cytology Lab Manager)
Cytotechnologist Supervisor
Certified Cytotechnologist
Cytology Manager
Cytopathology Technologist
Is There Going to be Demand for Cytotechnologists?
In the United States, there were 171,400 jobs for Medical and Clinical Laboratory Technologists in 2016.
New jobs are being produced at a rate of 11.5% which is lower than average. The Bureau of Labor Statistics predicts 19,800 new jobs for Cytotechnologists by 2026. There will be an estimated 12,900 positions for Cytotechnologist per year.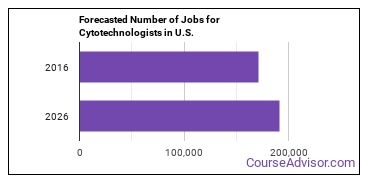 The states with the most job growth for Medical and Clinical Laboratory Technologists are Texas, California, and Florida.
Watch out if you plan on working in Rhode Island, Vermont, or Wyoming. These states have the worst job growth for this type of profession.
What Tools do Cytotechnologists Use?
Although they're not necessarily needed for all jobs, the following technologies are used by many Cytotechnologists:
References
Image Credit: Via Wikimedia Commons