What is a Hospitalist?
Job Description: Provide inpatient care predominantly in settings such as medical wards, acute care units, intensive care units, rehabilitation centers, or emergency rooms. Manage and coordinate patient care throughout treatment.
Hospitalist Responsibilities
Train or supervise medical students, residents, or other health professionals.
Attend inpatient consultations in areas of specialty.
Diagnose, treat, or provide continuous care to hospital inpatients.
Direct, coordinate, or supervise the patient care activities of nursing or support staff.
Refer patients to medical specialists, social services or other professionals as appropriate.
Admit patients for hospital stays.
Hospitalist Needed Skills
These are the skills Hospitalists say are the most useful in their careers:
Social Perceptiveness: Being aware of others' reactions and understanding why they react as they do.
Active Listening: Giving full attention to what other people are saying, taking time to understand the points being made, asking questions as appropriate, and not interrupting at inappropriate times.
Service Orientation: Actively looking for ways to help people.
Critical Thinking: Using logic and reasoning to identify the strengths and weaknesses of alternative solutions, conclusions or approaches to problems.
Reading Comprehension: Understanding written sentences and paragraphs in work related documents.
Other Hospitalist Job Titles
Chief of Hospital Medicine
Hospital Medicine Director
Associate Chief, Section of Hospital Medicine
Internal Medicine Hospitalist
Hospitalist Program Director
Hospitalist Employment Estimates
In the United States, there were 372,400 jobs for Physicians and Surgeons in 2016.
New jobs are being produced at a rate of 11.4% which is lower than average. The Bureau of Labor Statistics predicts 42,300 new jobs for Hospitalists by 2026. There will be an estimated 14,300 positions for Hospitalist per year.
The states with the most job growth for Physicians and Surgeons are New York, Florida, and Texas.
Watch out if you plan on working in Connecticut, Rhode Island, or South Dakota. These states have the worst job growth for this type of profession.
Average Hospitalist Salary
The typical yearly salary for Physicians and Surgeons is somewhere between $60,280 and $208,000. The median salary is $200,890.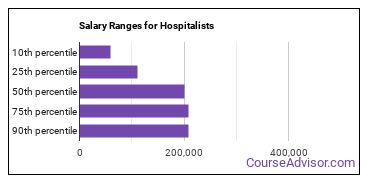 How much do Physicians and Surgeons make in different U.S. states?
Annual Mean Salary by State

| State | Annual Mean Salary |
| --- | --- |
| New Hampshire | $275,840 |
| North Dakota | $266,510 |
| Maine | $257,550 |
| Montana | $247,260 |
| Minnesota | $245,040 |
| Alaska | $244,220 |
| Idaho | $241,670 |
| Wisconsin | $239,610 |
| Washington | $239,080 |
| Indiana | $237,470 |
| Georgia | $235,060 |
| Wyoming | $234,610 |
| Tennessee | $231,960 |
| New Mexico | $229,100 |
| Arizona | $229,090 |
| Hawaii | $228,470 |
| South Dakota | $227,710 |
| Nevada | $227,500 |
| Kentucky | $223,770 |
| West Virginia | $222,270 |
| Connecticut | $221,870 |
| Colorado | $219,310 |
| Iowa | $219,300 |
| Utah | $218,210 |
| Delaware | $216,600 |
| Ohio | $212,160 |
| Rhode Island | $209,580 |
| New Jersey | $208,820 |
| California | $208,740 |
| Massachusetts | $207,990 |
| Florida | $205,020 |
| Missouri | $203,440 |
| Oregon | $202,750 |
| Texas | $199,370 |
| Virginia | $199,080 |
| North Carolina | $198,040 |
| Maryland | $196,210 |
| Pennsylvania | $195,810 |
| Kansas | $191,430 |
| South Carolina | $185,210 |
| Louisiana | $183,920 |
| Illinois | $183,780 |
| Alabama | $183,510 |
| District of Columbia | $182,910 |
| Michigan | $181,760 |
| Vermont | $176,520 |
| Mississippi | $174,340 |
| New York | $171,060 |
| Arkansas | $165,290 |
| Nebraska | $161,880 |
| Oklahoma | $155,130 |
Tools & Technologies Used by Hospitalists
Although they're not necessarily needed for all jobs, the following technologies are used by many Hospitalists:
Microsoft Excel
MEDITECH software
Microsoft PowerPoint
Microsoft Word
Microsoft Office
Medical procedure coding software
Where Hospitalists Work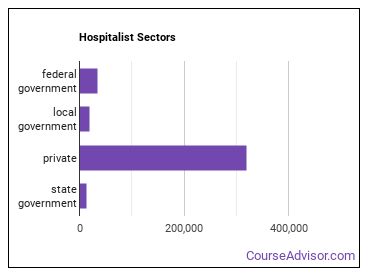 Other Jobs You May be Interested In
Those interested in being a Hospitalist may also be interested in:
Clinical Nurse Specialists
Career changers with experience as a Hospitalist sometimes find work in one of the following fields:
Oral and Maxillofacial Surgeons
Naturopathic Physicians
References
Image Credit: Via Wikimedia Commons