What is a Preventive Medicine Physician?
Career Description Apply knowledge of general preventive medicine and public health issues to promote health care to groups or individuals, and aid in the prevention or reduction of risk of disease, injury, disability, or death. May practice population-based medicine or diagnose and treat patients in the context of clinical health promotion and disease prevention.
A Day in the Life of a Preventive Medicine Physician
Design or use surveillance tools, such as screening, lab reports, and vital records, to identify health risks.
Teach or train medical staff regarding preventive medicine issues.
Deliver presentations to lay or professional audiences.
Document or review comprehensive patients' histories with an emphasis on occupation or environmental risks.
Supervise or coordinate the work of physicians, nurses, statisticians, or other professional staff members.
Direct or manage prevention programs in specialty areas such as aerospace, occupational, infectious disease, and environmental medicine.
Preventive Medicine Physician Needed Skills
When polled, Preventive Medicine Physicians say the following skills are most frequently used in their jobs:
Reading Comprehension: Understanding written sentences and paragraphs in work related documents.
Critical Thinking: Using logic and reasoning to identify the strengths and weaknesses of alternative solutions, conclusions or approaches to problems.
Active Listening: Giving full attention to what other people are saying, taking time to understand the points being made, asking questions as appropriate, and not interrupting at inappropriate times.
Active Learning: Understanding the implications of new information for both current and future problem-solving and decision-making.
Judgment and Decision Making: Considering the relative costs and benefits of potential actions to choose the most appropriate one.
Other Preventive Medicine Physician Job Titles
Preventive Medicine Physician
Public Health Officer
Regional Medical Director
Primary Clinician
Aerospace Medicine Physician
Preventive Medicine Physician Job Outlook
In the United States, there were 372,400 jobs for Physicians and Surgeons in 2016.
New jobs are being produced at a rate of 11.4% which is lower than average. The Bureau of Labor Statistics predicts 42,300 new jobs for Preventive Medicine Physicians by 2026. The BLS estimates 14,300 yearly job openings in this field per year.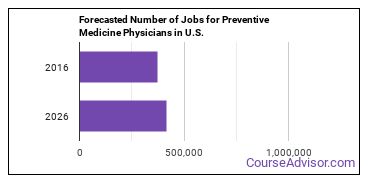 The states with the most job growth for Physicians and Surgeons are New York, Florida, and Texas.
Watch out if you plan on working in Connecticut, Rhode Island, or South Dakota. These states have the worst job growth for this type of profession.
Do Preventive Medicine Physicians Make A Lot Of Money?
The average yearly salary of a Preventive Medicine Physician ranges between $60,280 and $208,000. The median salary for this occupation is $200,890.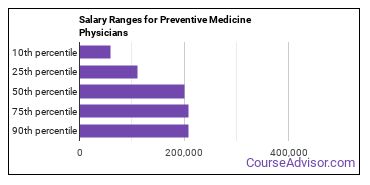 How much do Physicians and Surgeons make in each U.S. state?
Annual Mean Salary by State

| State | Annual Mean Salary |
| --- | --- |
| New Hampshire | $275,840 |
| North Dakota | $266,510 |
| Maine | $257,550 |
| Montana | $247,260 |
| Minnesota | $245,040 |
| Alaska | $244,220 |
| Idaho | $241,670 |
| Wisconsin | $239,610 |
| Washington | $239,080 |
| Indiana | $237,470 |
| Georgia | $235,060 |
| Wyoming | $234,610 |
| Tennessee | $231,960 |
| New Mexico | $229,100 |
| Arizona | $229,090 |
| Hawaii | $228,470 |
| South Dakota | $227,710 |
| Nevada | $227,500 |
| Kentucky | $223,770 |
| West Virginia | $222,270 |
| Connecticut | $221,870 |
| Colorado | $219,310 |
| Iowa | $219,300 |
| Utah | $218,210 |
| Delaware | $216,600 |
| Ohio | $212,160 |
| Rhode Island | $209,580 |
| New Jersey | $208,820 |
| California | $208,740 |
| Massachusetts | $207,990 |
| Florida | $205,020 |
| Missouri | $203,440 |
| Oregon | $202,750 |
| Texas | $199,370 |
| Virginia | $199,080 |
| North Carolina | $198,040 |
| Maryland | $196,210 |
| Pennsylvania | $195,810 |
| Kansas | $191,430 |
| South Carolina | $185,210 |
| Louisiana | $183,920 |
| Illinois | $183,780 |
| Alabama | $183,510 |
| District of Columbia | $182,910 |
| Michigan | $181,760 |
| Vermont | $176,520 |
| Mississippi | $174,340 |
| New York | $171,060 |
| Arkansas | $165,290 |
| Nebraska | $161,880 |
| Oklahoma | $155,130 |
Tools & Technologies Used by Preventive Medicine Physicians
Below is a list of the types of tools and technologies that Preventive Medicine Physicians may use on a daily basis:
R
Microsoft Word
Microsoft Office
The MathWorks MATLAB
SAS
Microsoft Excel
Microsoft PowerPoint
Microsoft Access
Where Preventive Medicine Physicians Work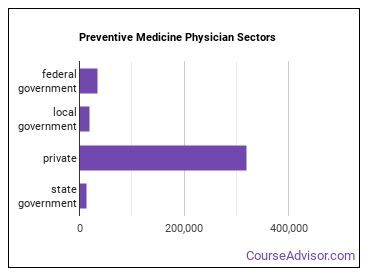 Other Jobs You May be Interested In
Those thinking about becoming Preventive Medicine Physicians might also be interested in the following careers:
Chemistry Professors
Surgeons
Forestry & Conservation Science Professors
Those who work as Preventive Medicine Physicians sometimes switch careers to one of these choices:
Family and General Practitioners
Obstetricians and Gynecologists
References
Image Credit: Via Wikimedia Commons