Life As a Personal Financial Advisor
Occupation Description Advise clients on financial plans using knowledge of tax and investment strategies, securities, insurance, pension plans, and real estate. Duties include assessing clients' assets, liabilities, cash flow, insurance coverage, tax status, and financial objectives.
List of Personal Financial Advisor Job Duties
Open accounts for clients and disburse funds from accounts to creditors as agent for clients.
Contact clients periodically to determine any changes in their financial status.
Devise debt liquidation plans that include payoff priorities and timelines.
Prepare or interpret for clients information such as investment performance reports, financial document summaries, or income projections.
Manage client portfolios, keeping client plans up-to-date.
Monitor financial market trends to ensure that client plans are responsive.
What a Personal Financial Advisor Should Know
Below is a list of the skills most Personal Financial Advisors say are important on the job.
Reading Comprehension: Understanding written sentences and paragraphs in work related documents.
Critical Thinking: Using logic and reasoning to identify the strengths and weaknesses of alternative solutions, conclusions or approaches to problems.
Speaking: Talking to others to convey information effectively.
Judgment and Decision Making: Considering the relative costs and benefits of potential actions to choose the most appropriate one.
Active Listening: Giving full attention to what other people are saying, taking time to understand the points being made, asking questions as appropriate, and not interrupting at inappropriate times.
Related Job Titles for this Occupation:
Estate Planning Counselor
Strategist
Investment Consultant
Pension Consultant
Fiscal Specialist
Job Demand for Personal Financial Advisors
In the United States, there were 271,900 jobs for Personal Financial Advisors in 2016.
New jobs are being produced at a rate of 14.9% which is lower than average. The Bureau of Labor Statistics predicts 40,400 new jobs for Personal Financial Advisors by 2026. Due to new job openings and attrition, there will be an average of 25,500 job openings in this field each year.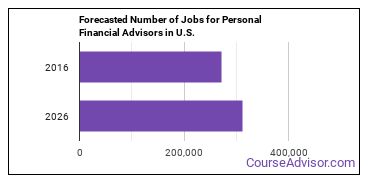 The states with the most job growth for Personal Financial Advisors are New York, Florida, and Texas.
Watch out if you plan on working in Maine, Alaska, or Wyoming. These states have the worst job growth for this type of profession.
What is the Average Salary of a Personal Financial Advisor
The salary for Personal Financial Advisors ranges between about $41,590 and $208,000 a year. The median salary is $88,890.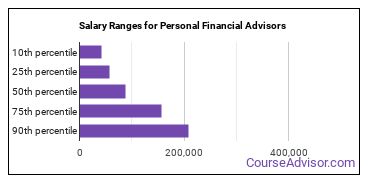 How much do Personal Financial Advisors make in each U.S. state?
Annual Mean Salary by State

| State | Annual Mean Salary |
| --- | --- |
| New York | $164,260 |
| District of Columbia | $158,460 |
| Wyoming | $135,340 |
| Maine | $135,170 |
| North Carolina | $134,860 |
| New Mexico | $133,500 |
| Connecticut | $131,280 |
| California | $128,730 |
| Massachusetts | $128,140 |
| New Jersey | $127,150 |
| Delaware | $126,880 |
| Illinois | $126,640 |
| Florida | $122,840 |
| Georgia | $121,420 |
| Virginia | $121,250 |
| Oregon | $117,730 |
| Alabama | $117,350 |
| Wisconsin | $115,820 |
| Rhode Island | $112,430 |
| Indiana | $111,330 |
| Texas | $110,820 |
| Maryland | $110,080 |
| Washington | $109,870 |
| Pennsylvania | $109,250 |
| Nevada | $108,540 |
| Arizona | $107,160 |
| Iowa | $105,540 |
| New Hampshire | $105,010 |
| Idaho | $104,640 |
| Colorado | $103,540 |
| Mississippi | $102,820 |
| Montana | $102,730 |
| Ohio | $102,300 |
| Michigan | $102,010 |
| North Dakota | $100,360 |
| Minnesota | $99,490 |
| Arkansas | $96,600 |
| West Virginia | $95,210 |
| Kansas | $93,720 |
| Alaska | $93,530 |
| Louisiana | $92,300 |
| Tennessee | $89,960 |
| South Carolina | $89,830 |
| Utah | $88,440 |
| Nebraska | $85,890 |
| Missouri | $85,830 |
| Kentucky | $85,470 |
| Vermont | $85,150 |
| Hawaii | $81,700 |
| South Dakota | $77,490 |
| Oklahoma | $74,340 |
Tools & Technologies Used by Personal Financial Advisors
Although they're not necessarily needed for all jobs, the following technologies are used by many Personal Financial Advisors:
Fund accounting software
Swift
Microsoft Dynamics
Microsoft Word
Oracle Hyperion
Microsoft Excel
Microsoft PowerPoint
Oracle PeopleSoft Financials
Microsoft Access
Structured query language SQL
Where Personal Financial Advisors Are Employed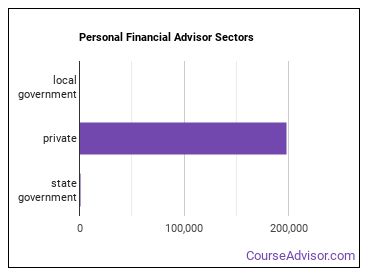 Related Careers
Those thinking about becoming Personal Financial Advisors might also be interested in the following careers:
Auditors
Compensation and Benefits Managers
Customs Brokers
Career changers with experience as a Personal Financial Advisor sometimes find work in one of the following fields:
References
Image Credit: Via Wikimedia Commons