Life As a Wellhead Pumper
Wellhead Pumper Example Operate power pumps and auxiliary equipment to produce flow of oil or gas from wells in oil field.
Daily Life Of a Wellhead Pumper
Mix acids, chemicals, or dry cement as required for a specific job.
Start compressor engines and divert oil from storage tanks into compressor units and auxiliary equipment to recover natural gas from oil.
Monitor control panels during pumping operations to ensure that materials are being pumped at the correct pressure, density, rate, and concentration.
Drive trucks to transport high-pressure pumping equipment, and chemicals, fluids, or gases to be pumped into wells.
Open valves to return compressed gas to bottoms of specified wells to repressurize them and force oil to surface.
Supervise oil pumpers and other workers engaged in producing oil from wells.
Wellhead Pumper Required Skills
Below is a list of the skills most Wellhead Pumpers say are important on the job.
Operation Monitoring: Watching gauges, dials, or other indicators to make sure a machine is working properly.
Operation and Control: Controlling operations of equipment or systems.
Monitoring: Monitoring/Assessing performance of yourself, other individuals, or organizations to make improvements or take corrective action.
Equipment Maintenance: Performing routine maintenance on equipment and determining when and what kind of maintenance is needed.
Critical Thinking: Using logic and reasoning to identify the strengths and weaknesses of alternative solutions, conclusions or approaches to problems.
Types of Wellhead Pumper Jobs
Pumper
Oil Pumper
Well Head Pumper
Operations Technician
Lease Operator
Job Opportunities for Wellhead Pumpers
In the United States, there were 11,500 jobs for Wellhead Pumpers in 2016.
New jobs are being produced at a rate of 21.7% which is lower than average. The Bureau of Labor Statistics predicts 2,500 new jobs for Wellhead Pumpers by 2026. There will be an estimated 1,800 positions for Wellhead Pumper per year.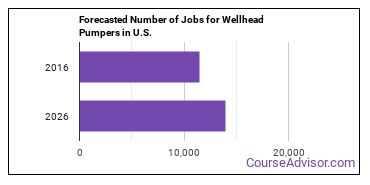 The states with the most job growth for Wellhead Pumpers are Texas, North Dakota, and Wyoming.
Watch out if you plan on working in Montana, Kentucky, or West Virginia. These states have the worst job growth for this type of profession.
Average Wellhead Pumper Salary
The salary for Wellhead Pumpers ranges between about $31,280 and $79,930 a year. The median salary is $53,490.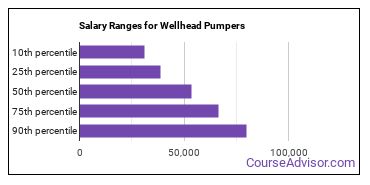 How much do Wellhead Pumpers make in each U.S. state?
Annual Mean Salary by State

| State | Annual Mean Salary |
| --- | --- |
| Colorado | $69,130 |
| Wyoming | $63,120 |
| Kentucky | $62,670 |
| Montana | $61,020 |
| Utah | $60,010 |
| North Dakota | $59,030 |
| Mississippi | $58,480 |
| Arkansas | $57,940 |
| New Mexico | $55,210 |
| Texas | $54,690 |
| Oklahoma | $51,900 |
| Michigan | $50,590 |
| California | $47,940 |
| Kansas | $47,390 |
| Louisiana | $47,300 |
| Pennsylvania | $42,300 |
| West Virginia | $42,230 |
| Ohio | $39,860 |
| Illinois | $33,730 |
What Tools do Wellhead Pumpers Use?
Below is a list of the types of tools and technologies that Wellhead Pumpers may use on a daily basis:
Data entry software
Microsoft Excel
Microsoft Office
Microsoft Word
Becoming a Wellhead Pumper
Are there Wellhead Pumper education requirements?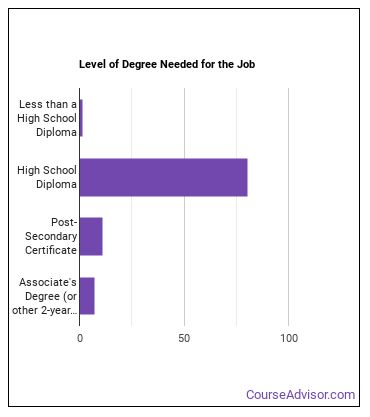 How many years of work experience do I need?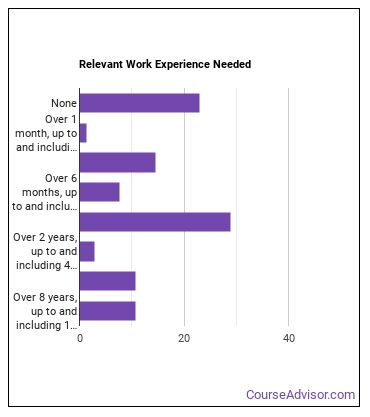 Who Employs Wellhead Pumpers?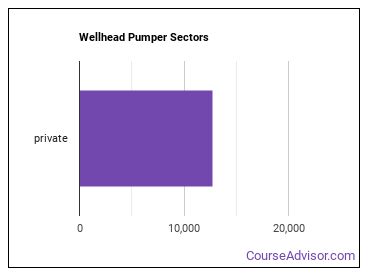 Related Careers
Those interested in being a Wellhead Pumper may also be interested in:
Riggers
Semiconductor Processors
References
Image Credit: Via Wikimedia Commons