What is a Semiconductor Processor?
Occupation Description Perform any or all of the following functions in the manufacture of electronic semiconductors: Load semiconductor material into furnace; saw formed ingots into segments; load individual segment into crystal growing chamber and monitor controls; locate crystal axis in ingot using x-ray equipment and saw ingots into wafers; and clean, polish, and load wafers into series of special purpose furnaces, chemical baths, and equipment used to form circuitry and change conductive properties.
Life as a Semiconductor Processor: What Do They Do?
Count, sort, and weigh processed items.
Stamp, etch, or scribe identifying information on finished component according to specifications.
Manipulate valves, switches, and buttons, or key commands into control panels to start semiconductor processing cycles.
Operate saw to cut remelt into sections of specified size or to cut ingots into wafers.
Scribe or separate wafers into dice.
Align photo mask pattern on photoresist layer, expose pattern to ultraviolet light, and develop pattern, using specialized equipment.
Qualities of a Semiconductor Processor
Below is a list of the skills most Semiconductor Processors say are important on the job.
Operation Monitoring: Watching gauges, dials, or other indicators to make sure a machine is working properly.
Reading Comprehension: Understanding written sentences and paragraphs in work related documents.
Critical Thinking: Using logic and reasoning to identify the strengths and weaknesses of alternative solutions, conclusions or approaches to problems.
Quality Control Analysis: Conducting tests and inspections of products, services, or processes to evaluate quality or performance.
Monitoring: Monitoring/Assessing performance of yourself, other individuals, or organizations to make improvements or take corrective action.
Related Job Titles
Group Level Processor
Semi Conductor Assembler
Metalorganic Chemical Vapor Deposition Engineer (MOCVD Engineer)
Device Processing Engineer
Electronic Component Processor
Semiconductor Processor Employment Estimates
In the United States, there were 25,500 jobs for Semiconductor Processors in 2016.
Semiconductor Processor jobs are decreasing by a rate of -5.6%. This means the total job opportunities are shrinking. The Bureau of Labor Statistics predicts a loss of -1,400 jobs for Semiconductor Processors by 2026. There will be an estimated 2,600 positions for Semiconductor Processor per year.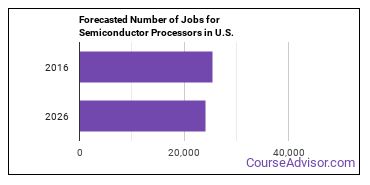 The states with the most job growth for Semiconductor Processors are Arizona, Texas, and Utah.
Watch out if you plan on working in Colorado, Georgia, or New Mexico. These states have the worst job growth for this type of profession.
Semiconductor Processor Average Salary
Semiconductor Processors Make between $26,130 and $58,590 a year. The median salary for this occupation is $37,270.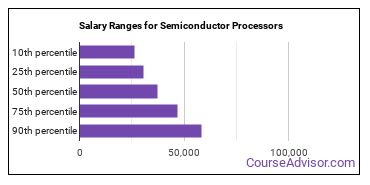 How much do Semiconductor Processors make in each U.S. state?
Annual Mean Salary by State

| State | Annual Mean Salary |
| --- | --- |
| Massachusetts | $51,970 |
| New York | $50,920 |
| Ohio | $44,250 |
| New Mexico | $43,910 |
| California | $43,390 |
| New Jersey | $42,290 |
| New Hampshire | $41,780 |
| Arkansas | $41,520 |
| Washington | $40,690 |
| Florida | $40,640 |
| Minnesota | $39,750 |
| Oregon | $39,420 |
| Pennsylvania | $38,860 |
| North Carolina | $36,970 |
| Idaho | $36,750 |
| Arizona | $36,680 |
| Texas | $36,050 |
| Colorado | $33,580 |
What Tools & Technology do Semiconductor Processors Use?
Below is a list of the types of tools and technologies that Semiconductor Processors may use on a daily basis:
Microsoft Excel
Microsoft Office
Microsoft Word
How do I Become a Semiconductor Processor?
What education is needed to be a Semiconductor Processor?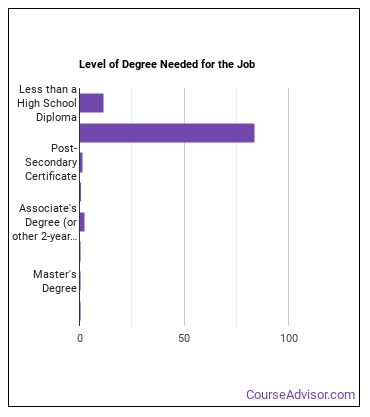 What work experience do I need to become a Semiconductor Processor?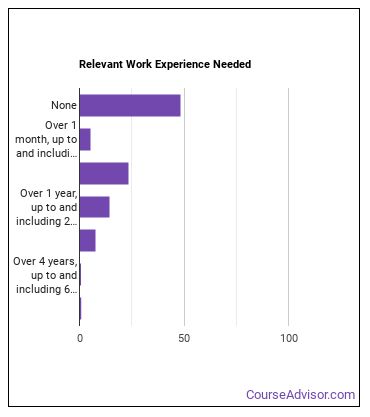 Where do Semiconductor Processors Work?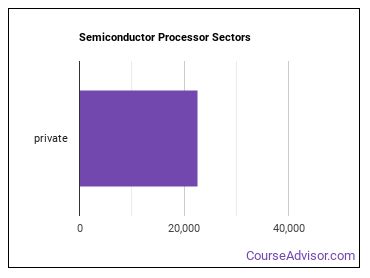 Related Careers
Those thinking about becoming Semiconductor Processors might also be interested in the following careers:
Wellhead Pumpers
Plating and Coating Machine Setters, Operators, and Tenders, Metal and Plastic
Transportation Vehicle, Equipment and Systems Inspectors, Except Aviation
References
Image Credit: Via Wikimedia Commons