All About Transit and Railroad Police
Position Description Protect and police railroad and transit property, employees, or passengers.
Life As a Transit & Railroad Police Officer
Monitor transit areas and conduct security checks to protect railroad properties, patrons, and employees.
Examine credentials of unauthorized persons attempting to enter secured areas.
Investigate or direct investigations of freight theft, suspicious damage or loss of passengers' valuables, or other crimes on railroad property.
Plan or implement special safety or preventive programs, such as fire or accident prevention.
Direct or coordinate the daily activities or training of security staff.
Patrol railroad yards, cars, stations, or other facilities to protect company property or shipments and to maintain order.
What a Transit & Railroad Police Officer Should Know
These are the skills Transit and Railroad Police say are the most useful in their careers:
Active Listening: Giving full attention to what other people are saying, taking time to understand the points being made, asking questions as appropriate, and not interrupting at inappropriate times.
Speaking: Talking to others to convey information effectively.
Critical Thinking: Using logic and reasoning to identify the strengths and weaknesses of alternative solutions, conclusions or approaches to problems.
Complex Problem Solving: Identifying complex problems and reviewing related information to develop and evaluate options and implement solutions.
Social Perceptiveness: Being aware of others' reactions and understanding why they react as they do.
Other Transit & Railroad Police Officer Job Titles
Field Training Advisor
Patroller
Transportation Officer
Public Transit Specialist
Railroad Detective
Job Demand for Transit and Railroad Police
In 2016, there was an estimated number of 4,900 jobs in the United States for Transit and Railroad Police.
New jobs are being produced at a rate of 6.3% which is lower than average. The Bureau of Labor Statistics predicts 300 new jobs for Transit and Railroad Police by 2026. There will be an estimated 400 positions for Transit & Railroad Police Officer per year.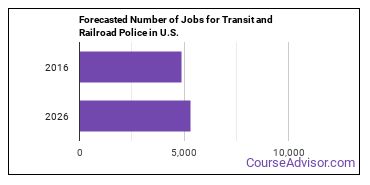 The states with the most job growth for Transit and Railroad Police are New York, Georgia, and Texas.
Watch out if you plan on working in New Jersey, Maryland, or Washington. These states have the worst job growth for this type of profession.
What is the Average Salary of a Transit & Railroad Police Officer
The salary for Transit and Railroad Police ranges between about $49,380 and $101,470 a year. The median salary is $74,030.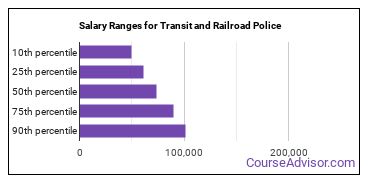 How much do Transit and Railroad Police make in each U.S. state?
Annual Mean Salary by State

| State | Annual Mean Salary |
| --- | --- |
| New Jersey | $84,870 |
| Washington | $83,050 |
| New York | $81,300 |
| Nevada | $72,570 |
| Indiana | $71,760 |
| Illinois | $69,960 |
| Maryland | $64,460 |
| Texas | $59,290 |
| Michigan | $46,910 |
Tools & Technologies Used by Transit and Railroad Police
Below is a list of the types of tools and technologies that Transit and Railroad Police may use on a daily basis:
Microsoft Excel
Microsoft Word
How do I Become a Transit & Railroad Police Officer?
What kind of Transit and Railroad Police Officer requirements are there?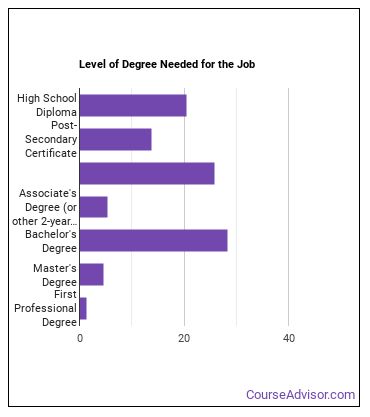 How many years of work experience do I need?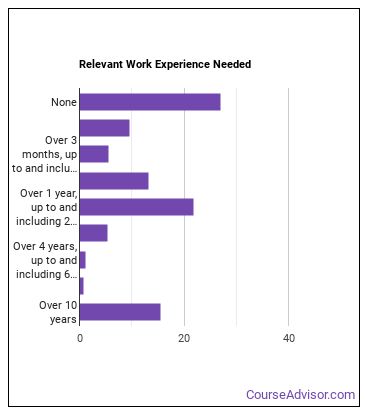 Where Transit and Railroad Police Work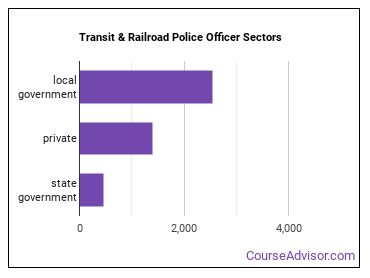 Related Careers
Those thinking about becoming Transit and Railroad Police might also be interested in the following careers:
Forest Fire Fighting and Prevention Supervisors
Mates- Ship, Boat, and Barge
Are you already one of the many Transit and Railroad Police in the United States? If you're thinking about changing careers, these fields are worth exploring:
Immigration and Customs Inspectors
References
Image Credit: Via Wikimedia Commons