Life As a Recreational Therapist
Job Description & Duties Plan, direct, or coordinate medically-approved recreation programs for patients in hospitals, nursing homes, or other institutions. Activities include sports, trips, dramatics, social activities, and arts and crafts. May assess a patient condition and recommend appropriate recreational activity.
What do Recreational Therapists do On a Daily Basis?
Prepare and submit reports and charts to treatment team to reflect patients' reactions and evidence of progress or regression.
Counsel and encourage patients to develop leisure activities.
Encourage clients with special needs and circumstances to acquire new skills and get involved in health-promoting leisure activities, such as sports, games, arts and crafts, and gardening.
Develop discharge plans for patients.
Plan, organize, direct, and participate in treatment programs and activities to facilitate patients' rehabilitation, help them integrate into the community, and prevent further medical problems.
Obtain information from medical records, medical staff, family members and the patients themselves to assess patients' capabilities, needs and interests.
Things a Recreational Therapist Should Know How to Do
Below is a list of the skills most Recreational Therapists say are important on the job.
Social Perceptiveness: Being aware of others' reactions and understanding why they react as they do.
Service Orientation: Actively looking for ways to help people.
Active Listening: Giving full attention to what other people are saying, taking time to understand the points being made, asking questions as appropriate, and not interrupting at inappropriate times.
Speaking: Talking to others to convey information effectively.
Coordination: Adjusting actions in relation to others' actions.
Types of Recreational Therapists
Child Life Therapist
Horticultural Therapist
Certified Recreational Therapist
Recreation Therapist
Activity Coordinator
Recreational Therapist Employment Estimates
In the United States, there were 19,200 jobs for Recreational Therapists in 2016.
New jobs are being produced at a rate of 6.5% which is lower than average. The Bureau of Labor Statistics predicts 1,300 new jobs for Recreational Therapists by 2026. Due to new job openings and attrition, there will be an average of 1,200 job openings in this field each year.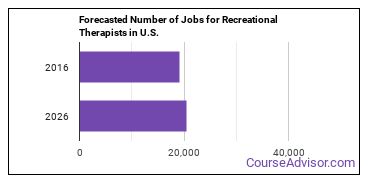 The states with the most job growth for Recreational Therapists are New York, Texas, and California.
Watch out if you plan on working in Alabama, Wyoming, or Vermont. These states have the worst job growth for this type of profession.
Do Recreational Therapists Make A Lot Of Money?
The salary for Recreational Therapists ranges between about $29,590 and $77,050 a year. The median salary is $47,860.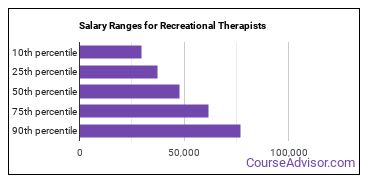 How much do Recreational Therapists make in different U.S. states?
Annual Mean Salary by State

| State | Annual Mean Salary |
| --- | --- |
| California | $75,810 |
| District of Columbia | $68,430 |
| Washington | $59,860 |
| Connecticut | $59,450 |
| Nevada | $58,480 |
| New Jersey | $58,220 |
| Massachusetts | $55,570 |
| Hawaii | $55,470 |
| Oregon | $55,410 |
| New York | $55,370 |
| Minnesota | $54,660 |
| Iowa | $52,470 |
| Michigan | $51,280 |
| South Dakota | $50,480 |
| Wyoming | $50,170 |
| Arkansas | $50,170 |
| Arizona | $49,440 |
| Maine | $49,390 |
| Rhode Island | $49,310 |
| Colorado | $49,300 |
| Maryland | $48,690 |
| Florida | $48,290 |
| Utah | $48,230 |
| North Carolina | $47,600 |
| Virginia | $47,590 |
| New Hampshire | $46,660 |
| Illinois | $46,620 |
| Delaware | $46,320 |
| Missouri | $46,000 |
| Pennsylvania | $45,900 |
| Ohio | $45,750 |
| Kentucky | $45,330 |
| Wisconsin | $44,970 |
| Montana | $44,730 |
| Georgia | $43,950 |
| North Dakota | $43,910 |
| Vermont | $43,120 |
| Texas | $43,070 |
| Alabama | $42,860 |
| Indiana | $42,280 |
| South Carolina | $42,240 |
| Tennessee | $41,660 |
| Louisiana | $41,180 |
| Idaho | $40,770 |
| Nebraska | $39,420 |
| New Mexico | $38,680 |
| Mississippi | $38,470 |
| Oklahoma | $37,760 |
| Kansas | $35,850 |
Tools & Technologies Used by Recreational Therapists
Although they're not necessarily needed for all jobs, the following technologies are used by many Recreational Therapists:
Data entry software
Microsoft Word
Microsoft Office
Microsoft Excel
Microsoft PowerPoint
Where Recreational Therapists Are Employed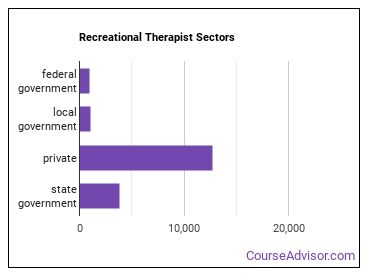 Other Jobs You May be Interested In
Those interested in being a Recreational Therapist may also be interested in:
Special Education Teachers, Secondary School
References
Image Credit: Via Wikimedia Commons