What Do Pile-Driver Operators Do?
Position Description Operate pile drivers mounted on skids, barges, crawler treads, or locomotive cranes to drive pilings for retaining walls, bulkheads, and foundations of structures, such as buildings, bridges, and piers.
A Day in the Life of a Pile-Driver Operator
Clean, lubricate, and refill equipment.
Drive pilings to provide support for buildings or other structures, using heavy equipment with a pile driver head.
Move hand and foot levers of hoisting equipment to position piling leads, hoist piling into leads, and position hammers over pilings.
Move levers and turn valves to activate power hammers, or to raise and lower drophammers that drive piles to required depths.
Conduct pre-operational checks on equipment to ensure proper functioning.
Qualities of a Pile-Driver Operator
When polled, Pile-Driver Operators say the following skills are most frequently used in their jobs:
Operation and Control: Controlling operations of equipment or systems.
Operation Monitoring: Watching gauges, dials, or other indicators to make sure a machine is working properly.
Equipment Maintenance: Performing routine maintenance on equipment and determining when and what kind of maintenance is needed.
Monitoring: Monitoring/Assessing performance of yourself, other individuals, or organizations to make improvements or take corrective action.
Troubleshooting: Determining causes of operating errors and deciding what to do about it.
Related Job Titles
Pile Driving Inspector
Pile Driver Operator
Hoisting Pile Driving Engineer
Pile Driver Foreman
Pile Driving Technician
Are There Job Opportunities for Pile-Driver Operators?
There were about 3,700 jobs for Pile-Driver Operators in 2016 (in the United States).
New jobs are being produced at a rate of 14.6% which is lower than average. The Bureau of Labor Statistics predicts 500 new jobs for Pile-Driver Operators by 2026. The BLS estimates 500 yearly job openings in this field per year.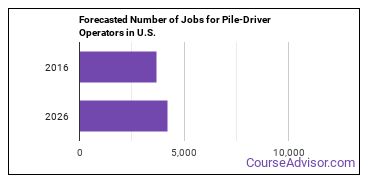 The states with the most job growth for Pile-Driver Operators are Texas, Florida, and South Carolina.
Watch out if you plan on working in Washington, Pennsylvania, or Mississippi. These states have the worst job growth for this type of profession.
Do Pile-Driver Operators Make A Lot Of Money?
The typical yearly salary for Pile-Driver Operators is somewhere between $33,810 and $100,350. A Pile-Driver Operator median salary is $58,680.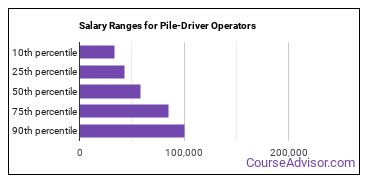 How much do Pile-Driver Operators make in each U.S. state?
Annual Mean Salary by State

| State | Annual Mean Salary |
| --- | --- |
| Illinois | $86,060 |
| Massachusetts | $80,110 |
| California | $80,030 |
| Washington | $74,570 |
| Minnesota | $74,250 |
| Michigan | $72,440 |
| Pennsylvania | $72,370 |
| Oregon | $72,290 |
| Rhode Island | $61,520 |
| Texas | $59,440 |
| Maryland | $56,230 |
| Virginia | $52,170 |
| Louisiana | $51,020 |
| Florida | $48,110 |
| Georgia | $45,900 |
| South Carolina | $43,340 |
| North Carolina | $40,540 |
What Tools do Pile-Driver Operators Use?
Although they're not necessarily needed for all jobs, the following technologies are used by many Pile-Driver Operators:
Data entry software
Microsoft Excel
Becoming a Pile-Driver Operator
What kind of Pile-Driver Operator requirements are there?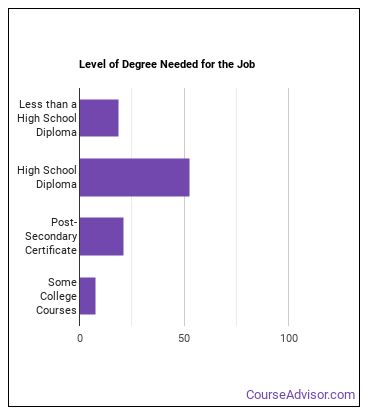 How Long Does it Take to Become Pile-Driver Operator?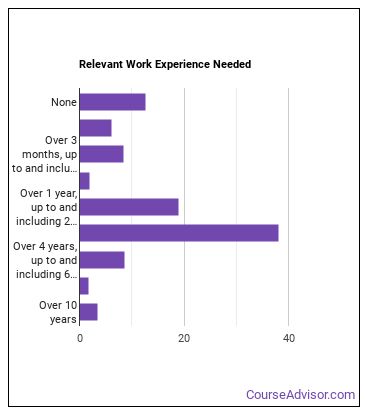 Where Pile-Driver Operators Are Employed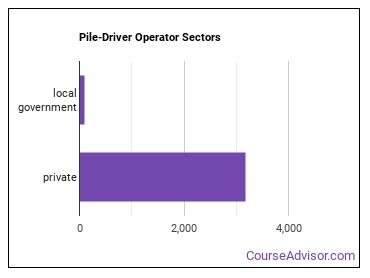 Similar Careers
Those thinking about becoming Pile-Driver Operators might also be interested in the following careers:
Career changers with experience as a Pile-Driver Operator sometimes find work in one of the following fields:
Hoist and Winch Operators
References
Image Credit: Via Wikimedia Commons