What You Need to Know About Hoist and Winch Operators
Example of a Hoist & Winch Operator Job Operate or tend hoists or winches to lift and pull loads using power-operated cable equipment.
List of Hoist & Winch Operator Job Duties
Apply hand or foot brakes and move levers to lock hoists or winches.
Tend auxiliary equipment, such as jacks, slings, cables, or stop blocks, to facilitate moving items or materials for further processing.
Oil winch drums so that cables will wind smoothly.
Move or reposition hoists, winches, loads and materials, manually or using equipment and machines such as trucks, cars, and hand trucks.
Select loads or materials according to weight and size specifications.
Attach, fasten, and disconnect cables or lines to loads, materials, and equipment, using hand tools.
Hoist & Winch Operator Needed Skills
When polled, Hoist and Winch Operators say the following skills are most frequently used in their jobs:
Critical Thinking: Using logic and reasoning to identify the strengths and weaknesses of alternative solutions, conclusions or approaches to problems.
Monitoring: Monitoring/Assessing performance of yourself, other individuals, or organizations to make improvements or take corrective action.
Operation Monitoring: Watching gauges, dials, or other indicators to make sure a machine is working properly.
Time Management: Managing one's own time and the time of others.
Active Listening: Giving full attention to what other people are saying, taking time to understand the points being made, asking questions as appropriate, and not interrupting at inappropriate times.
Related Job Titles
Pneumatic Hoist Operator
Scraper Loader Operator
Hoisting Engine Operator
Boat Hoist Operator
Cable Operator
Is There Going to be Demand for Hoist and Winch Operators?
In 2016, there was an estimated number of 2,900 jobs in the United States for Hoist and Winch Operators.
Hoist and Winch Operator jobs are decreasing by a rate of -0.7%. This means the total job opportunities are shrinking. The Bureau of Labor Statistics predicts a loss of jobs for Hoist and Winch Operators by 2026. The BLS estimates 400 yearly job openings in this field per year.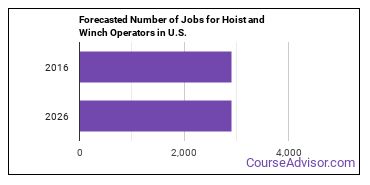 The states with the most job growth for Hoist and Winch Operators are Arkansas, Nebraska, and North Dakota.
Watch out if you plan on working in Pennsylvania, Kentucky, or Washington. These states have the worst job growth for this type of profession.
Hoist & Winch Operator Average Salary
The average yearly salary of a Hoist & Winch Operator ranges between $28,420 and $110,430. The median salary is $45,490.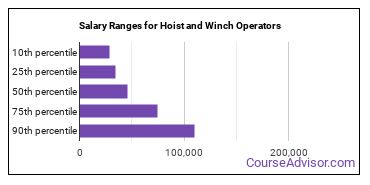 Below is a list of the median annual salaries for jobs of this type in different U.S. states.
Annual Mean Salary by State

| State | Annual Mean Salary |
| --- | --- |
| Wyoming | $79,320 |
| Minnesota | $77,840 |
| West Virginia | $61,000 |
| California | $57,950 |
| Washington | $57,850 |
| New Mexico | $53,570 |
| Utah | $53,350 |
| New York | $53,030 |
| Florida | $49,830 |
| Maryland | $48,830 |
| Oregon | $47,210 |
| Pennsylvania | $45,360 |
| Kentucky | $43,450 |
| Texas | $43,100 |
| Alabama | $42,010 |
| Indiana | $40,550 |
| Virginia | $40,450 |
| Tennessee | $37,820 |
| Ohio | $37,480 |
| Michigan | $36,570 |
| Nebraska | $35,760 |
Tools & Technologies Used by Hoist and Winch Operators
Below is a list of the types of tools and technologies that Hoist and Winch Operators may use on a daily basis:
Data entry software
Microsoft Word
Microsoft Excel
Becoming a Hoist & Winch Operator
Are there Hoist and Winch Operator education requirements?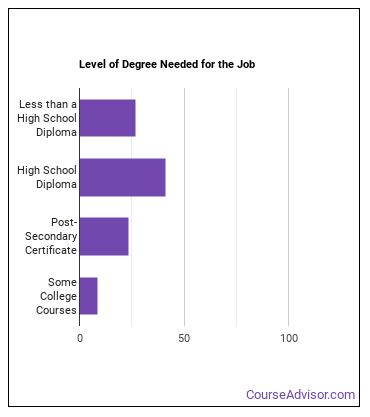 How many years of work experience do I need?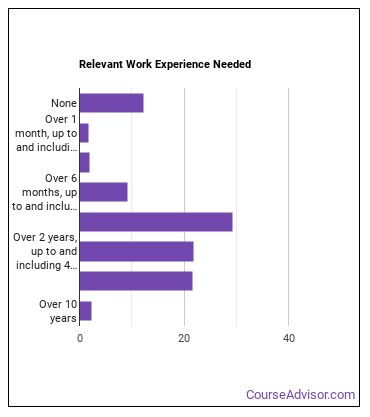 Where Hoist and Winch Operators Work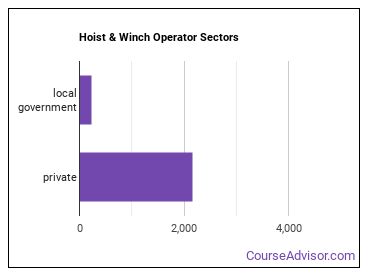 Related Careers
Those thinking about becoming Hoist and Winch Operators might also be interested in the following careers:
Chemical Equipment Operators and Tenders
References
Image Credit: Via Wikimedia Commons