What is a Nurse Anesthetist?
Job Description: Administer anesthesia, monitor patient's vital signs, and oversee patient recovery from anesthesia. May assist anesthesiologists, surgeons, other physicians, or dentists. Must be registered nurses who have specialized graduate education.
Life as a Nurse Anesthetist: What Do They Do?
Select, prepare, or use equipment, monitors, supplies, or drugs for the administration of anesthetics.
Insert peripheral or central intravenous catheters.
Obtain informed consent from patients for anesthesia procedures.
Perform or manage regional anesthetic techniques, such as local, spinal, epidural, caudal, nerve blocks and intravenous blocks.
Assess patients' medical histories to predict anesthesia response.
Read current literature, talk with colleagues, and participate in professional organizations or conferences to keep abreast of developments in nursing.
Nurse Anesthetist Needed Skills
Below is a list of the skills most Nurse Anesthetists say are important on the job.
Reading Comprehension: Understanding written sentences and paragraphs in work related documents.
Critical Thinking: Using logic and reasoning to identify the strengths and weaknesses of alternative solutions, conclusions or approaches to problems.
Active Listening: Giving full attention to what other people are saying, taking time to understand the points being made, asking questions as appropriate, and not interrupting at inappropriate times.
Speaking: Talking to others to convey information effectively.
Active Learning: Understanding the implications of new information for both current and future problem-solving and decision-making.
Other Nurse Anesthetist Job Titles
Staff Certified Registered Nurse Anesthetist, Anesthesia Service (Staff CRNA, Anesthesia Service)
Chief Nurse Anesthetist
Doctor of Nurse Anesthesia Practice (DNAP)
Staff Certified Registered Nurse Anesthetist (Staff CRNA)
Chief Certified Registered Nurse Anesthetist (Chief CRNA)
Job Opportunities for Nurse Anesthetists
There were about 41,800 jobs for Nurse Anesthetists in 2016 (in the United States).
New jobs are being produced at a rate of 16.2% which is lower than average. The Bureau of Labor Statistics predicts 6,800 new jobs for Nurse Anesthetists by 2026. Due to new job openings and attrition, there will be an average of 2,800 job openings in this field each year.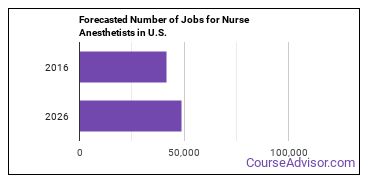 The states with the most job growth for Nurse Anesthetists are Texas, Florida, and North Carolina.
Watch out if you plan on working in Wyoming, Hawaii, or District of Columbia. These states have the worst job growth for this type of profession.
Average Nurse Anesthetist Salary
The average yearly salary of a Nurse Anesthetist ranges between $116,820 and $208,000. The median salary for this occupation is $167,950.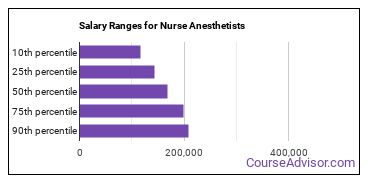 How much do Nurse Anesthetists make in each U.S. state?
Annual Mean Salary by State

| State | Annual Mean Salary |
| --- | --- |
| Montana | $246,370 |
| California | $212,210 |
| Iowa | $209,130 |
| Oregon | $205,730 |
| Wisconsin | $204,820 |
| North Dakota | $197,860 |
| Washington | $195,610 |
| Hawaii | $192,580 |
| Massachusetts | $191,320 |
| Maryland | $191,160 |
| New York | $191,130 |
| Illinois | $190,500 |
| Connecticut | $190,480 |
| New Jersey | $189,150 |
| Nebraska | $189,030 |
| South Dakota | $188,360 |
| Minnesota | $188,130 |
| Delaware | $187,860 |
| Alaska | $187,690 |
| Virginia | $187,320 |
| Arkansas | $186,970 |
| West Virginia | $183,080 |
| Michigan | $180,560 |
| North Carolina | $178,250 |
| Florida | $177,390 |
| Oklahoma | $176,780 |
| Ohio | $174,380 |
| Kentucky | $172,780 |
| Colorado | $172,700 |
| New Hampshire | $171,800 |
| Pennsylvania | $171,250 |
| Maine | $170,300 |
| South Carolina | $164,480 |
| Mississippi | $163,320 |
| Nevada | $163,220 |
| Alabama | $161,780 |
| Utah | $161,300 |
| Kansas | $159,600 |
| Louisiana | $159,370 |
| Missouri | $159,080 |
| Texas | $158,510 |
| Indiana | $156,580 |
| Georgia | $151,070 |
| Tennessee | $150,880 |
| Arizona | $144,670 |
| Idaho | $143,270 |
Tools & Technologies Used by Nurse Anesthetists
Below is a list of the types of tools and technologies that Nurse Anesthetists may use on a daily basis:
Microsoft Word
MEDITECH software
Where Nurse Anesthetists Are Employed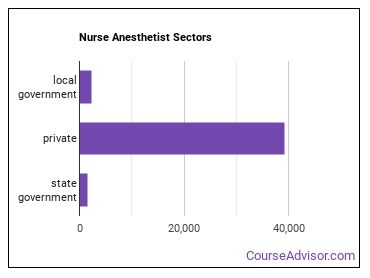 You May Also Be Interested In…
Career changers with experience as a Nurse Anesthetist sometimes find work in one of the following fields:
References
Image Credit: Via Wikimedia Commons