What You Need to Know About Material Movers Supervisors
Occupation Description Directly supervise and coordinate the activities of helpers, laborers, or material movers.
A Day in the Life of a Material Movers Supervisor
Schedule times of shipment and modes of transportation for materials.
Perform the same work duties as those supervised or perform more difficult or skilled tasks or assist in their performance.
Maintain a safe working environment by monitoring safety procedures and equipment.
Transmit and explain work orders to laborers.
Quote prices to customers.
Resolve personnel problems, complaints, or formal grievances when possible, or refer them to higher-level supervisors for resolution.
Material Movers Supervisor Required Skills
Material Movers Supervisors state the following job skills are important in their day-to-day work.
Active Listening: Giving full attention to what other people are saying, taking time to understand the points being made, asking questions as appropriate, and not interrupting at inappropriate times.
Speaking: Talking to others to convey information effectively.
Critical Thinking: Using logic and reasoning to identify the strengths and weaknesses of alternative solutions, conclusions or approaches to problems.
Coordination: Adjusting actions in relation to others' actions.
Management of Personnel Resources: Motivating, developing, and directing people as they work, identifying the best people for the job.
Types of Material Movers Supervisor Jobs
Terminal Operations Manager
Front Line Supervisor
Shipping Supervisor
Dock Boss
Car Cleaning Supervisor
Job Opportunities for Material Movers Supervisors
In the United States, there were 184,400 jobs for First-Line Supervisors of Helpers, Laborers, and Material Movers, Hand in 2016.
New jobs are being produced at a rate of 8.5% which is lower than average. The Bureau of Labor Statistics predicts 15,700 new jobs for Material Movers Supervisors by 2026. Due to new job openings and attrition, there will be an average of 21,000 job openings in this field each year.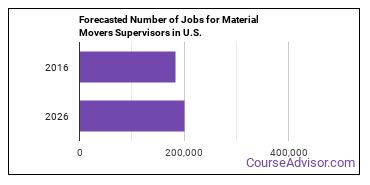 The states with the most job growth for First-Line Supervisors of Helpers, Laborers, and Material Movers, Hand are California, Texas, and Florida.
Watch out if you plan on working in Maine, District of Columbia, or Alaska. These states have the worst job growth for this type of profession.
What Tools do Material Movers Supervisors Use?
Although they're not necessarily needed for all jobs, the following technologies are used by many Material Movers Supervisors:
Microsoft Excel
Enterprise resource planning ERP software
Sage ERP Accpac
SAP
Microsoft Word
Microsoft PowerPoint
Microsoft Office
Microsoft Outlook
Microsoft Access
How do I Become a Material Movers Supervisor?
Learn what Material Movers Supervisor education requirements there are.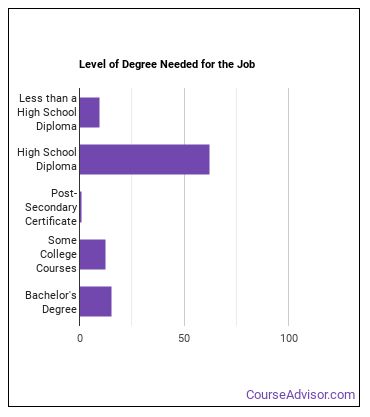 How many years of work experience do I need?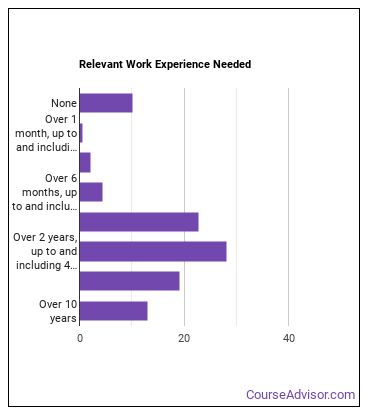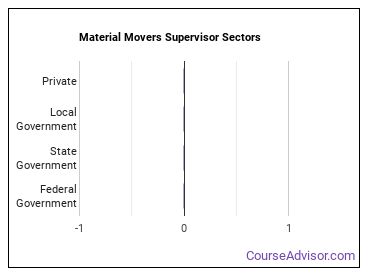 Similar Careers
Those thinking about becoming Material Movers Supervisors might also be interested in the following careers:
Construction Managers
Farm Labor Contractors
Wholesale and Retail Buyers, Except Farm Products
Are you already one of the many Material Movers Supervisors in the United States? If you're thinking about changing careers, these fields are worth exploring:
Government Property Inspectors and Investigators
Transit and Railroad Police
First-Line Supervisors of Correctional Officers
References
Image Credit: Via Wikimedia Commons