All About Travel Guides
Travel Guide Example Plan, organize, and conduct long distance travel, tours, and expeditions for individuals and groups.
Life As a Travel Guide
Evaluate services received on the tour, and report findings to tour organizers.
Verify amounts and quality of equipment prior to expeditions or tours.
Provide tourists with assistance in obtaining permits and documents such as visas, passports, and health certificates, and in converting currency.
Set up camps, and prepare meals for tour group members.
Pay bills and record checks issued.
Instruct novices in climbing techniques, mountaineering, and wilderness survival, and demonstrate use of hunting, fishing, and climbing equipment.
Travel Guide Required Skills
These are the skills Travel Guides say are the most useful in their careers:
Active Listening: Giving full attention to what other people are saying, taking time to understand the points being made, asking questions as appropriate, and not interrupting at inappropriate times.
Speaking: Talking to others to convey information effectively.
Service Orientation: Actively looking for ways to help people.
Coordination: Adjusting actions in relation to others' actions.
Persuasion: Persuading others to change their minds or behavior.
Related Job Titles for this Occupation:
Tour Escort
Destination Coordinator
Tours Captain
Tour Coordinator
Tour Operator
Is There Going to be Demand for Travel Guides?
In 2016, there was an estimated number of 3,600 jobs in the United States for Travel Guides.
New jobs are being produced at a rate of 4.9% which is lower than average. The Bureau of Labor Statistics predicts 200 new jobs for Travel Guides by 2026. There will be an estimated 600 positions for Travel Guide per year.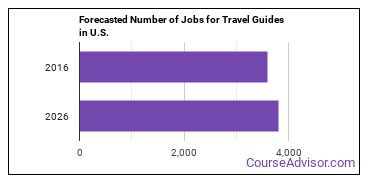 The states with the most job growth for Travel Guides are Arizona, West Virginia, and Alaska.
Watch out if you plan on working in North Carolina, Washington, or District of Columbia. These states have the worst job growth for this type of profession.
What Tools do Travel Guides Use?
Although they're not necessarily needed for all jobs, the following technologies are used by many Travel Guides:
Microsoft Office
Microsoft Excel
Microsoft Outlook
Microsoft Word
How to Become a Travel Guide
Individuals working as Travel Guides have obtained the following education levels: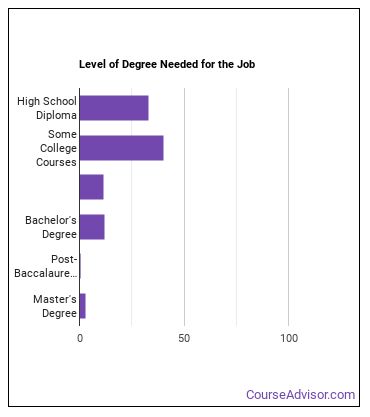 How Long Does it Take to Become Travel Guide?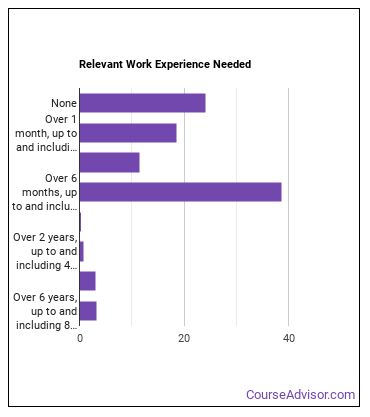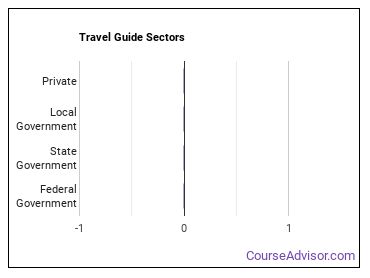 Other Jobs You May be Interested In
Those thinking about becoming Travel Guides might also be interested in the following careers:
Door-To-Door Sales Workers, News and Street Vendors, and Related Workers
Residential Advisors
Lodging Managers
Are you already one of the many Travel Guides in the United States? If you're thinking about changing careers, these fields are worth exploring:
Photographers
Meeting, Convention, and Event Planners
References
Image Credit: Via Wikimedia Commons