What You Need to Know About Tour Guides and Escorts
Career Description Escort individuals or groups on sightseeing tours or through places of interest, such as industrial establishments, public buildings, and art galleries.
Life As a Tour Guide or Escort
Perform clerical duties, such as filing, typing, operating switchboards, or routing mail and messages.
Teach skills, such as proper climbing methods, and demonstrate and advise on the use of equipment.
Collect fees and tickets from group members.
Solicit tour patronage and sell souvenirs.
Provide directions and other pertinent information to visitors.
Conduct educational activities for school children.
Things a Tour Guide or Escort Should Know How to Do
Tour Guides and Escorts state the following job skills are important in their day-to-day work.
Speaking: Talking to others to convey information effectively.
Active Listening: Giving full attention to what other people are saying, taking time to understand the points being made, asking questions as appropriate, and not interrupting at inappropriate times.
Social Perceptiveness: Being aware of others' reactions and understanding why they react as they do.
Service Orientation: Actively looking for ways to help people.
Reading Comprehension: Understanding written sentences and paragraphs in work related documents.
Types of Tour Guide or Escort Jobs
Interpreter
Historical Guide
Guide
Fishing Guide
Discovery Guide
What Kind of Tour Guide or Escort Job Opportunities Are There?
In the United States, there were 45,800 jobs for Tour Guides and Escorts in 2016.
New jobs are being produced at a rate of 10.3% which is lower than average. The Bureau of Labor Statistics predicts 4,700 new jobs for Tour Guides and Escorts by 2026. Due to new job openings and attrition, there will be an average of 8,700 job openings in this field each year.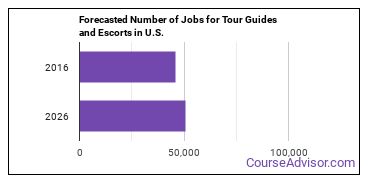 The states with the most job growth for Tour Guides and Escorts are California, New York, and Florida.
Watch out if you plan on working in West Virginia, North Dakota, or Maine. These states have the worst job growth for this type of profession.
What Tools do Tour Guides and Escorts Use?
Below is a list of the types of tools and technologies that Tour Guides and Escorts may use on a daily basis:
Microsoft Word
Microsoft PowerPoint
Microsoft Access
Microsoft Outlook
Microsoft Office
Microsoft Excel
How do I Become a Tour Guide or Escort?
Learn what Tour Guide or Escort education requirements there are.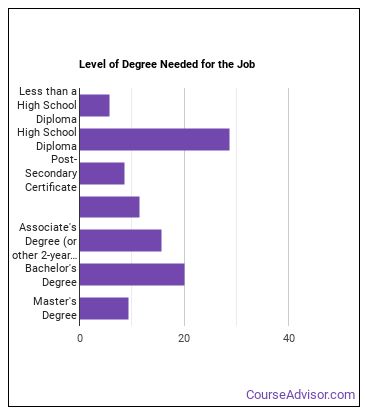 What work experience do I need to become a Tour Guide or Escort?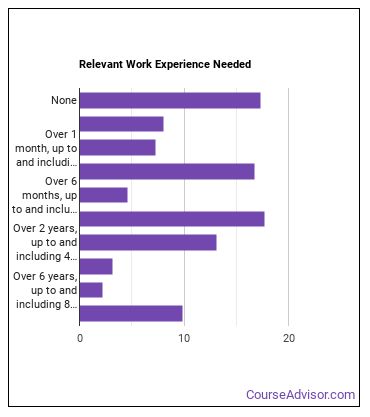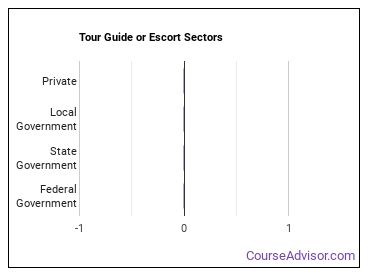 Other Jobs You May be Interested In
Those interested in being a Tour Guide or Escort may also be interested in:
References
Image Credit: Via Wikimedia Commons