All About Telephone Operators
Telephone Operator Job Description Provide information by accessing alphabetical, geographical, or other directories. Assist customers with special billing requests, such as charges to a third party and credits or refunds for incorrectly dialed numbers or bad connections. May handle emergency calls and assist children or people with physical disabilities to make telephone calls.
List of Telephone Operator Job Duties
Provide assistance for customers with special billing requests.
Provide relay service for hearing-impaired users.
Offer special assistance to persons such as those who are unable to dial or who are in emergency situations.
Suggest and check alternate spellings, locations, or listing formats to customers lacking details or complete information.
Observe signal lights on switchboards, and dial or press buttons to make connections.
Perform clerical duties such as typing, proofreading, and sorting mail.
Skills Needed to be a Telephone Operator
When polled, Telephone Operators say the following skills are most frequently used in their jobs:
Active Listening: Giving full attention to what other people are saying, taking time to understand the points being made, asking questions as appropriate, and not interrupting at inappropriate times.
Speaking: Talking to others to convey information effectively.
Service Orientation: Actively looking for ways to help people.
Social Perceptiveness: Being aware of others' reactions and understanding why they react as they do.
Reading Comprehension: Understanding written sentences and paragraphs in work related documents.
Types of Telephone Operators
Long Lines Operator
Local Telephone Operator
Charge Operator
Live Source Operator
Customer Service Assistant
Is There Going to be Demand for Telephone Operators?
There were about 9,100 jobs for Telephone Operators in 2016 (in the United States).
Telephone Operator jobs are decreasing by a rate of -22.6%. This means the total job opportunities are shrinking. The Bureau of Labor Statistics predicts a loss of -2,000 jobs for Telephone Operators by 2026. There will be an estimated 900 positions for Telephone Operator per year.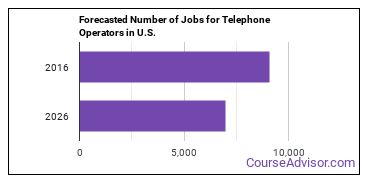 The states with the most job growth for Telephone Operators are Utah, Alaska, and Idaho.
Watch out if you plan on working in Pennsylvania, Illinois, or Florida. These states have the worst job growth for this type of profession.
Average Telephone Operator Salary
Telephone Operators Make between $23,160 and $60,610 a year. The median salary for this occupation is $37,240.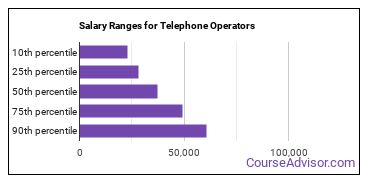 Below is a list of the median annual salaries for jobs of this type in different U.S. states.
Annual Mean Salary by State

| State | Annual Mean Salary |
| --- | --- |
| New York | $48,270 |
| District of Columbia | $44,150 |
| Hawaii | $44,040 |
| Connecticut | $44,010 |
| Virginia | $43,480 |
| California | $41,900 |
| Indiana | $40,590 |
| Illinois | $40,150 |
| Minnesota | $39,470 |
| Pennsylvania | $39,040 |
| Maryland | $36,790 |
| Massachusetts | $36,570 |
| Ohio | $35,750 |
| Arizona | $35,510 |
| Texas | $34,410 |
| Georgia | $33,860 |
| Louisiana | $33,040 |
| Florida | $32,020 |
| Missouri | $31,950 |
| Nevada | $31,110 |
| Iowa | $29,880 |
| Michigan | $28,610 |
| Tennessee | $27,610 |
What Tools do Telephone Operators Use?
Below is a list of the types of tools and technologies that Telephone Operators may use on a daily basis:
Microsoft Office
Data entry software
Microsoft Excel
Microsoft Outlook
Microsoft Word
Handheld computer device software
How to Become a Telephone Operator
Individuals working as Telephone Operators have obtained the following education levels: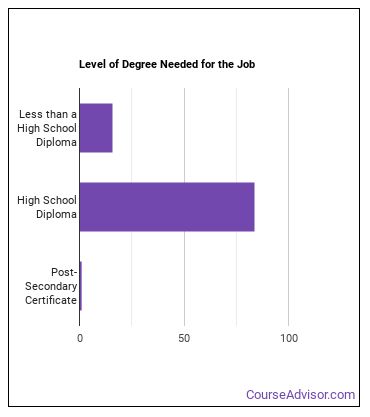 How Long Does it Take to Become Telephone Operator?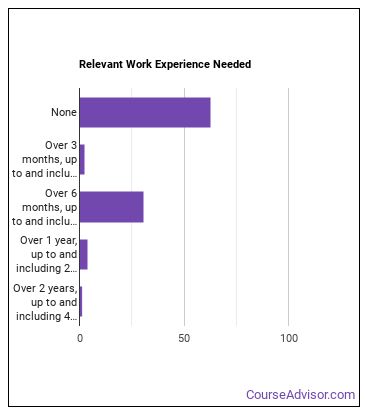 Who Employs Telephone Operators?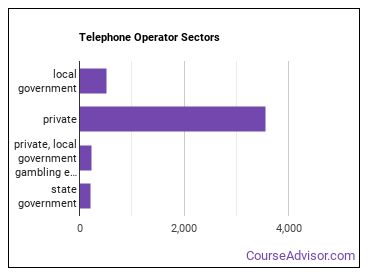 Similar Careers
Those interested in being a Telephone Operator may also be interested in:
Hotel, Motel, and Resort Desk Clerks
References
Image Credit: Via Wikimedia Commons