All About Tire Builders
Example of a Tire Builder Job Operate machines to build tires.
A Day in the Life of a Tire Builder
Depress pedals to collapse drums after processing is complete.
Cut plies at splice points, and press ends together to form continuous bands.
Brush or spray solvents onto plies to ensure adhesion, and repeat process as specified, alternating direction of each ply to strengthen tires.
Wind chafers and breakers onto plies.
Pull plies from supply racks, and align plies with edges of drums.
Trim excess rubber and imperfections during retreading processes.
Qualities of a Tire Builder
When polled, Tire Builders say the following skills are most frequently used in their jobs:
Operation and Control: Controlling operations of equipment or systems.
Operation Monitoring: Watching gauges, dials, or other indicators to make sure a machine is working properly.
Active Listening: Giving full attention to what other people are saying, taking time to understand the points being made, asking questions as appropriate, and not interrupting at inappropriate times.
Critical Thinking: Using logic and reasoning to identify the strengths and weaknesses of alternative solutions, conclusions or approaches to problems.
Monitoring: Monitoring/Assessing performance of yourself, other individuals, or organizations to make improvements or take corrective action.
Types of Tire Builder Jobs
Tire Maker
Injection Molding Technician
Retread Technician
Belt Machine Operator
Orbitread Operator
Tire Builder Employment Estimates
In 2016, there was an estimated number of 22,300 jobs in the United States for Tire Builders.
Tire Builder jobs are decreasing by a rate of -12.1%. This means the total job opportunities are shrinking. The Bureau of Labor Statistics predicts a loss of -2,700 jobs for Tire Builders by 2026. There will be an estimated 2,100 positions for Tire Builder per year.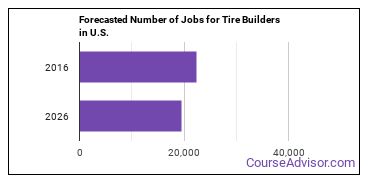 The states with the most job growth for Tire Builders are Georgia, South Carolina, and Alabama.
Watch out if you plan on working in North Carolina, Ohio, or Iowa. These states have the worst job growth for this type of profession.
Do Tire Builders Make A Lot Of Money?
The average yearly salary of a Tire Builder ranges between $27,610 and $62,520. A Tire Builder median salary is $46,630.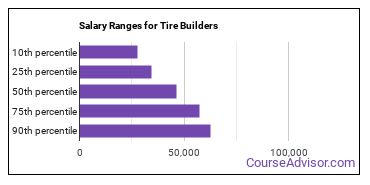 How much do Tire Builders make in each U.S. state?
Annual Mean Salary by State

| State | Annual Mean Salary |
| --- | --- |
| Oklahoma | $50,950 |
| South Carolina | $50,370 |
| Ohio | $49,690 |
| Tennessee | $49,650 |
| Indiana | $49,350 |
| Alabama | $48,380 |
| Virginia | $44,190 |
| Georgia | $38,000 |
| North Carolina | $37,290 |
| Missouri | $36,530 |
| Kentucky | $35,360 |
| Pennsylvania | $34,390 |
| Maryland | $34,070 |
| Oregon | $31,840 |
| Arizona | $31,510 |
| Wisconsin | $31,120 |
| South Dakota | $30,780 |
| California | $30,630 |
| Texas | $29,550 |
| Florida | $28,620 |
| Maine | $27,960 |
Tools & Technologies Used by Tire Builders
Although they're not necessarily needed for all jobs, the following technologies are used by many Tire Builders:
Microsoft Word
Microsoft Excel
Data entry software
How to Become a Tire Builder
What kind of Tire Builder requirements are there?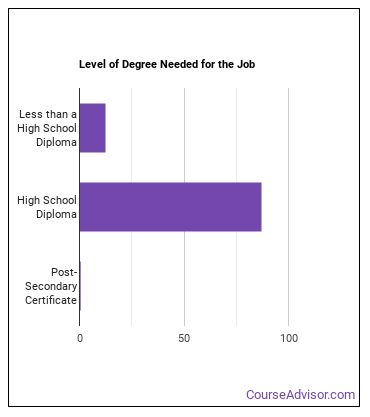 How many years of work experience do I need?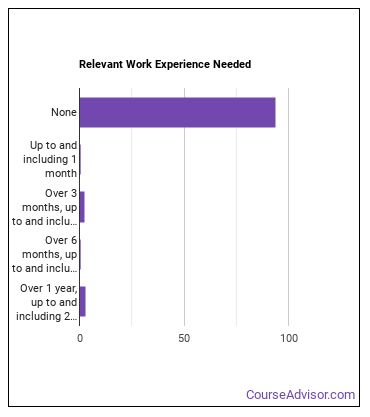 Where Tire Builders Work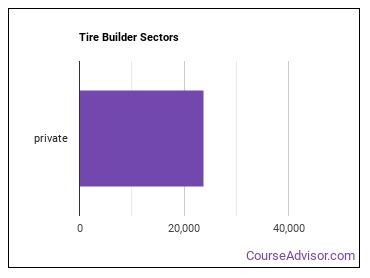 Related Careers
Those thinking about becoming Tire Builders might also be interested in the following careers:
References
Image Credit: Via Wikimedia Commons