What is a Bridge & Lock Tender?
Bridge & Lock Tender Definition Operate and tend bridges, canal locks, and lighthouses to permit marine passage on inland waterways, near shores, and at danger points in waterway passages. May supervise such operations. Includes drawbridge operators, lock operators, and slip bridge operators.
Life as a Bridge & Lock Tender: What Do They Do?
Write and submit maintenance work requisitions.
Log data such as water levels and weather conditions.
Maintain and guard stations in bridges to check waterways for boat traffic.
Prepare accident reports.
Attach ropes or cable lines to bitts on lock decks or wharfs to secure vessels.
Record names, types, and destinations of vessels passing through bridge openings or locks, and numbers of trains or vehicles crossing bridges.
Bridge & Lock Tender Required Skills
When polled, Bridge and Lock Tenders say the following skills are most frequently used in their jobs:
Monitoring: Monitoring/Assessing performance of yourself, other individuals, or organizations to make improvements or take corrective action.
Critical Thinking: Using logic and reasoning to identify the strengths and weaknesses of alternative solutions, conclusions or approaches to problems.
Active Listening: Giving full attention to what other people are saying, taking time to understand the points being made, asking questions as appropriate, and not interrupting at inappropriate times.
Speaking: Talking to others to convey information effectively.
Coordination: Adjusting actions in relation to others' actions.
Related Job Titles for this Occupation:
Dam Operator
Draw Operator
Tender
Bridge Operator, Slip
Bridge Leverman
Job Opportunities for Bridge and Lock Tenders
In the United States, there were 3,700 jobs for Bridge and Lock Tenders in 2016.
New jobs are being produced at a rate of 4.9% which is lower than average. The Bureau of Labor Statistics predicts 200 new jobs for Bridge and Lock Tenders by 2026. There will be an estimated 400 positions for Bridge & Lock Tender per year.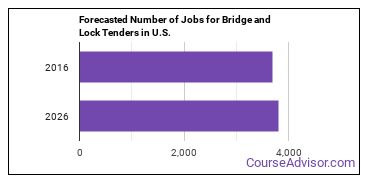 The states with the most job growth for Bridge and Lock Tenders are Louisiana, New York, and Florida.
Watch out if you plan on working in West Virginia, Washington, or Texas. These states have the worst job growth for this type of profession.
Salary for Bridge and Lock Tenders
The average yearly salary of a Bridge & Lock Tender ranges between $24,490 and $63,620. A Bridge and Lock Tender median salary is $50,320.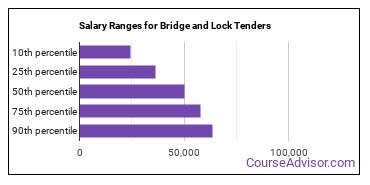 How much do Bridge and Lock Tenders make in different U.S. states?
Annual Mean Salary by State

| State | Annual Mean Salary |
| --- | --- |
| Illinois | $62,830 |
| Minnesota | $59,860 |
| Missouri | $55,960 |
| Iowa | $55,230 |
| West Virginia | $54,680 |
| Indiana | $54,410 |
| Pennsylvania | $54,010 |
| Massachusetts | $53,430 |
| Tennessee | $52,410 |
| California | $51,520 |
| Kentucky | $51,470 |
| Ohio | $50,890 |
| Wisconsin | $49,890 |
| New Jersey | $49,880 |
| Arkansas | $48,410 |
| New York | $48,250 |
| South Carolina | $46,580 |
| Michigan | $43,560 |
| Maryland | $43,420 |
| Mississippi | $43,070 |
| Texas | $35,330 |
| Louisiana | $34,420 |
| Florida | $34,090 |
Tools & Technologies Used by Bridge and Lock Tenders
Below is a list of the types of tools and technologies that Bridge and Lock Tenders may use on a daily basis:
Microsoft Word
Microsoft Outlook
Microsoft Excel
Where Bridge and Lock Tenders Are Employed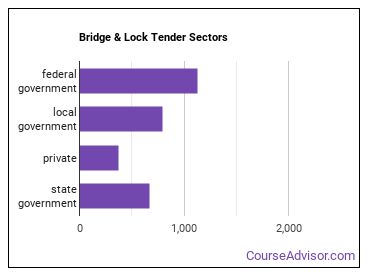 References
Image Credit: Via Wikimedia Commons