What is a Team Assembler?
Job Description: Work as part of a team having responsibility for assembling an entire product or component of a product. Team assemblers can perform all tasks conducted by the team in the assembly process and rotate through all or most of them rather than being assigned to a specific task on a permanent basis. May participate in making management decisions affecting the work. Includes team leaders who work as part of the team.
What do Team Assemblers do On a Daily Basis?
Shovel, sweep, or otherwise clean work areas.
Maintain production equipment and machinery.
Rotate through all the tasks required in a particular production process.
Operate machinery and heavy equipment, such as forklifts.
Complete production reports to communicate team production level to management.
Perform quality checks on products and parts.
Things a Team Assembler Should Know How to Do
When polled, Team Assemblers say the following skills are most frequently used in their jobs:
Quality Control Analysis: Conducting tests and inspections of products, services, or processes to evaluate quality or performance.
Coordination: Adjusting actions in relation to others' actions.
Monitoring: Monitoring/Assessing performance of yourself, other individuals, or organizations to make improvements or take corrective action.
Active Listening: Giving full attention to what other people are saying, taking time to understand the points being made, asking questions as appropriate, and not interrupting at inappropriate times.
Time Management: Managing one's own time and the time of others.
Types of Team Assembler Jobs
Factory Worker
Process Operator
Respooler
Laborer
Tiedown Operator
Are There Job Opportunities for Team Assemblers?
In the United States, there were 1,130,900 jobs for Team Assemblers in 2016.
Team Assembler jobs are decreasing by a rate of -12.8%. This means the total job opportunities are shrinking. The Bureau of Labor Statistics predicts a loss of -145,000 jobs for Team Assemblers by 2026. There will be an estimated 107,400 positions for Team Assembler per year.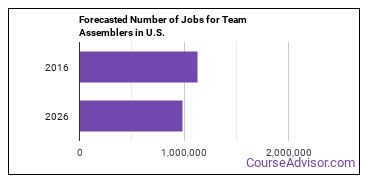 The states with the most job growth for Team Assemblers are Alabama, South Carolina, and Georgia.
Watch out if you plan on working in Michigan, New York, or Pennsylvania. These states have the worst job growth for this type of profession.
Tools & Technologies Used by Team Assemblers
Although they're not necessarily needed for all jobs, the following technologies are used by many Team Assemblers:
Autodesk AutoCAD
Enterprise resource planning ERP software
Microsoft Office
Computer aided design CAD software
SAP
Microsoft Word
Data entry software
Microsoft Excel
Microsoft PowerPoint
Becoming a Team Assembler
What kind of Team Assembler requirements are there?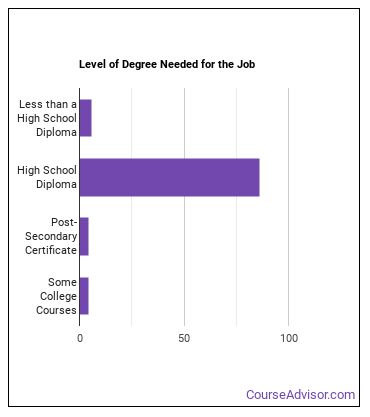 How Long Does it Take to Become Team Assembler?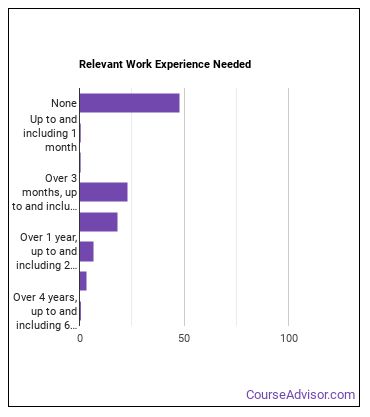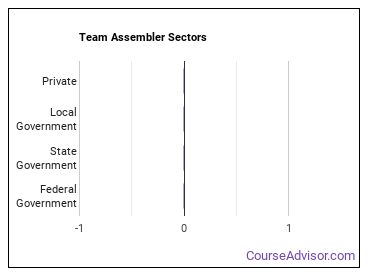 You May Also Be Interested In…
Career changers with experience as a Team Assembler sometimes find work in one of the following fields:
Mail Clerks and Mail Machine Operators, Except Postal Service
References
Image Credit: Via Wikimedia Commons