All About Slot Supervisors
Slot Supervisor Example Supervise and coordinate activities of slot department workers to provide service to patrons. Handle and settle complaints of players. Verify and pay off jackpots. Reset slot machines after payoffs. Make repairs or adjustments to slot machines or recommend removal of slot machines for repair. Report hazards and enforce safety rules.
Life as a Slot Supervisor: What Do They Do?
Patrol assigned areas to ensure that players are following rules and that machines are functioning correctly.
Monitor functioning of slot machine coin dispensers and fill coin hoppers when necessary.
Attach "out of order" signs to malfunctioning machines, and notify technicians when machines need to be repaired or removed.
Record the specifics of malfunctioning machines and document malfunctions needing repair.
Reset slot machines after payoffs.
Stock patron supplies and refreshments.
What Skills Do You Need to Work as a Slot Supervisor?
When polled, Slot Supervisors say the following skills are most frequently used in their jobs:
Active Listening: Giving full attention to what other people are saying, taking time to understand the points being made, asking questions as appropriate, and not interrupting at inappropriate times.
Speaking: Talking to others to convey information effectively.
Monitoring: Monitoring/Assessing performance of yourself, other individuals, or organizations to make improvements or take corrective action.
Critical Thinking: Using logic and reasoning to identify the strengths and weaknesses of alternative solutions, conclusions or approaches to problems.
Service Orientation: Actively looking for ways to help people.
Types of Slot Supervisors
Casino Floor Runner
Key Person
Slot Machine Floor Person
Slot Machine Key Person
Electronic Gaming Device Supervisor
What Kind of Slot Supervisor Job Opportunities Are There?
In the United States, there were 12,100 jobs for Slot Supervisors in 2016.
New jobs are being produced at a rate of 4.6% which is lower than average. The Bureau of Labor Statistics predicts 600 new jobs for Slot Supervisors by 2026. Due to new job openings and attrition, there will be an average of 2,000 job openings in this field each year.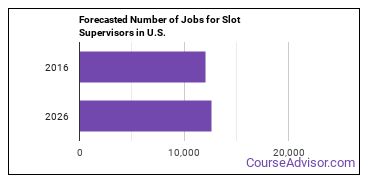 The states with the most job growth for Slot Supervisors are California, Washington, and Nevada.
Watch out if you plan on working in Missouri, Mississippi, or Illinois. These states have the worst job growth for this type of profession.
What Tools & Technology do Slot Supervisors Use?
Although they're not necessarily needed for all jobs, the following technologies are used by many Slot Supervisors:
Microsoft Outlook
Microsoft Office
Microsoft Access
Microsoft PowerPoint
Microsoft Word
Microsoft Excel
Becoming a Slot Supervisor
Are there Slot Supervisor education requirements?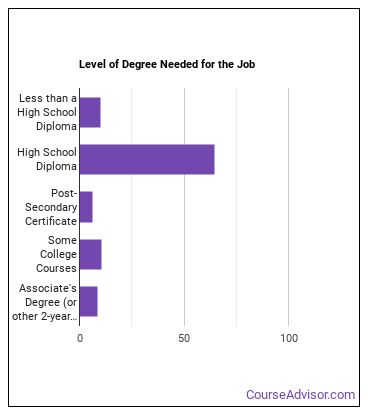 What work experience do I need to become a Slot Supervisor?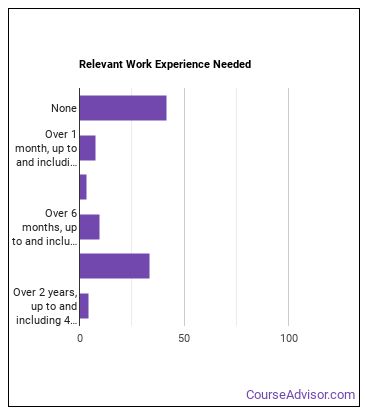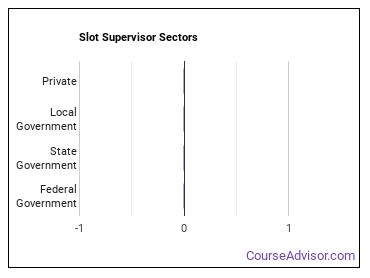 Other Jobs You May be Interested In
Are you already one of the many Slot Supervisors in the United States? If you're thinking about changing careers, these fields are worth exploring:
References
Image Credit: Via Wikimedia Commons