All About Gaming Supervisors
Career Description Supervise and coordinate activities of workers in assigned gaming areas. Circulate among tables and observe operations. Ensure that stations and games are covered for each shift. May explain and interpret operating rules of house to patrons. May plan and organize activities and services for guests in hotels/casinos. May address service complaints.
List of Gaming Supervisor Job Duties
Direct workers compiling summary sheets for each race or event to record amounts wagered and amounts to be paid to winners.
Report customer-related incidents occurring in gaming areas to supervisors.
Observe gamblers' behavior for signs of cheating, such as marking, switching, or counting cards, and notify security staff of suspected cheating.
Provide fire protection or first-aid assistance when necessary.
Determine how many gaming tables to open each day and schedule staff accordingly.
Interview, hire, or train workers.
Skills Needed to be a Gaming Supervisor
When polled, Gaming Supervisors say the following skills are most frequently used in their jobs:
Monitoring: Monitoring/Assessing performance of yourself, other individuals, or organizations to make improvements or take corrective action.
Active Listening: Giving full attention to what other people are saying, taking time to understand the points being made, asking questions as appropriate, and not interrupting at inappropriate times.
Speaking: Talking to others to convey information effectively.
Social Perceptiveness: Being aware of others' reactions and understanding why they react as they do.
Critical Thinking: Using logic and reasoning to identify the strengths and weaknesses of alternative solutions, conclusions or approaches to problems.
Types of Gaming Supervisors
Casino Shift Manager
Table Games Floor Supervisor
Shift Supervisor
Casino Manager
Casino Supervisor
Job Opportunities for Gaming Supervisors
There were about 38,500 jobs for Gaming Supervisors in 2016 (in the United States).
New jobs are being produced at a rate of 3.9% which is lower than average. The Bureau of Labor Statistics predicts 1,500 new jobs for Gaming Supervisors by 2026. The BLS estimates 6,200 yearly job openings in this field per year.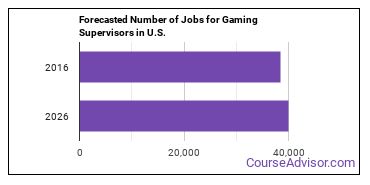 The states with the most job growth for Gaming Supervisors are Washington, Nevada, and California.
Watch out if you plan on working in Missouri, Illinois, or Alaska. These states have the worst job growth for this type of profession.
Tools & Technologies Used by Gaming Supervisors
Below is a list of the types of tools and technologies that Gaming Supervisors may use on a daily basis:
Data entry software
Microsoft Excel
Microsoft Outlook
Microsoft Word
Microsoft Office
Becoming a Gaming Supervisor
What education is needed to be a Gaming Supervisor?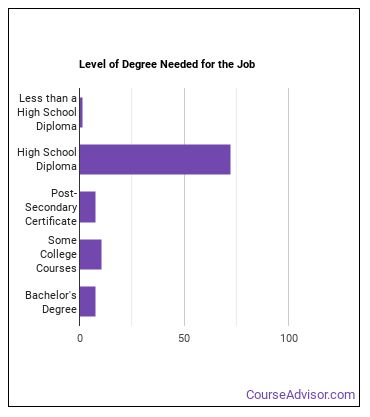 How many years of work experience do I need?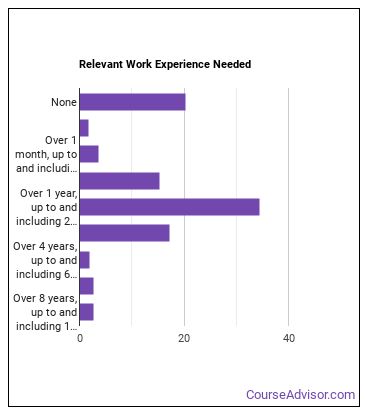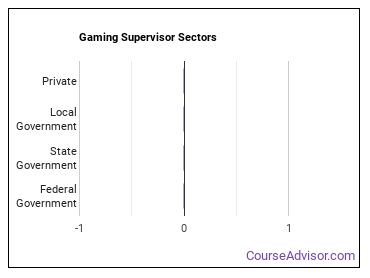 Related Careers
Are you already one of the many Gaming Supervisors in the United States? If you're thinking about changing careers, these fields are worth exploring:
Dispatchers, Except Police, Fire, and Ambulance
References
Image Credit: Via Wikimedia Commons