Life As a Shoe Machine Operator
Occupation Description Operate or tend a variety of machines to join, decorate, reinforce, or finish shoes and shoe parts.
A Day in the Life of a Shoe Machine Operator
Turn screws to regulate size of staples.
Select and place spools of thread or pre-wound bobbins into shuttles, or onto spindles or loupers of stitching machines.
Switch on machines, lower pressure feet or rollers to secure parts, and start machine stitching, using hand, foot, or knee controls.
Cut excess thread or material from shoe parts, using scissors or knives.
Study work orders or shoe part tags to obtain information about workloads, specifications, and the types of materials to be used.
Hammer loose staples for proper attachment.
What a Shoe Machine Operator Should Know
When polled, Shoe Machine Operators say the following skills are most frequently used in their jobs:
Operation Monitoring: Watching gauges, dials, or other indicators to make sure a machine is working properly.
Reading Comprehension: Understanding written sentences and paragraphs in work related documents.
Active Listening: Giving full attention to what other people are saying, taking time to understand the points being made, asking questions as appropriate, and not interrupting at inappropriate times.
Operation and Control: Controlling operations of equipment or systems.
Quality Control Analysis: Conducting tests and inspections of products, services, or processes to evaluate quality or performance.
Other Shoe Machine Operator Job Titles
Turn Sewer
Top Lifter
Folder Machine Operator
Sample Stitcher
Outside Cutter
Is There Job Demand for Shoe Machine Operators?
There were about 3,600 jobs for Shoe Machine Operators and Tenders in 2016 (in the United States).
Shoe Machine Operator jobs are decreasing by a rate of -9.5%. This means the total job opportunities are shrinking. The Bureau of Labor Statistics predicts a loss of -300 jobs for Shoe Machine Operators by 2026. There will be an estimated 400 positions for Shoe Machine Operator per year.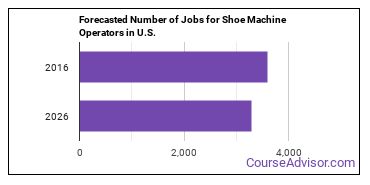 Average Shoe Machine Operator Salary
The salary for Shoe Machine Operators and Tenders ranges between about $19,020 and $40,410 a year. The median salary for this occupation is $30,430.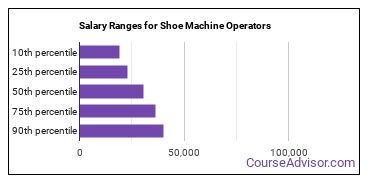 Below is a list of the median annual salaries for jobs of this type in different U.S. states.
Annual Mean Salary by State

| State | Annual Mean Salary |
| --- | --- |
| Massachusetts | $43,330 |
| Florida | $35,140 |
| Wisconsin | $32,300 |
| Maine | $32,100 |
| Washington | $32,060 |
| California | $30,580 |
| Texas | $30,470 |
| New York | $26,240 |
| Pennsylvania | $25,050 |
Tools & Technologies Used by Shoe Machine Operators
Below is a list of the types of tools and technologies that Shoe Machine Operators may use on a daily basis:
Data entry software
Microsoft Word
Microsoft Excel
Becoming a Shoe Machine Operator
What education or degrees do I need to become a Shoe Machine Operator?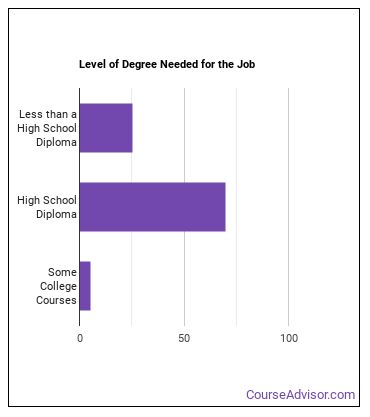 How Long Does it Take to Become Shoe Machine Operator?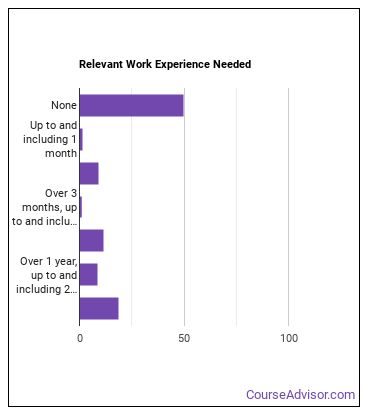 Where do Shoe Machine Operators Work?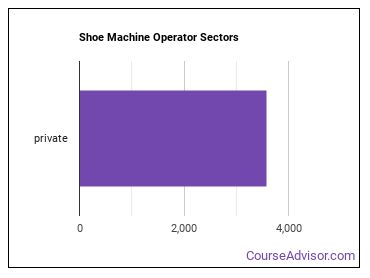 Related Careers
Those thinking about becoming Shoe Machine Operators might also be interested in the following careers:
Machine Feeders and Offbearers
Are you already one of the many Shoe Machine Operators in the United States? If you're thinking about changing careers, these fields are worth exploring:
Textile Knitting and Weaving Machine Setters, Operators, and Tenders
References
Image Credit: Via Wikimedia Commons