All About Reporters and Correspondents
Occupation Description Collect and analyze facts about newsworthy events by interview, investigation, or observation. Report and write stories for newspaper, news magazine, radio, or television.
Reporter or Correspondent Responsibilities
Establish and maintain relationships with individuals who are credible sources of information.
Present live or recorded commentary via broadcast media.
Check reference materials, such as books, news files, or public records, to obtain relevant facts.
Write columns, editorials, commentaries, or reviews that interpret events or offer opinions.
Participate in community events, make public appearances, or conduct community service.
Report on specialized fields such as medicine, green technology, environmental issues, science, politics, sports, arts, consumer affairs, business, religion, crime, or education.
Reporter or Correspondent Skills
Reporters and Correspondents state the following job skills are important in their day-to-day work.
Reading Comprehension: Understanding written sentences and paragraphs in work related documents.
Active Listening: Giving full attention to what other people are saying, taking time to understand the points being made, asking questions as appropriate, and not interrupting at inappropriate times.
Writing: Communicating effectively in writing as appropriate for the needs of the audience.
Speaking: Talking to others to convey information effectively.
Critical Thinking: Using logic and reasoning to identify the strengths and weaknesses of alternative solutions, conclusions or approaches to problems.
Related Job Titles
Cub Reporter
Motion Picture Critic
Information Writer
Book Critic
Newspaper Columnist
Is There Job Demand for Reporters and Correspondents?
In the United States, there were 44,700 jobs for Reporters and Correspondents in 2016.
Reporter or Correspondent jobs are decreasing by a rate of -10%. This means the total job opportunities are shrinking. The Bureau of Labor Statistics predicts a loss of -4,500 jobs for Reporters and Correspondents by 2026. There will be an estimated 3,700 positions for Reporter or Correspondent per year.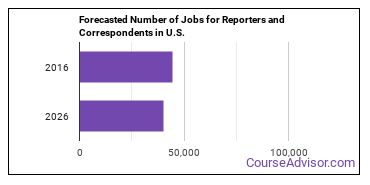 The states with the most job growth for Reporters and Correspondents are District of Columbia, California, and Virginia.
Watch out if you plan on working in Pennsylvania, Ohio, or Florida. These states have the worst job growth for this type of profession.
Reporter or Correspondent Average Salary
Reporters and Correspondents Make between $23,490 and $100,930 a year. A Reporter or Correspondent median salary is $41,260.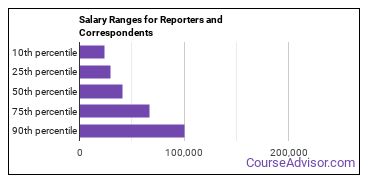 How much do Reporters and Correspondents make in different U.S. states?
Annual Mean Salary by State

| State | Annual Mean Salary |
| --- | --- |
| District of Columbia | $100,550 |
| New York | $81,930 |
| California | $67,820 |
| Arizona | $61,400 |
| New Jersey | $61,180 |
| Maryland | $60,170 |
| Louisiana | $57,990 |
| Colorado | $55,930 |
| Washington | $53,980 |
| Florida | $53,810 |
| Illinois | $53,610 |
| Massachusetts | $53,140 |
| Minnesota | $51,770 |
| Georgia | $51,140 |
| Delaware | $50,580 |
| Kentucky | $50,190 |
| Utah | $50,120 |
| Virginia | $49,530 |
| New Mexico | $49,230 |
| Oregon | $48,960 |
| Alaska | $48,230 |
| Nevada | $47,900 |
| Kansas | $47,180 |
| Michigan | $47,110 |
| Indiana | $46,830 |
| South Carolina | $46,660 |
| Texas | $45,910 |
| Missouri | $45,240 |
| Connecticut | $45,130 |
| New Hampshire | $44,900 |
| North Dakota | $43,740 |
| Hawaii | $43,250 |
| Maine | $42,650 |
| Ohio | $42,050 |
| North Carolina | $41,660 |
| Pennsylvania | $39,600 |
| Nebraska | $39,510 |
| Vermont | $38,890 |
| Oklahoma | $38,300 |
| West Virginia | $38,260 |
| Alabama | $37,770 |
| Tennessee | $37,290 |
| Mississippi | $34,530 |
| Idaho | $34,390 |
| Wisconsin | $34,180 |
| Iowa | $32,650 |
| Arkansas | $32,620 |
| South Dakota | $32,390 |
| Wyoming | $30,900 |
| Montana | $29,270 |
Tools & Technologies Used by Reporters and Correspondents
Below is a list of the types of tools and technologies that Reporters and Correspondents may use on a daily basis:
Microsoft PowerPoint
Microsoft Access
Hypertext markup language HTML
Microsoft Office
Adobe Systems Adobe AfterEffects
IBM SPSS Statistics
Microsoft Word
Facebook
YouTube
Microsoft Excel
Where Reporters and Correspondents Work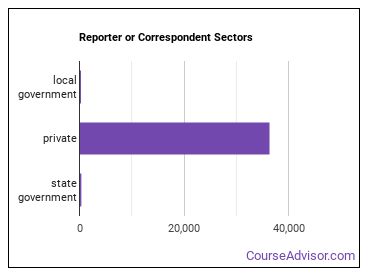 Similar Careers
Those interested in being a Reporter or Correspondent may also be interested in:
References
Image Credit: Via Wikimedia Commons