All About Refractory Materials Repairers
Refractory Materials Repairer Definition Build or repair equipment such as furnaces, kilns, cupolas, boilers, converters, ladles, soaking pits and ovens, using refractory materials.
Daily Life Of a Refractory Materials Repairer
Measure furnace walls to determine dimensions and cut required number of sheets from plastic block, using saws.
Reline or repair ladles and pouring spouts with refractory clay, using trowels.
Chip slag from linings of ladles or remove linings when beyond repair, using hammers and chisels.
Climb scaffolding, carrying hoses, and spray surfaces of cupolas with refractory mixtures, using spray equipment.
Remove worn or damaged plastic block refractory linings of furnaces, using hand tools.
Dry and bake new linings by placing inverted linings over burners, building fires in ladles, or by using blowtorches.
What Skills Do You Need to Work as a Refractory Materials Repairer?
These are the skills Refractory Materials Repairers say are the most useful in their careers:
Operation Monitoring: Watching gauges, dials, or other indicators to make sure a machine is working properly.
Repairing: Repairing machines or systems using the needed tools.
Active Listening: Giving full attention to what other people are saying, taking time to understand the points being made, asking questions as appropriate, and not interrupting at inappropriate times.
Operation and Control: Controlling operations of equipment or systems.
Equipment Maintenance: Performing routine maintenance on equipment and determining when and what kind of maintenance is needed.
Other Refractory Materials Repairer Job Titles
Ladle Repairer
Refractory Manager
Refractory Furnace Designer
Cupola Repairer
Refractory Technician
Are There Job Opportunities for Refractory Materials Repairers?
In 2016, there was an estimated number of 1,600 jobs in the United States for Refractory Materials Repairers, Except Brickmasons.
Refractory Materials Repairer jobs are decreasing by a rate of -3.5%. This means the total job opportunities are shrinking. The Bureau of Labor Statistics predicts a loss of -100 jobs for Refractory Materials Repairers by 2026. There will be an estimated 100 positions for Refractory Materials Repairer per year.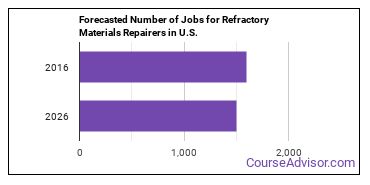 The states with the most job growth for Refractory Materials Repairers, Except Brickmasons are Texas, Indiana, and Missouri.
Watch out if you plan on working in Tennessee, Wisconsin, or Oregon. These states have the worst job growth for this type of profession.
Refractory Materials Repairer Average Salary
The salary for Refractory Materials Repairers, Except Brickmasons ranges between about $32,670 and $72,370 a year. The median salary for this occupation is $52,190.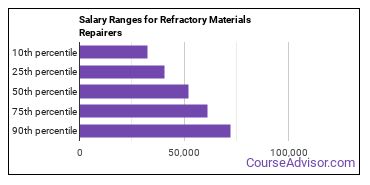 Below is a list of the median annual salaries for jobs of this type in different U.S. states.
Annual Mean Salary by State

| State | Annual Mean Salary |
| --- | --- |
| Virginia | $71,620 |
| New York | $64,340 |
| Michigan | $60,020 |
| Indiana | $54,760 |
| Texas | $54,020 |
| Alabama | $50,840 |
| Illinois | $50,110 |
| Tennessee | $41,690 |
| Pennsylvania | $41,530 |
What Tools & Technology do Refractory Materials Repairers Use?
Below is a list of the types of tools and technologies that Refractory Materials Repairers may use on a daily basis:
Microsoft Word
Microsoft Excel
Microsoft Access
Microsoft PowerPoint
Microsoft Outlook
Becoming a Refractory Materials Repairer
Individuals working as Refractory Materials Repairers have obtained the following education levels: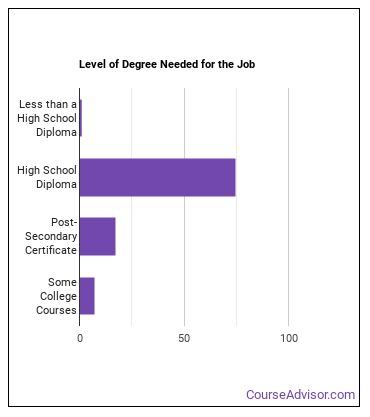 What work experience do I need to become a Refractory Materials Repairer?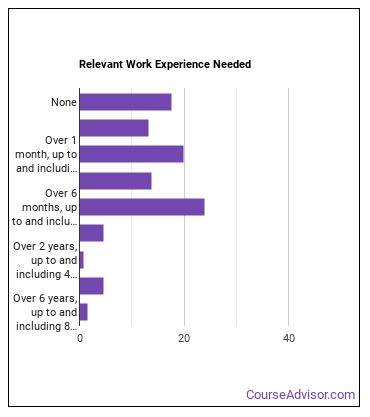 Where Refractory Materials Repairers Are Employed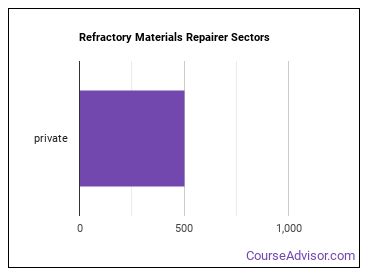 Other Jobs You May be Interested In
Those thinking about becoming Refractory Materials Repairers might also be interested in the following careers:
Helpers–Installation, Maintenance, and Repair Workers
Career changers with experience as a Refractory Materials Repairer sometimes find work in one of the following fields:
Pourers and Casters, Metal
Furnace, Kiln, Oven, Drier, and Kettle Operators and Tenders
Roustabouts, Oil and Gas
References
Image Credit: Via Wikimedia Commons