What is an Oil and Gas Roustabout?
Oil and Gas Roustabout Definition Assemble or repair oil field equipment using hand and power tools. Perform other tasks as needed.
A Day in the Life of an Oil and Gas Roustabout
Keep pipe deck and main deck areas clean and tidy.
Walk flow lines to locate leaks, using electronic detectors and by making visual inspections, and repair the leaks.
Dig drainage ditches around wells and storage tanks.
Clean up spilled oil by bailing it into barrels.
Dismantle and repair oil field machinery, boilers, and steam engine parts, using hand tools and power tools.
Bolt together pump and engine parts.
Oil and Gas Roustabout Needed Skills
Oil and Gas Roustabouts state the following job skills are important in their day-to-day work.
Monitoring: Monitoring/Assessing performance of yourself, other individuals, or organizations to make improvements or take corrective action.
Critical Thinking: Using logic and reasoning to identify the strengths and weaknesses of alternative solutions, conclusions or approaches to problems.
Judgment and Decision Making: Considering the relative costs and benefits of potential actions to choose the most appropriate one.
Quality Control Analysis: Conducting tests and inspections of products, services, or processes to evaluate quality or performance.
Operation Monitoring: Watching gauges, dials, or other indicators to make sure a machine is working properly.
Related Job Titles for this Occupation:
Oil Field Worker
Well Service Floor Worker
Casing Crew Pusher
Terminal Operator
Oil Field Roustabout
Oil and Gas Roustabout Job Outlook
In 2016, there was an estimated number of 50,000 jobs in the United States for Roustabouts, Oil and Gas.
New jobs are being produced at a rate of 24.8% which is lower than average. The Bureau of Labor Statistics predicts 12,400 new jobs for Oil and Gas Roustabouts by 2026. Due to new job openings and attrition, there will be an average of 8,000 job openings in this field each year.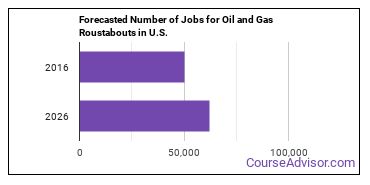 The states with the most job growth for Roustabouts, Oil and Gas are Texas, North Dakota, and Oklahoma.
Watch out if you plan on working in Michigan, Kentucky, or Alaska. These states have the worst job growth for this type of profession.
Oil and Gas Roustabout Average Salary
The typical yearly salary for Roustabouts, Oil and Gas is somewhere between $27,110 and $58,880. The median salary for this occupation is $37,580.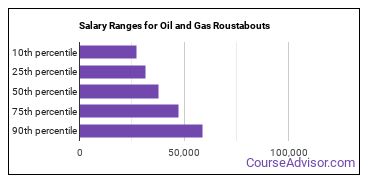 How much do Roustabouts, Oil and Gas make in each U.S. state?
Annual Mean Salary by State

| State | Annual Mean Salary |
| --- | --- |
| North Dakota | $53,490 |
| Montana | $52,910 |
| Utah | $47,040 |
| Nebraska | $46,490 |
| Alabama | $45,810 |
| Colorado | $44,760 |
| Wyoming | $44,490 |
| South Dakota | $43,860 |
| Michigan | $41,030 |
| Oklahoma | $40,750 |
| Indiana | $39,860 |
| Louisiana | $39,260 |
| Ohio | $39,010 |
| Texas | $38,860 |
| Arkansas | $38,740 |
| Illinois | $38,330 |
| California | $38,260 |
| Kansas | $38,200 |
| Kentucky | $37,270 |
| New Mexico | $36,230 |
| West Virginia | $35,970 |
| Pennsylvania | $34,860 |
| Arizona | $33,030 |
| Mississippi | $28,940 |
Tools & Technologies Used by Oil and Gas Roustabouts
Although they're not necessarily needed for all jobs, the following technologies are used by many Oil and Gas Roustabouts:
Maintenance software
Microsoft Excel
Microsoft Word
Microsoft Office
Microsoft Windows
SAP software
Microsoft PowerPoint
Becoming an Oil and Gas Roustabout
What kind of Oil and Gas Roustabout requirements are there?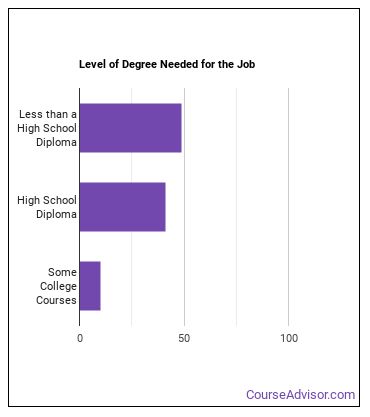 How Long Does it Take to Become Oil and Gas Roustabout?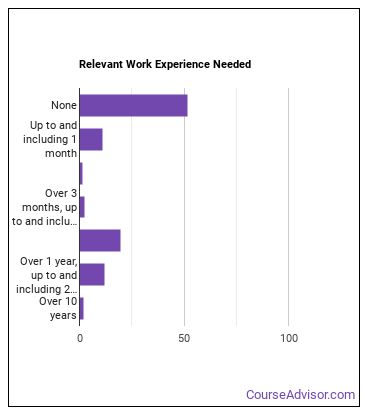 Where do Oil and Gas Roustabouts Work?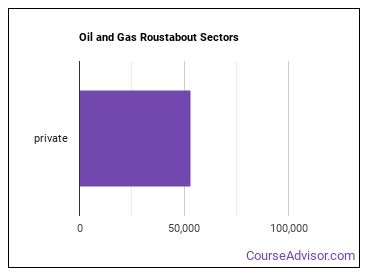 Related Careers
Those interested in being an Oil and Gas Roustabout may also be interested in:
Packaging and Filling Machine Operators and Tenders
Parking Lot Attendants
Textile Bleaching and Dyeing Machine Operators and Tenders
Are you already one of the many Oil and Gas Roustabouts in the United States? If you're thinking about changing careers, these fields are worth exploring:
Cleaners of Vehicles and Equipment
References
Image Credit: Via Wikimedia Commons