Life As a Metal & Plastic Patternmaker
Career Description Lay out, machine, fit, and assemble castings and parts to metal or plastic foundry patterns, core boxes, or match plates.
What do Metal and Plastic Patternmakers do On a Daily Basis?
Mark identification numbers or symbols onto patterns or templates.
Assemble pattern sections, using hand tools, bolts, screws, rivets, glue, or welding equipment.
Construct platforms, fixtures, and jigs for holding and placing patterns.
Clean and finish patterns or templates, using emery cloths, files, scrapers, and power grinders.
Select pattern materials such as wood, resin, and fiberglass.
Program computerized numerical control machine tools.
What Every Metal & Plastic Patternmaker Should Know
These are the skills Metal and Plastic Patternmakers say are the most useful in their careers:
Operation Monitoring: Watching gauges, dials, or other indicators to make sure a machine is working properly.
Quality Control Analysis: Conducting tests and inspections of products, services, or processes to evaluate quality or performance.
Operation and Control: Controlling operations of equipment or systems.
Reading Comprehension: Understanding written sentences and paragraphs in work related documents.
Active Listening: Giving full attention to what other people are saying, taking time to understand the points being made, asking questions as appropriate, and not interrupting at inappropriate times.
Related Job Titles
Pattern Developer
Foundry Patternmaker
Pattern Scratcher
Die Technician
Die Inspector
Metal & Plastic Patternmaker Job Outlook
There were about 3,400 jobs for Patternmakers, Metal and Plastic in 2016 (in the United States).
Metal and Plastic Patternmaker jobs are decreasing by a rate of -15.5%. This means the total job opportunities are shrinking. The Bureau of Labor Statistics predicts a loss of -500 jobs for Metal and Plastic Patternmakers by 2026. The BLS estimates 300 yearly job openings in this field per year.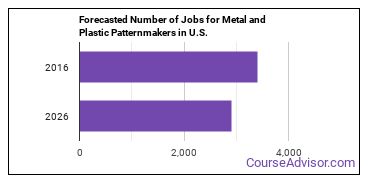 The states with the most job growth for Patternmakers, Metal and Plastic are Florida, Nebraska, and Oregon.
Watch out if you plan on working in Ohio, Michigan, or Indiana. These states have the worst job growth for this type of profession.
Metal & Plastic Patternmaker Average Salary
The salary for Patternmakers, Metal and Plastic ranges between about $28,890 and $67,250 a year. A Metal and Plastic Patternmaker median salary is $45,840.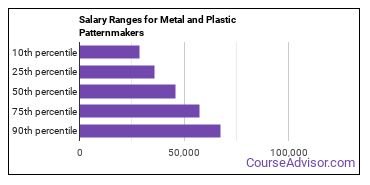 How much do Patternmakers, Metal and Plastic make in each U.S. state?
Annual Mean Salary by State

| State | Annual Mean Salary |
| --- | --- |
| Oregon | $63,180 |
| Kansas | $59,450 |
| Iowa | $53,740 |
| Illinois | $52,860 |
| Tennessee | $50,600 |
| Indiana | $50,250 |
| New York | $49,640 |
| Michigan | $48,580 |
| Minnesota | $47,830 |
| South Carolina | $47,620 |
| Pennsylvania | $47,430 |
| Wisconsin | $47,070 |
| California | $46,870 |
| Ohio | $45,470 |
| Georgia | $44,880 |
| Florida | $43,260 |
| Alabama | $42,390 |
| Texas | $41,190 |
| North Carolina | $35,380 |
| Colorado | $35,030 |
What Tools & Technology do Metal and Plastic Patternmakers Use?
Below is a list of the types of tools and technologies that Metal and Plastic Patternmakers may use on a daily basis:
Autodesk AutoCAD
Microsoft Excel
Microsoft Outlook
3D Systems Geomagic Design X
How to Become a Metal & Plastic Patternmaker
Individuals working as Metal and Plastic Patternmakers have obtained the following education levels: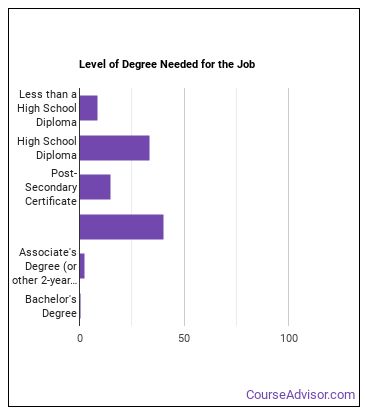 How Long Does it Take to Become Metal & Plastic Patternmaker?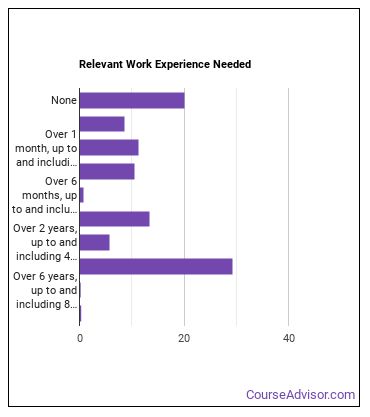 Where do Metal and Plastic Patternmakers Work?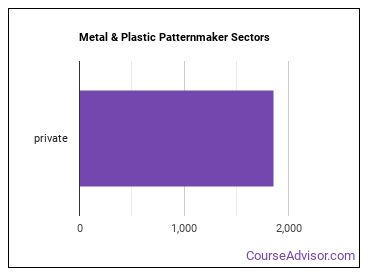 You May Also Be Interested In…
Those interested in being a Metal and Plastic Patternmaker may also be interested in:
Dental Laboratory Technicians
Those who work as Metal and Plastic Patternmakers sometimes switch careers to one of these choices:
Cabinetmakers and Bench Carpenters
References
Image Credit: Via Wikimedia Commons