All About Mathematicians
Mathematician Definition Conduct research in fundamental mathematics or in application of mathematical techniques to science, management, and other fields. Solve problems in various fields using mathematical methods.
Life As a Mathematician
Perform computations and apply methods of numerical analysis to data.
Develop new principles and new relationships between existing mathematical principles to advance mathematical science.
Design, analyze, and decipher encryption systems designed to transmit military, political, financial, or law-enforcement-related information in code.
Maintain knowledge in the field by reading professional journals, talking with other mathematicians, and attending professional conferences.
Disseminate research by writing reports, publishing papers, or presenting at professional conferences.
Develop computational methods for solving problems that occur in areas of science and engineering or that come from applications in business or industry.
What a Mathematician Should Know
Mathematicians state the following job skills are important in their day-to-day work.
Mathematics: Using mathematics to solve problems.
Reading Comprehension: Understanding written sentences and paragraphs in work related documents.
Critical Thinking: Using logic and reasoning to identify the strengths and weaknesses of alternative solutions, conclusions or approaches to problems.
Complex Problem Solving: Identifying complex problems and reviewing related information to develop and evaluate options and implement solutions.
Active Learning: Understanding the implications of new information for both current and future problem-solving and decision-making.
Other Mathematician Job Titles
Computational Scientist
Technical Fellow
Research Computing Specialist
Numerical Analysis Group Manager
Nanotechnologist
Is There Going to be Demand for Mathematicians?
In 2016, there was an estimated number of 3,100 jobs in the United States for Mathematicians.
New jobs are being produced at a rate of 29.7% which is lower than average. The Bureau of Labor Statistics predicts 900 new jobs for Mathematicians by 2026. Due to new job openings and attrition, there will be an average of 300 job openings in this field each year.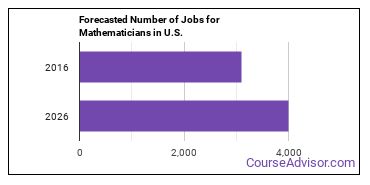 The states with the most job growth for Mathematicians are Virginia, New Jersey, and Texas.
Watch out if you plan on working in Washington, Ohio, or Maryland. These states have the worst job growth for this type of profession.
How Much Does a Mathematician Make?
The typical yearly salary for Mathematicians is somewhere between $57,150 and $160,550. The median salary is $101,900.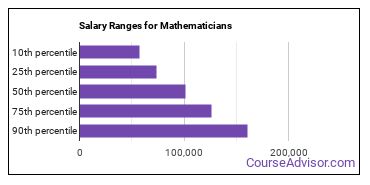 How much do Mathematicians make in different U.S. states?
Annual Mean Salary by State

| State | Annual Mean Salary |
| --- | --- |
| District of Columbia | $133,870 |
| Washington | $123,380 |
| Colorado | $122,840 |
| Virginia | $121,240 |
| New Jersey | $117,060 |
| Maryland | $115,940 |
| New Mexico | $106,790 |
| Illinois | $103,220 |
| California | $100,000 |
| Rhode Island | $90,640 |
| Florida | $87,820 |
| Ohio | $86,280 |
| New York | $84,670 |
| Nevada | $79,980 |
| Pennsylvania | $76,250 |
Tools & Technologies Used by Mathematicians
Although they're not necessarily needed for all jobs, the following technologies are used by many Mathematicians:
Oracle Java
Microsoft Office
JavaScript
Microsoft Word
UNIX
Linux
C
Microsoft Access
Python
R
Where do Mathematicians Work?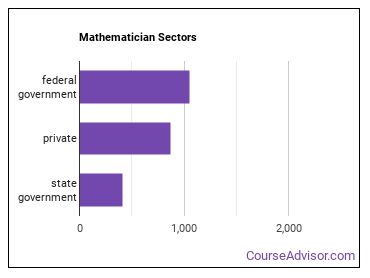 References
Image Credit: Via Wikimedia Commons