What Do Materials Engineers Do?
Job Description: Evaluate materials and develop machinery and processes to manufacture materials for use in products that must meet specialized design and performance specifications. Develop new uses for known materials. Includes those engineers working with composite materials or specializing in one type of material, such as graphite, metal and metal alloys, ceramics and glass, plastics and polymers, and naturally occurring materials. Includes metallurgists and metallurgical engineers, ceramic engineers, and welding engineers.
List of Materials Engineer Job Duties
Design processing plants and equipment.
Design and direct the testing or control of processing procedures.
Plan and evaluate new projects, consulting with other engineers and corporate executives as necessary.
Review new product plans and make recommendations for material selection, based on design objectives such as strength, weight, heat resistance, electrical conductivity, and cost.
Write for technical magazines, journals, and trade association publications.
Monitor material performance and evaluate material deterioration.
Materials Engineer Skills
When polled, Materials Engineers say the following skills are most frequently used in their jobs:
Reading Comprehension: Understanding written sentences and paragraphs in work related documents.
Critical Thinking: Using logic and reasoning to identify the strengths and weaknesses of alternative solutions, conclusions or approaches to problems.
Active Listening: Giving full attention to what other people are saying, taking time to understand the points being made, asking questions as appropriate, and not interrupting at inappropriate times.
Writing: Communicating effectively in writing as appropriate for the needs of the audience.
Speaking: Talking to others to convey information effectively.
Related Job Titles
Metallurgical Engineer
Materials and Processes Manager
Failure Analysis Technician
Research Engineer
Ceramic Research Engineer
Materials Engineer Job Outlook
In the United States, there were 27,000 jobs for Materials Engineers in 2016.
New jobs are being produced at a rate of 1.6% which is lower than average. The Bureau of Labor Statistics predicts 400 new jobs for Materials Engineers by 2026. Due to new job openings and attrition, there will be an average of 1,900 job openings in this field each year.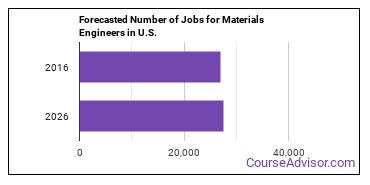 The states with the most job growth for Materials Engineers are Texas, California, and Arizona.
Watch out if you plan on working in Washington, Kansas, or West Virginia. These states have the worst job growth for this type of profession.
Do Materials Engineers Make A Lot Of Money?
Materials Engineers Make between $57,110 and $148,110 a year. The median salary is $92,390.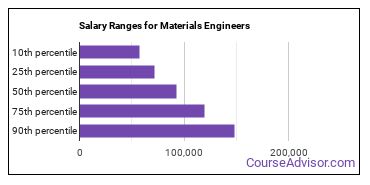 How much do Materials Engineers make in different U.S. states?
Annual Mean Salary by State

| State | Annual Mean Salary |
| --- | --- |
| New Mexico | $124,780 |
| Maryland | $116,380 |
| Tennessee | $111,670 |
| Louisiana | $109,410 |
| California | $107,570 |
| Kansas | $106,350 |
| Colorado | $100,940 |
| New York | $100,880 |
| Texas | $99,790 |
| Florida | $99,570 |
| Alaska | $99,010 |
| Connecticut | $98,310 |
| Virginia | $97,470 |
| Minnesota | $96,780 |
| Massachusetts | $95,640 |
| Nevada | $95,070 |
| Iowa | $94,930 |
| Alabama | $94,590 |
| Maine | $93,630 |
| New Hampshire | $93,230 |
| Missouri | $93,100 |
| Oklahoma | $92,470 |
| Oregon | $91,690 |
| Ohio | $91,360 |
| Vermont | $90,970 |
| New Jersey | $90,740 |
| Arizona | $90,020 |
| Pennsylvania | $89,180 |
| West Virginia | $88,320 |
| Utah | $88,100 |
| Arkansas | $87,780 |
| South Carolina | $87,470 |
| Georgia | $86,240 |
| Mississippi | $85,330 |
| Illinois | $84,310 |
| Michigan | $82,570 |
| Wisconsin | $82,410 |
| Nebraska | $81,710 |
| Indiana | $80,560 |
| Kentucky | $74,720 |
| Montana | $65,110 |
Tools & Technologies Used by Materials Engineers
Below is a list of the types of tools and technologies that Materials Engineers may use on a daily basis:
IBM Notes
PTC Creo Parametric
Microsoft Office
Minitab
Autodesk AutoCAD
The MathWorks MATLAB
Microsoft PowerPoint
Microsoft Outlook
Dassault Systemes CATIA
Dassault Systemes SOLIDWORKS
Where Materials Engineers Are Employed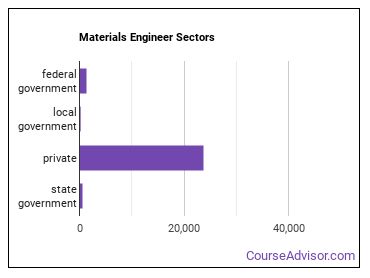 Other Jobs You May be Interested In
Those thinking about becoming Materials Engineers might also be interested in the following careers:
References
Image Credit: Via Wikimedia Commons