Life As a Manufacturing Production Technician
Manufacturing Production Technician Example Set up, test, and adjust manufacturing machinery or equipment, using any combination of electrical, electronic, mechanical, hydraulic, pneumatic, or computer technologies.
Life As a Manufacturing Production Technician
Troubleshoot problems with equipment, devices, or products.
Package finished products.
Monitor and adjust production processes or equipment for quality and productivity.
Build packaging for finished products.
Ship packages, following carrier specifications.
Transfer hazardous or nonhazardous waste materials to collection areas for disposal, recycling, or reuse.
What Skills Do You Need to Work as a Manufacturing Production Technician?
Manufacturing Production Technicians state the following job skills are important in their day-to-day work.
Operation Monitoring: Watching gauges, dials, or other indicators to make sure a machine is working properly.
Monitoring: Monitoring/Assessing performance of yourself, other individuals, or organizations to make improvements or take corrective action.
Critical Thinking: Using logic and reasoning to identify the strengths and weaknesses of alternative solutions, conclusions or approaches to problems.
Reading Comprehension: Understanding written sentences and paragraphs in work related documents.
Active Listening: Giving full attention to what other people are saying, taking time to understand the points being made, asking questions as appropriate, and not interrupting at inappropriate times.
Types of Manufacturing Production Technicians
Final Operations Technician
Support Technician
Semiconductor Processing Equipment Production Technician
Tool Room Supervisor
Metallurgical Lab Technician
What Kind of Manufacturing Production Technician Job Opportunities Are There?
There were about 76,800 jobs for Engineering Technicians, Except Drafters in 2016 (in the United States).
New jobs are being produced at a rate of 5.2% which is lower than average. The Bureau of Labor Statistics predicts 4,000 new jobs for Manufacturing Production Technicians by 2026. Due to new job openings and attrition, there will be an average of 7,100 job openings in this field each year.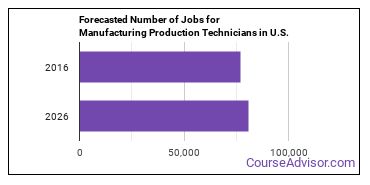 The states with the most job growth for Engineering Technicians, Except Drafters are Texas, California, and Arizona.
Watch out if you plan on working in Vermont, West Virginia, or South Dakota. These states have the worst job growth for this type of profession.
How Much Does a Manufacturing Production Technician Make?
The average yearly salary of a Manufacturing Production Technician ranges between $36,120 and $98,720. The median salary for this occupation is $63,200.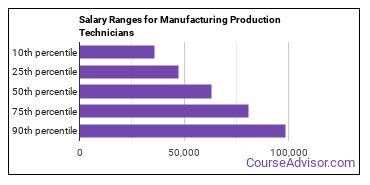 How much do Engineering Technicians, Except Drafters make in different U.S. states?
Annual Mean Salary by State

| State | Annual Mean Salary |
| --- | --- |
| District of Columbia | $92,600 |
| Maryland | $84,790 |
| Maine | $79,670 |
| New Mexico | $78,160 |
| Virginia | $77,280 |
| Hawaii | $76,070 |
| New Jersey | $75,380 |
| North Dakota | $75,030 |
| Washington | $74,810 |
| Rhode Island | $73,240 |
| Alaska | $71,850 |
| California | $71,420 |
| Nevada | $71,330 |
| South Carolina | $70,820 |
| West Virginia | $70,550 |
| Wyoming | $67,110 |
| Texas | $66,630 |
| Kansas | $65,870 |
| Connecticut | $64,510 |
| Michigan | $64,270 |
| Massachusetts | $64,220 |
| Oklahoma | $63,790 |
| New York | $63,780 |
| Illinois | $63,760 |
| North Carolina | $63,600 |
| Colorado | $63,590 |
| Ohio | $61,060 |
| Mississippi | $60,500 |
| Arkansas | $60,310 |
| Louisiana | $59,930 |
| Missouri | $59,830 |
| Georgia | $59,830 |
| Montana | $59,810 |
| Alabama | $59,380 |
| Arizona | $59,210 |
| Vermont | $58,960 |
| Kentucky | $58,880 |
| Florida | $58,860 |
| Wisconsin | $58,780 |
| Indiana | $58,450 |
| Tennessee | $57,800 |
| New Hampshire | $57,730 |
| Nebraska | $57,630 |
| Iowa | $57,620 |
| Minnesota | $57,440 |
| Pennsylvania | $57,210 |
| Oregon | $56,890 |
| Utah | $56,480 |
| Idaho | $55,540 |
| Delaware | $51,380 |
| South Dakota | $51,110 |
Tools & Technologies Used by Manufacturing Production Technicians
Although they're not necessarily needed for all jobs, the following technologies are used by many Manufacturing Production Technicians:
Microsoft Excel
Autodesk AutoCAD
National Instruments LabVIEW
Extensible markup language XML
Enterprise JavaBeans
Minitab
SAP
National Instruments Multisim
Microsoft Word
Plant maintenance software
Where Manufacturing Production Technicians Are Employed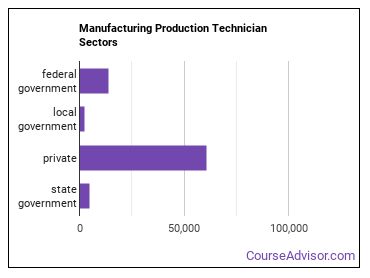 Related Careers
Those thinking about becoming Manufacturing Production Technicians might also be interested in the following careers:
Are you already one of the many Manufacturing Production Technicians in the United States? If you're thinking about changing careers, these fields are worth exploring:
Industrial Machinery Mechanics
References
Image Credit: Via Wikimedia Commons