All About Locomotive Firers
Example of a Locomotive Firer Job Monitor locomotive instruments and watch for dragging equipment, obstacles on rights-of-way, and train signals during run. Watch for and relay traffic signals from yard workers to yard engineer in railroad yard.
A Day in the Life of a Locomotive Firer
Inspect locomotives to detect damaged or worn parts.
Monitor oil, temperature, and pressure gauges on dashboards to determine if engines are operating safely and efficiently.
Start diesel engines to warm engines before runs.
Observe tracks from left sides of locomotives to detect obstructions on tracks.
Receive signals from workers in rear of train and relay that information to engineers.
Observe train signals along routes and verify their meanings for engineers.
What Every Locomotive Firer Should Know
Locomotive Firers state the following job skills are important in their day-to-day work.
Operation Monitoring: Watching gauges, dials, or other indicators to make sure a machine is working properly.
Monitoring: Monitoring/Assessing performance of yourself, other individuals, or organizations to make improvements or take corrective action.
Operation and Control: Controlling operations of equipment or systems.
Active Listening: Giving full attention to what other people are saying, taking time to understand the points being made, asking questions as appropriate, and not interrupting at inappropriate times.
Critical Thinking: Using logic and reasoning to identify the strengths and weaknesses of alternative solutions, conclusions or approaches to problems.
Related Job Titles for this Occupation:
Steam Locomotive Firer/Fireman
Assistant Engineer
Railroad Firer/Fireman
Diesel Locomotive Firer
Railroad Firer
Job Outlook for Locomotive Firers
In 2016, there was an estimated number of 1,200 jobs in the United States for Locomotive Firers.
Locomotive Firer jobs are decreasing by a rate of -78.6%. This means the total job opportunities are shrinking. The Bureau of Labor Statistics predicts a loss of -900 jobs for Locomotive Firers by 2026. There will be an estimated positions for Locomotive Firer per year.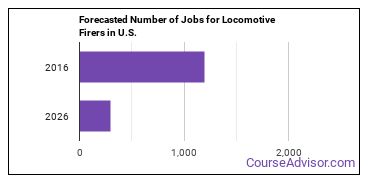 How Much Does a Locomotive Firer Make?
The average yearly salary of a Locomotive Firer ranges between $53,180 and $99,630. The median salary is $63,820.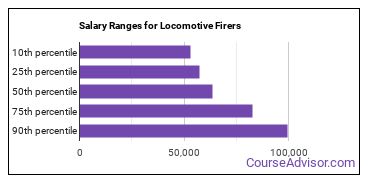 Below is a list of the median annual salaries for jobs of this type in different U.S. states.
Annual Mean Salary by State

| State | Annual Mean Salary |
| --- | --- |
| Alabama | $66,810 |
Tools & Technologies Used by Locomotive Firers
Although they're not necessarily needed for all jobs, the following technologies are used by many Locomotive Firers:
Where Locomotive Firers Work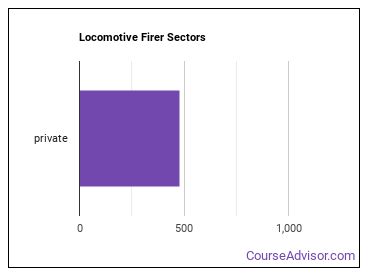 Related Careers
Those interested in being a Locomotive Firer may also be interested in:
Pile-Driver Operators
Hazardous Materials Removal Workers
References
Image Credit: Via Wikimedia Commons