Life As a Science Technician
Occupation Description All life, physical, and social science technicians not listed separately.
Other Science Technician Job Titles
Colorist
Hot Cell Technician
Polygraph Examiner
Observer
Test and Research Reactor Operator
Are There Job Opportunities for Science Technicians?
In the United States, there were 76,100 jobs for Life, Physical, and Social Science Technicians in 2016.
New jobs are being produced at a rate of 9.7% which is lower than average. The Bureau of Labor Statistics predicts 7,400 new jobs for Science Technicians by 2026. Due to new job openings and attrition, there will be an average of 9,900 job openings in this field each year.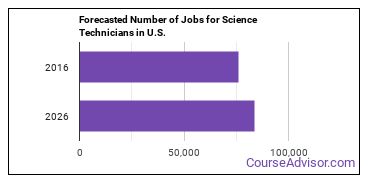 The states with the most job growth for Life, Physical, and Social Science Technicians are Texas, New York, and California.
Watch out if you plan on working in Wyoming, Maine, or Alaska. These states have the worst job growth for this type of profession.
Science Technician Salary
The average yearly salary of a Science Technician ranges between $29,830 and $80,370. The median salary is $49,670.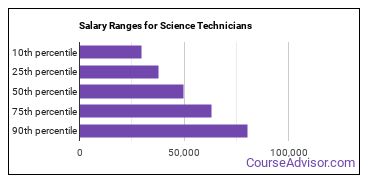 Below is a list of the median annual salaries for jobs of this type in different U.S. states.
Annual Mean Salary by State

| State | Annual Mean Salary |
| --- | --- |
| Maryland | $69,500 |
| Massachusetts | $63,450 |
| Connecticut | $62,090 |
| District of Columbia | $61,000 |
| New Jersey | $60,660 |
| New Mexico | $59,850 |
| Rhode Island | $59,480 |
| Nebraska | $58,150 |
| New Hampshire | $57,990 |
| Oklahoma | $57,950 |
| Hawaii | $57,310 |
| South Carolina | $56,910 |
| California | $56,670 |
| Alaska | $56,470 |
| West Virginia | $55,930 |
| Washington | $55,920 |
| Maine | $55,220 |
| Texas | $54,290 |
| Wyoming | $53,940 |
| North Carolina | $53,390 |
| New York | $53,380 |
| Mississippi | $52,950 |
| Georgia | $52,690 |
| Ohio | $52,690 |
| Wisconsin | $52,500 |
| Kentucky | $52,340 |
| Virginia | $52,180 |
| North Dakota | $52,050 |
| Indiana | $51,970 |
| Kansas | $51,960 |
| Colorado | $51,890 |
| Oregon | $51,800 |
| Arizona | $51,250 |
| Illinois | $51,130 |
| Utah | $50,980 |
| Arkansas | $50,740 |
| Minnesota | $50,440 |
| Pennsylvania | $50,410 |
| Missouri | $49,590 |
| Nevada | $47,690 |
| Louisiana | $47,250 |
| Iowa | $46,740 |
| Alabama | $46,600 |
| Florida | $45,200 |
| South Dakota | $45,190 |
| Montana | $43,930 |
| Michigan | $43,640 |
| Tennessee | $43,440 |
| Idaho | $42,220 |
Where Science Technicians Are Employed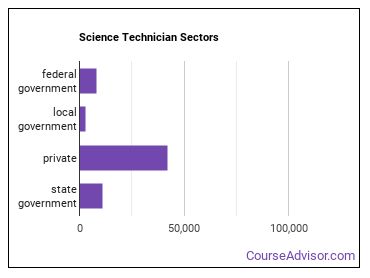 References
Image Credit: Via Wikimedia Commons