What Do Home Economics Professors Do?
Career Description Teach courses in childcare, family relations, finance, nutrition, and related subjects pertaining to home management. Includes both teachers primarily engaged in teaching and those who do a combination of teaching and research.
Life As a Home Economics Professor
Supervise undergraduate or graduate teaching, internship, and research work.
Maintain regularly scheduled office hours to advise and assist students.
Compile bibliographies of specialized materials for outside reading assignments.
Maintain student attendance records, grades, and other required records.
Prepare course materials, such as syllabi, homework assignments, and handouts.
Prepare and deliver lectures to undergraduate or graduate students on topics such as food science, nutrition, and child care.
What Skills Do You Need to Work as a Home Economics Professor?
Home Economics Professors state the following job skills are important in their day-to-day work.
Speaking: Talking to others to convey information effectively.
Instructing: Teaching others how to do something.
Reading Comprehension: Understanding written sentences and paragraphs in work related documents.
Learning Strategies: Selecting and using training/instructional methods and procedures appropriate for the situation when learning or teaching new things.
Active Listening: Giving full attention to what other people are saying, taking time to understand the points being made, asking questions as appropriate, and not interrupting at inappropriate times.
Related Job Titles
College Professor
Family and Consumer Sciences Professor (FACS Professor)
Food and Nutrition Instructor
Dietetics Professor
Weaving Professor
Job Demand for Home Economics Professors
In 2016, there was an estimated number of 3,500 jobs in the United States for Home Economics Professors.
New jobs are being produced at a rate of 7.8% which is lower than average. The Bureau of Labor Statistics predicts 300 new jobs for Home Economics Professors by 2026. There will be an estimated 300 positions for Home Economics Professor per year.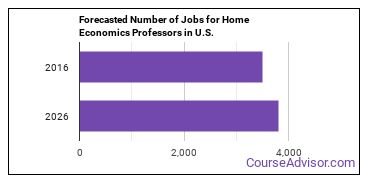 The states with the most job growth for Home Economics Professors are Utah, Texas, and Iowa.
Watch out if you plan on working in Wisconsin, Oregon, or Nebraska. These states have the worst job growth for this type of profession.
Home Economics Professor Average Salary
The average yearly salary of a Home Economics Professor ranges between $38,770 and $123,010. A Home Economics Professor median salary is $71,380.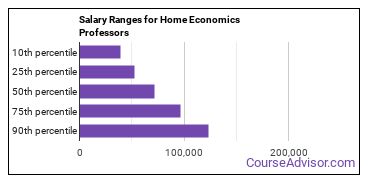 How much do Home Economics Professors make in different U.S. states?
Annual Mean Salary by State

| State | Annual Mean Salary |
| --- | --- |
| California | $93,960 |
| Illinois | $86,780 |
| Idaho | $81,960 |
| Kentucky | $80,460 |
| Missouri | $79,730 |
| Maryland | $76,680 |
| Alabama | $73,530 |
| Arizona | $71,140 |
| Mississippi | $65,720 |
| Utah | $65,650 |
| Oklahoma | $65,100 |
| Washington | $64,590 |
| Texas | $63,860 |
| North Carolina | $61,080 |
| Tennessee | $59,740 |
What Tools do Home Economics Professors Use?
Although they're not necessarily needed for all jobs, the following technologies are used by many Home Economics Professors:
Data entry software
Microsoft Word
Microsoft PowerPoint
Microsoft Outlook
Google Docs
Microsoft Office
Microsoft Excel
Becoming a Home Economics Professor
What education is needed to be a Home Economics Professor?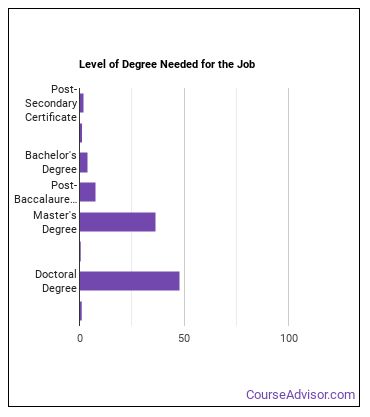 How many years of work experience do I need?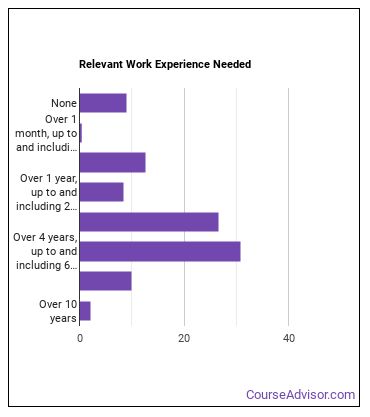 Who Employs Home Economics Professors?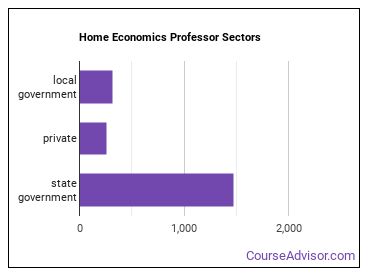 References
Image Credit: Via Wikimedia Commons