What is a Historian?
Occupation Description Research, analyze, record, and interpret the past as recorded in sources, such as government and institutional records, newspapers and other periodicals, photographs, interviews, films, electronic media, and unpublished manuscripts, such as personal diaries and letters.
Life As a Historian
Collect detailed information on individuals for use in biographies.
Gather historical data from sources such as archives, court records, diaries, news files, and photographs, as well as collect data sources such as books, pamphlets, and periodicals.
Conduct historical research as a basis for the identification, conservation, and reconstruction of historic places and materials.
Recommend actions related to historical art, such as which items to add to a collection or which items to display in an exhibit.
Teach and conduct research in colleges, universities, museums, and other research agencies and schools.
Conduct historical research, and publish or present findings and theories.
What Skills Do You Need to Work as a Historian?
Historians state the following job skills are important in their day-to-day work.
Reading Comprehension: Understanding written sentences and paragraphs in work related documents.
Critical Thinking: Using logic and reasoning to identify the strengths and weaknesses of alternative solutions, conclusions or approaches to problems.
Active Listening: Giving full attention to what other people are saying, taking time to understand the points being made, asking questions as appropriate, and not interrupting at inappropriate times.
Writing: Communicating effectively in writing as appropriate for the needs of the audience.
Speaking: Talking to others to convey information effectively.
Related Job Titles
Historic Sites Registrar
Historic Preservationist
Historian
Genealogist Researcher
Film Historian
Are There Job Opportunities for Historians?
In 2016, there was an estimated number of 3,300 jobs in the United States for Historians.
New jobs are being produced at a rate of 6% which is lower than average. The Bureau of Labor Statistics predicts 200 new jobs for Historians by 2026. The BLS estimates 300 yearly job openings in this field per year.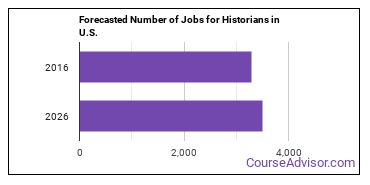 The states with the most job growth for Historians are New York, Utah, and Virginia.
Watch out if you plan on working in New Jersey, Wisconsin, or Washington. These states have the worst job growth for this type of profession.
What is the Average Salary of a Historian
Historians Make between $29,270 and $110,670 a year. The median salary is $61,140.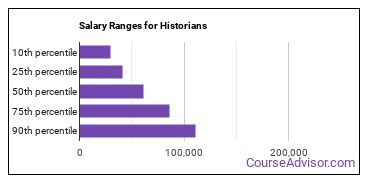 How much do Historians make in different U.S. states?
Annual Mean Salary by State

| State | Annual Mean Salary |
| --- | --- |
| District of Columbia | $107,440 |
| California | $88,770 |
| Virginia | $80,480 |
| Colorado | $79,100 |
| New Jersey | $76,320 |
| Maryland | $76,300 |
| Washington | $74,530 |
| Ohio | $74,090 |
| New Mexico | $71,800 |
| Utah | $70,310 |
| Massachusetts | $69,300 |
| North Carolina | $68,840 |
| Alabama | $67,870 |
| Georgia | $67,000 |
| Texas | $66,170 |
| Illinois | $64,050 |
| Nebraska | $63,690 |
| Pennsylvania | $63,590 |
| Michigan | $63,170 |
| Florida | $60,510 |
| Oklahoma | $58,900 |
| Kentucky | $50,270 |
| Missouri | $49,740 |
| Mississippi | $41,090 |
| New York | $32,640 |
What Tools do Historians Use?
Below is a list of the types of tools and technologies that Historians may use on a daily basis:
Microsoft Excel
Adobe Systems Adobe Dreamweaver
Extensible markup language XML
Geographic information system GIS software
Structured query language SQL
Adobe Systems Adobe InDesign
Microsoft Word
Adobe Systems Adobe Photoshop
Microsoft Office
Adobe Systems Adobe Acrobat
How to Become a Historian
Individuals working as Historians have obtained the following education levels: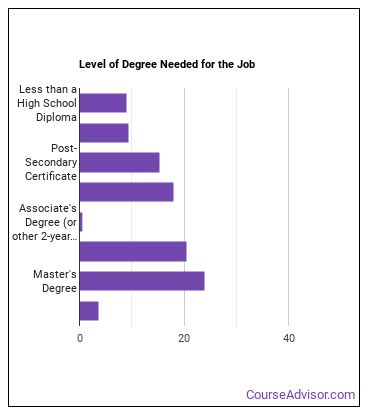 How Long Does it Take to Become Historian?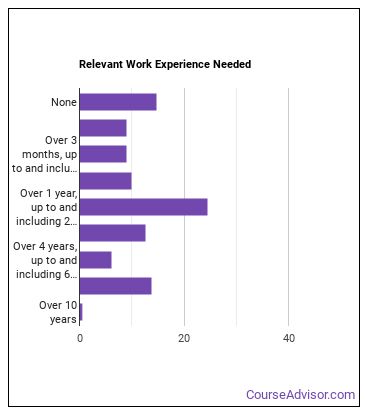 Who Employs Historians?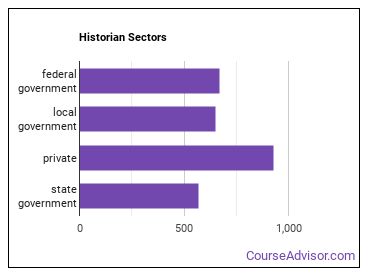 References
Image Credit: Via Wikimedia Commons