What is a Gaming Manager?
Job Description: Plan, direct, or coordinate gaming operations in a casino. May formulate house rules.
Gaming Manager Responsibilities
Prepare work schedules and station arrangements and keep attendance records.
Direct the distribution of complimentary hotel rooms, meals, or other discounts or free items given to players, based on their length of play and betting totals.
Track supplies of money to tables and perform any required paperwork.
Train new workers or evaluate their performance.
Record, collect, or pay off bets, issuing receipts as necessary.
Monitor credit extended to players.
Gaming Manager Skills
When polled, Gaming Managers say the following skills are most frequently used in their jobs:
Management of Personnel Resources: Motivating, developing, and directing people as they work, identifying the best people for the job.
Speaking: Talking to others to convey information effectively.
Critical Thinking: Using logic and reasoning to identify the strengths and weaknesses of alternative solutions, conclusions or approaches to problems.
Coordination: Adjusting actions in relation to others' actions.
Monitoring: Monitoring/Assessing performance of yourself, other individuals, or organizations to make improvements or take corrective action.
Types of Gaming Manager Jobs
Pit Manager
Dice Manager
Slot Operations Director
Mutuel Department Manager
Poker Manager
Are There Job Opportunities for Gaming Managers?
There were about 4,500 jobs for Gaming Managers in 2016 (in the United States).
New jobs are being produced at a rate of 2.5% which is lower than average. The Bureau of Labor Statistics predicts 100 new jobs for Gaming Managers by 2026. Due to new job openings and attrition, there will be an average of 500 job openings in this field each year.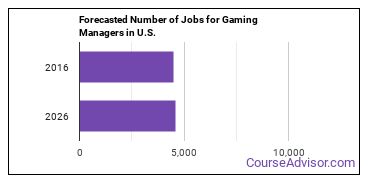 The states with the most job growth for Gaming Managers are Washington, Oklahoma, and Nevada.
Watch out if you plan on working in Michigan, Illinois, or West Virginia. These states have the worst job growth for this type of profession.
Average Gaming Manager Salary
Gaming Managers Make between $47,150 and $134,490 a year. The median salary is $74,700.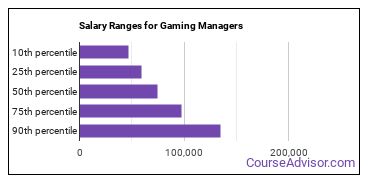 How much do Gaming Managers make in different U.S. states?
Annual Mean Salary by State

| State | Annual Mean Salary |
| --- | --- |
| Nevada | $104,550 |
| New York | $103,330 |
| California | $98,150 |
| West Virginia | $96,830 |
| Florida | $95,690 |
| Pennsylvania | $87,700 |
| Ohio | $87,470 |
| Washington | $83,410 |
| Mississippi | $80,390 |
| Colorado | $79,830 |
| New Mexico | $78,670 |
| Oregon | $77,990 |
| Iowa | $76,140 |
| Missouri | $74,740 |
| Indiana | $72,690 |
| Louisiana | $71,870 |
| Minnesota | $66,620 |
| Oklahoma | $63,210 |
| Wisconsin | $61,540 |
| North Dakota | $60,380 |
What Tools do Gaming Managers Use?
Although they're not necessarily needed for all jobs, the following technologies are used by many Gaming Managers:
Microsoft Office
Microsoft Outlook
Microsoft Excel
Data entry software
Microsoft PowerPoint
Microsoft Word
Becoming a Gaming Manager
Are there Gaming Manager education requirements?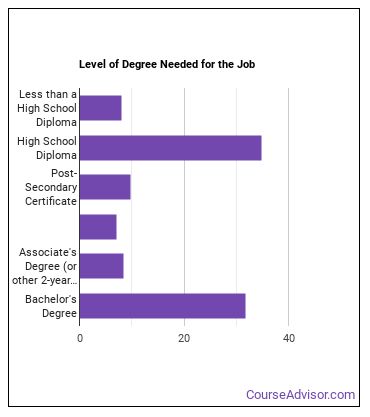 How Long Does it Take to Become Gaming Manager?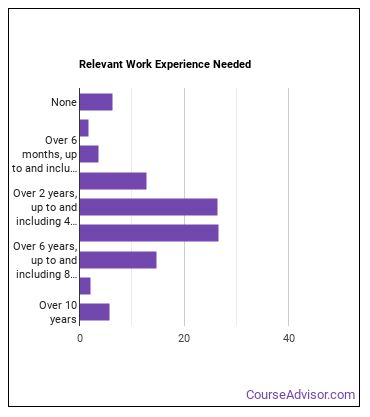 Where Gaming Managers Are Employed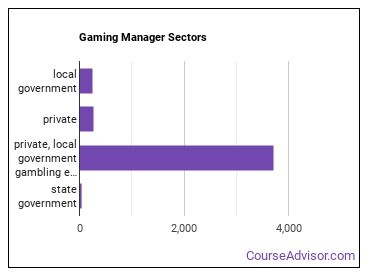 References
Image Credit: Via Wikimedia Commons