What You Need to Know About Forest and Conservation Workers
Forest and Conservation Worker Example Under supervision, perform manual labor necessary to develop, maintain, or protect areas such as forests, forested areas, woodlands, wetlands, and rangelands through such activities as raising and transporting seedlings; combating insects, pests, and diseases harmful to plant life; and building structures to control water, erosion, and leaching of soil. Includes forester aides, seedling pullers, and tree planters.
Life as a Forest and Conservation Worker: What Do They Do?
Sort tree seedlings, discarding substandard seedlings, according to standard charts or verbal instructions.
Perform fire protection or suppression duties, such as constructing fire breaks or disposing of brush.
Fight forest fires or perform prescribed burning tasks under the direction of fire suppression officers or forestry technicians.
Select tree seedlings, prepare the ground, or plant the trees in reforestation areas, using manual planting tools.
Explain or enforce regulations regarding camping, vehicle use, fires, use of buildings, or sanitation.
Operate skidders, bulldozers, or other prime movers to pull a variety of scarification or site preparation equipment over areas to be regenerated.
What Every Forest and Conservation Worker Should Know
Forest and Conservation Workers state the following job skills are important in their day-to-day work.
Speaking: Talking to others to convey information effectively.
Coordination: Adjusting actions in relation to others' actions.
Monitoring: Monitoring/Assessing performance of yourself, other individuals, or organizations to make improvements or take corrective action.
Active Listening: Giving full attention to what other people are saying, taking time to understand the points being made, asking questions as appropriate, and not interrupting at inappropriate times.
Judgment and Decision Making: Considering the relative costs and benefits of potential actions to choose the most appropriate one.
Related Job Titles
Forester Aide
Cone Picker
Chemical Sprayer
Seedling Puller
Spanish Moss Picker
Forest and Conservation Worker Job Outlook
In 2016, there was an estimated number of 14,300 jobs in the United States for Forest and Conservation Workers.
Forest and Conservation Worker jobs are decreasing by a rate of -2.4%. This means the total job opportunities are shrinking. The Bureau of Labor Statistics predicts a loss of -300 jobs for Forest and Conservation Workers by 2026. The BLS estimates 2,100 yearly job openings in this field per year.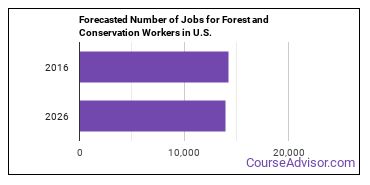 The states with the most job growth for Forest and Conservation Workers are Oregon, Washington, and North Dakota.
Watch out if you plan on working in California, South Carolina, or New Jersey. These states have the worst job growth for this type of profession.
Forest and Conservation Worker Salary
The typical yearly salary for Forest and Conservation Workers is somewhere between $21,940 and $48,220. The median salary for this occupation is $27,460.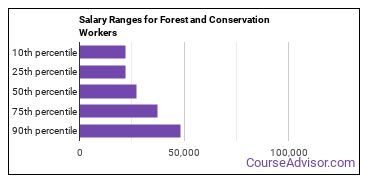 How much do Forest and Conservation Workers make in different U.S. states?
Annual Mean Salary by State

| State | Annual Mean Salary |
| --- | --- |
| Pennsylvania | $51,970 |
| District of Columbia | $50,800 |
| Massachusetts | $46,700 |
| Missouri | $44,220 |
| Wisconsin | $41,960 |
| Michigan | $41,710 |
| Ohio | $41,520 |
| Maryland | $41,030 |
| Hawaii | $39,810 |
| New York | $39,100 |
| Illinois | $38,760 |
| Georgia | $38,190 |
| New Jersey | $37,320 |
| Oregon | $36,920 |
| Louisiana | $35,590 |
| Texas | $34,280 |
| Florida | $33,850 |
| New Hampshire | $33,440 |
| Oklahoma | $33,250 |
| North Dakota | $32,490 |
| Montana | $30,080 |
| Colorado | $28,830 |
| South Dakota | $28,690 |
| Iowa | $28,400 |
| Kansas | $28,380 |
| South Carolina | $28,330 |
| Washington | $28,070 |
| West Virginia | $25,830 |
| Tennessee | $25,570 |
| California | $24,720 |
| Indiana | $24,340 |
Tools & Technologies Used by Forest and Conservation Workers
Although they're not necessarily needed for all jobs, the following technologies are used by many Forest and Conservation Workers:
Geographic information system GIS software
Microsoft Excel
Microsoft Word
ESRI ArcGIS software
Becoming a Forest and Conservation Worker
Individuals working as Forest and Conservation Workers have obtained the following education levels: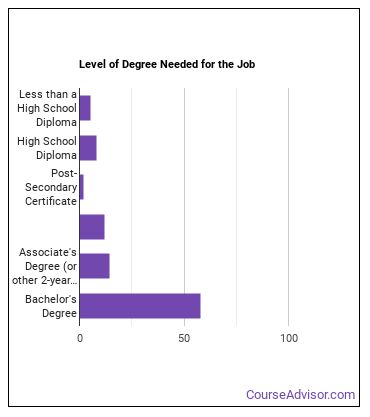 What work experience do I need to become a Forest and Conservation Worker?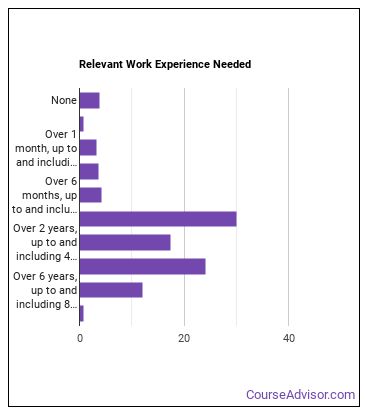 Who Employs Forest and Conservation Workers?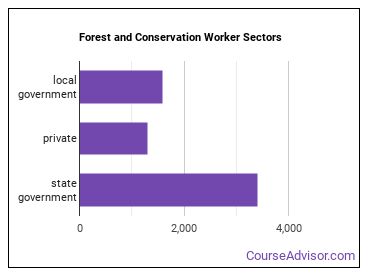 Related Careers
Those interested in being a Forest and Conservation Worker may also be interested in:
Foresters
Agricultural Inspectors
Are you already one of the many Forest and Conservation Workers in the United States? If you're thinking about changing careers, these fields are worth exploring:
References
Image Credit: Via Wikimedia Commons