Life As a Fashion Designer
Fashion Designer Job Description Design clothing and accessories. Create original designs or adapt fashion trends.
Daily Life Of a Fashion Designer
Develop a group of products or accessories, and market them through venues such as boutiques or mail-order catalogs.
Design custom clothing and accessories for individuals, retailers, or theatrical, television, or film productions.
Direct and coordinate workers involved in drawing and cutting patterns and constructing samples or finished garments.
Adapt other designers' ideas for the mass market.
Draw patterns for articles designed, cut patterns, and cut material according to patterns, using measuring instruments and scissors.
Examine sample garments on and off models, modifying designs to achieve desired effects.
What Every Fashion Designer Should Know
These are the skills Fashion Designers say are the most useful in their careers:
Active Listening: Giving full attention to what other people are saying, taking time to understand the points being made, asking questions as appropriate, and not interrupting at inappropriate times.
Critical Thinking: Using logic and reasoning to identify the strengths and weaknesses of alternative solutions, conclusions or approaches to problems.
Speaking: Talking to others to convey information effectively.
Judgment and Decision Making: Considering the relative costs and benefits of potential actions to choose the most appropriate one.
Active Learning: Understanding the implications of new information for both current and future problem-solving and decision-making.
Types of Fashion Designers
Apparel Designer
Merchandising Director
Sweater Designer
Design Director
Dance Costume Designer
Is There Going to be Demand for Fashion Designers?
There were about 23,800 jobs for Fashion Designers in 2016 (in the United States).
New jobs are being produced at a rate of 2.6% which is lower than average. The Bureau of Labor Statistics predicts 600 new jobs for Fashion Designers by 2026. Due to new job openings and attrition, there will be an average of 2,300 job openings in this field each year.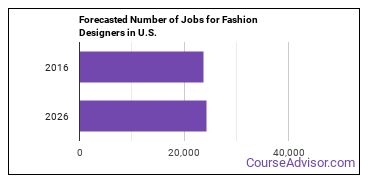 The states with the most job growth for Fashion Designers are California, New York, and Massachusetts.
Watch out if you plan on working in Pennsylvania, Vermont, or South Carolina. These states have the worst job growth for this type of profession.
Do Fashion Designers Make A Lot Of Money?
Fashion Designers Make between $36,420 and $155,470 a year. A Fashion Designer median salary is $72,720.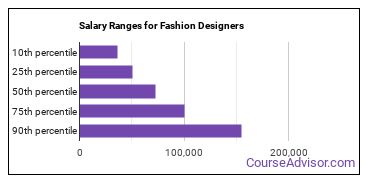 Below is a list of the median annual salaries for jobs of this type in different U.S. states.
Annual Mean Salary by State

| State | Annual Mean Salary |
| --- | --- |
| Alabama | $98,380 |
| New York | $95,830 |
| California | $95,250 |
| Maine | $80,540 |
| Massachusetts | $77,990 |
| Texas | $76,240 |
| Oregon | $75,710 |
| South Carolina | $75,110 |
| Connecticut | $72,280 |
| Georgia | $72,010 |
| North Carolina | $71,330 |
| New Jersey | $69,640 |
| New Mexico | $67,960 |
| Washington | $66,600 |
| Kansas | $65,490 |
| Maryland | $64,500 |
| Colorado | $63,110 |
| Michigan | $62,070 |
| Arkansas | $61,800 |
| Florida | $57,770 |
| Pennsylvania | $54,840 |
| Minnesota | $52,540 |
| Hawaii | $50,800 |
| Wisconsin | $45,940 |
| Utah | $43,610 |
What Tools do Fashion Designers Use?
Although they're not necessarily needed for all jobs, the following technologies are used by many Fashion Designers:
Optitex 3D Suite
StartingAClothingLine.Com Digital Fashion Pro
Adobe Systems Adobe Acrobat
Adobe Systems Adobe Illustrator
Microsoft Word
Adobe Systems Adobe Photoshop
Microsoft Office
C-DESIGN Fashion
Fashion Toolbox
Microsoft Outlook
How do I Become a Fashion Designer?
What education or degrees do I need to become a Fashion Designer?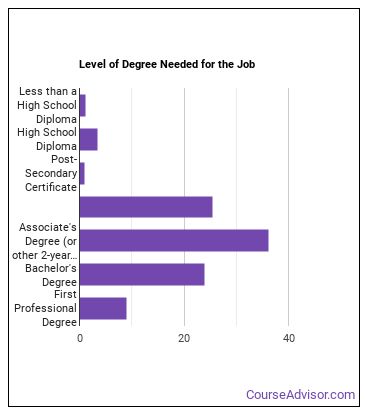 How Long Does it Take to Become Fashion Designer?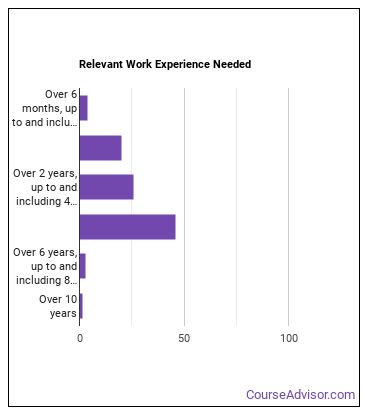 Where Fashion Designers Work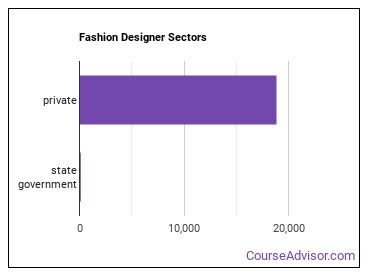 You May Also Be Interested In…
Those who work as Fashion Designers sometimes switch careers to one of these choices:
References
Image Credit: Via Wikimedia Commons