What Do Conservation Scientists Do?
Conservation Scientist Example Manage, improve, and protect natural resources to maximize their use without damaging the environment. May conduct soil surveys and develop plans to eliminate soil erosion or to protect rangelands. May instruct farmers, agricultural production managers, or ranchers in best ways to use crop rotation, contour plowing, or terracing to conserve soil and water; in the number and kind of livestock and forage plants best suited to particular ranges; and in range and farm improvements, such as fencing and reservoirs for stock watering.
Types of Conservation Scientist Jobs
Range Scientist
Land Reclamation Specialist
Land Resource Specialist
Resource Conservationist
Range Ecologist
Job Demand for Conservation Scientists
In 2016, there was an estimated number of 22,300 jobs in the United States for Conservation Scientists.
New jobs are being produced at a rate of 6.3% which is lower than average. The Bureau of Labor Statistics predicts 1,400 new jobs for Conservation Scientists by 2026. There will be an estimated 2,000 positions for Conservation Scientist per year.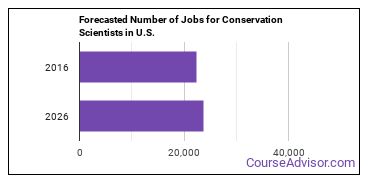 The states with the most job growth for Conservation Scientists are Colorado, Texas, and California.
Watch out if you plan on working in Rhode Island, New Mexico, or Maryland. These states have the worst job growth for this type of profession.
What is the Average Salary of a Conservation Scientist
The salary for Conservation Scientists ranges between about $34,020 and $98,450 a year. The median salary for this occupation is $61,310.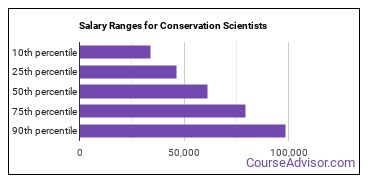 Below is a list of the median annual salaries for jobs of this type in different U.S. states.
Annual Mean Salary by State

| State | Annual Mean Salary |
| --- | --- |
| Alaska | $93,390 |
| Connecticut | $87,710 |
| New Jersey | $85,360 |
| Maryland | $79,070 |
| Oregon | $76,790 |
| California | $75,980 |
| Virginia | $75,370 |
| Minnesota | $72,650 |
| Massachusetts | $72,200 |
| New Hampshire | $72,160 |
| Arizona | $71,190 |
| Wyoming | $71,180 |
| Colorado | $71,170 |
| Arkansas | $70,630 |
| Georgia | $69,390 |
| Kansas | $68,910 |
| New Mexico | $68,710 |
| Tennessee | $68,440 |
| Hawaii | $68,360 |
| Kentucky | $67,440 |
| Idaho | $66,510 |
| Wisconsin | $65,610 |
| Nebraska | $65,300 |
| Washington | $65,120 |
| North Dakota | $64,900 |
| Montana | $64,480 |
| Oklahoma | $64,330 |
| Illinois | $63,840 |
| Utah | $63,720 |
| Michigan | $63,460 |
| Indiana | $63,320 |
| South Dakota | $62,390 |
| Maine | $61,970 |
| North Carolina | $61,780 |
| Nevada | $61,670 |
| Louisiana | $61,430 |
| Alabama | $59,310 |
| Texas | $57,990 |
| Missouri | $57,580 |
| Iowa | $56,820 |
| South Carolina | $56,220 |
| Ohio | $55,550 |
| Delaware | $55,300 |
| Pennsylvania | $55,200 |
| Vermont | $55,150 |
| Mississippi | $54,870 |
| West Virginia | $50,210 |
| Florida | $40,620 |
Where Conservation Scientists Are Employed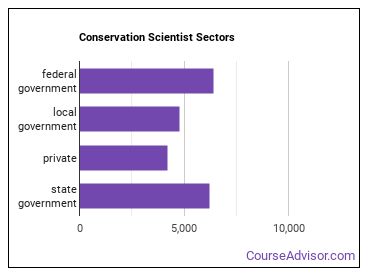 References
Image Credit: Via Wikimedia Commons