Life As an Astronomer
Astronomer Example Observe, research, and interpret astronomical phenomena to increase basic knowledge or apply such information to practical problems.
What do Astronomers do On a Daily Basis?
Develop instrumentation and software for astronomical observation and analysis.
Teach astronomy or astrophysics.
Analyze research data to determine its significance, using computers.
Direct the operations of a planetarium.
Review scientific proposals and research papers.
Collaborate with other astronomers to carry out research projects.
Astronomer Required Skills
These are the skills Astronomers say are the most useful in their careers:
Science: Using scientific rules and methods to solve problems.
Reading Comprehension: Understanding written sentences and paragraphs in work related documents.
Critical Thinking: Using logic and reasoning to identify the strengths and weaknesses of alternative solutions, conclusions or approaches to problems.
Active Learning: Understanding the implications of new information for both current and future problem-solving and decision-making.
Writing: Communicating effectively in writing as appropriate for the needs of the audience.
Related Job Titles for this Occupation:
Professor
Observatory Director
Astrophysicist
Research Scientist
Space Sciences Director
Is There Going to be Demand for Astronomers?
In 2016, there was an estimated number of 2,000 jobs in the United States for Astronomers.
New jobs are being produced at a rate of 10% which is lower than average. The Bureau of Labor Statistics predicts 200 new jobs for Astronomers by 2026. Due to new job openings and attrition, there will be an average of 200 job openings in this field each year.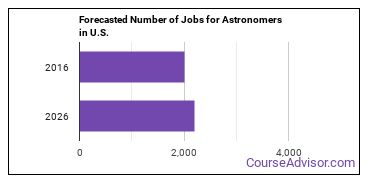 What is the Average Salary of an Astronomer
The average yearly salary of an Astronomer ranges between $57,490 and $165,770. The median salary for this occupation is $105,680.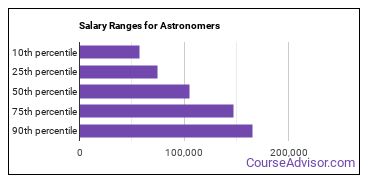 How much do Astronomers make in different U.S. states?
Annual Mean Salary by State

| State | Annual Mean Salary |
| --- | --- |
| Hawaii | $126,170 |
| District of Columbia | $123,640 |
| California | $113,130 |
| Texas | $107,350 |
| Arizona | $104,100 |
| New Mexico | $78,910 |
What Tools do Astronomers Use?
Below is a list of the types of tools and technologies that Astronomers may use on a daily basis:
Microsoft Excel
SAS
C++
National Instruments LabVIEW
Microsoft Office
Python
Microsoft Word
Linux
Who Employs Astronomers?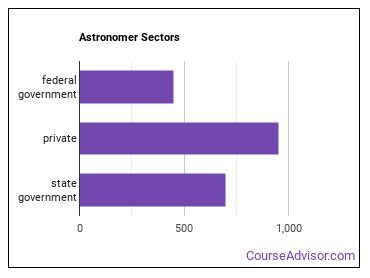 References
Image Credit: Via Wikimedia Commons