What Do Weatherization Installers and Technicians Do?
Position Description Perform a variety of activities to weatherize homes and make them more energy efficient. Duties include repairing windows, insulating ducts, and performing heating, ventilating, and air-conditioning (HVAC) work. May perform energy audits and advise clients on energy conservation measures.
A Day in the Life of a Weatherization Installer or Technician
Install and seal air ducts, combustion air openings, or ventilation openings to improve heating and cooling efficiency.
Prepare or assist in the preparation of bids, contracts, or written reports related to weatherization work.
Wrap water heaters with water heater blankets.
Apply insulation materials such as loose, blanket, board, and foam insulation to attics, crawl spaces, basements, or walls.
Recommend weatherization techniques to clients in accordance with needs and applicable energy regulations, codes, policies, or statutes.
Explain recommendations, policies, procedures, requirements, or other related information to residents or building owners.
Weatherization Installer or Technician Needed Skills
These are the skills Weatherization Installers and Technicians say are the most useful in their careers:
Monitoring: Monitoring/Assessing performance of yourself, other individuals, or organizations to make improvements or take corrective action.
Active Listening: Giving full attention to what other people are saying, taking time to understand the points being made, asking questions as appropriate, and not interrupting at inappropriate times.
Speaking: Talking to others to convey information effectively.
Operation Monitoring: Watching gauges, dials, or other indicators to make sure a machine is working properly.
Judgment and Decision Making: Considering the relative costs and benefits of potential actions to choose the most appropriate one.
Related Job Titles
Residential Air Sealing Technician
Weatherization Technician
Weatherization Administrator
Weatherization Installer
Glass Sealing Technician
Is There Going to be Demand for Weatherization Installers and Technicians?
In 2016, there was an estimated number of 42,700 jobs in the United States for Construction and Related Workers.
New jobs are being produced at a rate of 9.6% which is lower than average. The Bureau of Labor Statistics predicts 4,100 new jobs for Weatherization Installers and Technicians by 2026. Due to new job openings and attrition, there will be an average of 5,100 job openings in this field each year.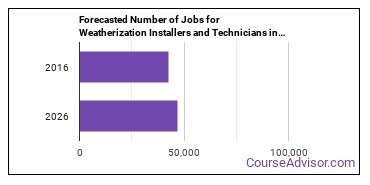 The states with the most job growth for Construction and Related Workers are Florida, Iowa, and Texas.
Watch out if you plan on working in Maine, South Dakota, or Hawaii. These states have the worst job growth for this type of profession.
Tools & Technologies Used by Weatherization Installers and Technicians
Below is a list of the types of tools and technologies that Weatherization Installers and Technicians may use on a daily basis:
Microsoft Word
Microsoft Project
Microsoft Access
Microsoft Windows
Microsoft Excel
Microsoft PowerPoint
Microsoft Office
Microsoft Outlook

References
Image Credit: Via Wikimedia Commons